Academy Of Motion Picture Arts & Sciences is busy enlisting past Oscar winners to get out the vote and True Blood's Sookie is helping.
Anna Paquin who won in 1993 as Best Supporting Actress for "The Piano" is among those being used in emails sent by the Academy to boost the turnout.
See the Anna email they mailed to voters below where Anna says:
I do remember being on stage but it's blurry. If I remember correctly it tooK me about a minute before anything came out of my mouth… I was terrified. I was very, very shy and very, very eleven. I don't think I had ever seen that many people at one time in one place. I thanked the dog from the movie too. – ANNA PAQIN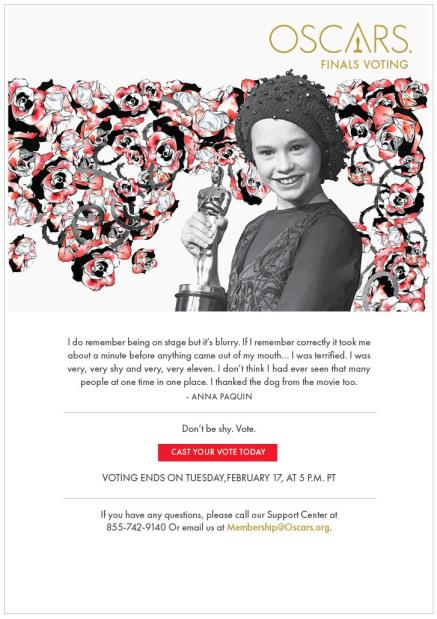 This intense get-out-the-vote effort is reminiscent of political campaigns, something the Oscar race is resembling more often now. The guess is, it has been intensified because Academy officials are noticing that a significant number had not yet voted before the end of the week.
The Academy Awards will give out the "Oscars" next Sunday, Feburary 22, 2015 at the Dolby Theater in Hollywood.
 Read more about this get out the vote campaign here.