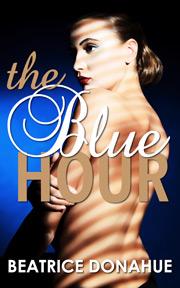 Beatrice Donahue's The Blue Hour is a historical short story set in 1920s England. It was released May 2013. Rosina (Rose) King is unhappily married to an abusive and controlling husband. She's well aware of her seemingly fortunate position, having married up to become a middle-class housewife. Virtually friendless and unable to bear children for Charles, she spends more and more time sleeping to avoid the realities of her life. A chance meeting with a vibrant American artist names Eve disrupts Rose's existence dramatically.
Eve is daring, independent, and alluring, and almost immediately asks Rose to model for her, which I understood to be the equivalent of asking her to come up and see Eve's etchings. Rose's captivation does not escape her husband's notice, however, setting up a collision course with Charles and a choice for Rose between the person she has been–cautious, quiet, and invisible–and the person who feels seen by Eve.
I'm a fan of historical romance, and this did not disappoint, although I was sad that it ended so quickly. However, after thinking about it for a while, I appreciated the economy of words; the story was poignant and intriguing. Rose's awakening felt familiar, but the setting was a clever twist. I recommend it, and would like to read more of Donahue's work.