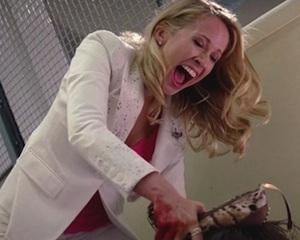 Since the end of Season 2, True Blood fans have been wondering what has happened to Sarah Newlin (Anna Camp).  We've seen her husband Steve (Michael McMillian), who was turned into a vampire, but not much was ever said about Sarah.  Well this season she has been a big part of one of the biggest storylines of the year – the uber religious group that was focused on eradicating vampires.  Camp has taken Sarah's fanaticism to a whole new level and she has done a fantastic job of showing the crazy side of the character – who genuinely believes she is doing the right thing!  Rolling Stone spoke to Camp about the dark side to Sarah, filming that crazy fight scene where she murders the woman in charge of TruBlood, and the sex scenes with Ryan Kwanten (Jason Stackhouse).
It takes a deep dedication to your beliefs to forge on like Sarah has and Camp says that she thinks that Sarah is a very black or white kind of a person.  There is no middle ground so when she sets her mind to something she goes all in.  When asked if she saw this type of potential for the character back in Season 2, Anna says:
I always did. I always felt that there was something unresolved at the end of Season Two. I never got to go to the vampire-human war that took place in the church that season and I was always really bummed out. I wanted her to get some stuff done and the fact that it finally came around this season, I was so thankful. I always thought she was hiding something behind that calm, quiet exterior. She shoots Jason [Stackhouse] at the end of the season with a paintball gun or whatever – I think that was a hint at what was underneath. They're ripping off the layers this season. You get to see everything
Like many fans have, Camp says that she has always wondered what happened to Sarah.  She reveals that they tried to get her back very briefly during Season 5 but her schedule wouldn't permit it.
Now its no secret that the show has a history of using the stories as a commentary on things that are happening in and around the world.  When asked if she knows who she would equate Sarah to in the real world, Anna replied that its not really a secret that the writers were using a bit of Sarah Palin as an inspiration for the character.  She says that growing up in the South she knew people that really felt like everything was a sign from God and that was how she came at the character.
Sarah has been portrayed as a very feminine, composed woman but that image was blow out of the water when she chased the Tru Blood woman through the vampire camp, and proceeded to bash her face off the metal stairs and drive a high heel through her head.  When asked about shooting that scene, Camp says:
That was crazy. That took three days to shoot and we had to get there on a day that I wasn't shooting, so it was really like four. We had to rehearse the fight sequences – the actress and I, and the two stunt doubles were there. There was a lot of detail in the choking and the trying to snap her neck, and I couldn't do it. I wanted to have a sense of humor, but also be crazy and vicious; I wanted you to be scared of Sarah, but at the same time, she's still Sarah Newlin and she's an inherently funny character. So it was really about finding the balance between being terrified of her, but she is this little blonde woman in a white pant suit. It was also very brutal. The special effects department was incredible. The head that I had to pound with the high heel – some of it I did with the actual actress, some of it I had to do with the stunt double, and some of it I did with an actual dummy head that had a hole in the back. So when they put the heel in, blood was squirting out. I've never had to murder someone on camera before. It's really an intense thing to do. Part of it was really exhilarating, to be honest, to get that out of my system and go there. It's also just physically and emotionally exhausting. I was really tired and felt strange after doing something like that – after murdering someone, you know? It was an intense three days. That's the greatest thing I've ever shot and one of my favorite things I've gotten to do.
So which do you think is harder – filming fight scenes or filming sex scenes?  According to Anna the sex scenes are easier and she doesn't mind filming them.  She says that with the intimate scenes people don't mess around – they get in, do their stuff and get out.
In Season 2 of the show, Sarah and Steve were in charge of the Fellowship of the Sun and now she's trying to eliminate all vampires from earth.  Can you imagine being changed into the very thing that you hate?  That is precisely what happened to her ex-husband Steve and Anna thinks that due to Sarah's strongly held religious beliefs, the character would walk into the sun if that were to ever happen.
To read the full interview with Anna Camp, click here to comment below.
Source:  Rollingstone.com - Anna Camp of 'True Blood' on Sarah Newlin's transformation
Image Credit: HBO