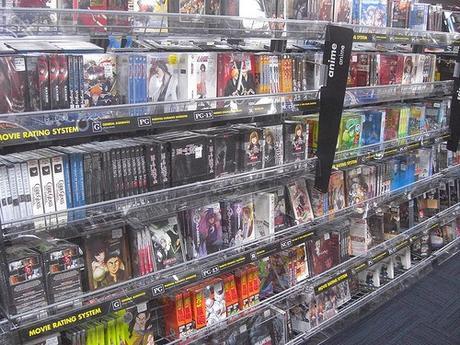 Happy Hanukkah to those who celebrate it! And if you don't celebrate the holiday, celebrate some bargains instead.
---
Amazon
Shipping is free on $35+ or with Prime.
Animal Land 11 – $6.04
Assassination Classroom 8 – $6.49
Demon Prince of Momochi House 1 – $6.28
Fairy Tail 50 – $6.99
My Hero Academia 3 – $6.49
Naruto 72 – $6.00
School Judgment 1 – $4.99
Secret Sakura Shares – $12.28
Steins;Gate [Blu-ray] – $27.49
Wolf Children [Blu-ray] – $13.99
---
Best Buy
Getting a next-gen console for Christmas or need a gift for someone who does? This week, Best Buy is offering buy 2, get 1 free on PlayStation 4 and Xbox One games. Discount combines with the 20% off with Gamers Club Unlocked ($30 for 2 years).
---
Hot Topic
Hot Topic has released some new coupons.
$15 off $60: 15HOTGIFTS – Expires January 11th
$30 off $75: DECH30B1 (in-store coupon here) – Expires December 31st
$50 off $125: DECH50B1 (in-store coupon here) – Expires December 31st
Coupons exclude DVDs, CDs, vinyls, and gift cards, and they may not be valid with some promotions. They are also running their Hot Cash promotion, letting you earn coupons toward a future purchase.
Shipping is $4.99 no matter how big or small your order is, or you can opt for free ship-to-store. Make sure you are logged in to use the codes, and sign up for their Guest Pass program to earn rewards.
---
Jet
Jet offers free shipping on $35+ (pre-discounts) or $5.99 per order. New customers can save $15 off of $35 with coupon code SAVE15NOW or 20% off with code 20NOW. Jet will also lower prices based on what you order. All prices below are before any coupons or additional savings. Many of their prices meet or beat other stores, so use these coupons as well as their smart cart feature to lower your prices even more.
Ancient Magus' Bride 1 – $7.14
Beyond the Boundary [Blu-ray] – $32.99
Claymore [Blu-ray] – $27.49
Deadman Wonderland [Blu-ray] – $16.99
Devil is a Part-Timer 2 [light novel] – $8.87
Howl's Moving Castle [Blu-ray] – $12.99
World is Still Beautiful [Blu-ray] – $29.99
---
Right Stuf
Right Stuf's Holiday Sale is still going on. The sale is divided into three main parts:
Holiday Sale, with titles up to 95% off. New offers are added daily, and sale prices are good until December 27th or until stock runs out.
Viz Media Holiday Offers, where select Viz Media titles are put on sale for one week only.
Mega Deal, where one item is heavily discounted for that day only.
The sale not only includes anime and manga but figures and other merchandise as well. So be sure to keep an eye on inventory, and check back each day to see what's new. As always, free shipping to the U.S. on $49+ or to Canada at $250+.
---
Robert's Anime Corner Store
Robert's Anime Corner Store is still in their midst of their holiday sale. The sale consists of 12 groups of deals, a new set going active every few days. As of this writing, the first two "salvos" are available. Sale so far includes anime, manga, and figures. Prices are good until December 24th or while supplies last. Free shipping on $49+ with coupon code FREESHIP.
---
Thrift Books
Thrift Books is offering 20% off when you buy 12+ books and use coupon READMORE. Code is valid until December 16th. After code, get books as low as $2.40 shipped.
---
Viz Manga
Viz Manga is offering several digital manga bundles on sale. They will also be randomly having two-day manga flash sales each week where titles are $2 off.
Available all of December:
Boys Over Flowers 1-10 – $25.00
Boys Over Flowers 1-20 – $40.00
Boys Over Flowers Complete – $74.00
YuYu Hakusho 1-10 – $20.00
YuYu Hakusho Complete – $38.00
Available until December 13th:
Chibi Vampire Complete – $30.00
Dengeki Daisy 1-10 – $30.00
Library Wars 1-10 – $30.00
Red River 1-14 – $42.00
Voice Over!: Seiyu Academy 1-12 – $36.00
Available starting December 14th and good until December 20th:
Biomega 1-6 – $24.00
NANA 1-10 – $20.00
Terra Formars 1-5 – $25.00
---