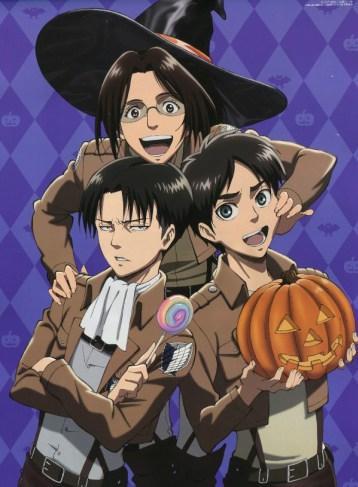 It's Halloween, so while you're dressed up in your awesome cosplay, why not get new anime and manga to inspire your next costume?
---
Amazon
Amazon offers free shipping with Prime or on $35+.
Dragon Ball Z Season 9 [Blu-ray] – $19.99
Fullmetal Alchemist: Complete Collection [Blu-ray] – $32.27
Is It Wrong to Try to Pick Up Girls in a Dungeon? 2 – $7.30
Is It Wrong to Try to Pick Up Girls in a Dungeon? 3 [light novel] – $7.70
Rosario + Vampire Complete Box Set – $105.60
Tokyo Ghoul [Blu-ray] – $34.99
Sword Art Online: Progressive 3 [light novel] – $8.43
Naruto 72 – $5.60
World is Still Beautiful [Blu-ray] – $29.99
---
Best Buy
Best Buy offers free shipping on all orders until January 2nd. Some titles may also be available for free in-store pickup. Make sure to sign up for their free My Best Buy program to earn points toward $5 certificates.
Best Buy is having an anime sale. Example deals include:
Cowboy Bebop: The Movie – $6.99
Inuyasha: The Final Act – $34.99
Future Diary – $37.99
Are you a gamer? Don't forget about Best Buy's Gamers Club Unlocked. For $30 for two years, you'll get 20% off all games and accessories plus double My Best Buy points and other benefits. Many major releases will also come with $10 certificate when you preorder. Note that the 20% does not stack with price-matching. You will also have to go to the store to officially activate your membership.
---
FUNimation
FUNimation is running a couple of sales.
Their shop is running a Halloween sale, offering up to 70% off select anime and related merchandise. Shipping is free on $50+. Highlights include:
Attack on Titan: Before the Fall Exclusive Hardcover [light novel] – $14.99
Deadman Wonderland [Blu-ray/DVD] – $17.99
Soul Eater Not! Limited Edition [Blu-ray/DVD] – $37.99
In addition, new subscribers to Funimation's streaming service can receive a $25 shop credit when you sign up for a year of their streaming service. SubPass is $39.95 or AllAccess is $59.95.
---
GoHastings
GoHastings is having a used blowout sale with 40% off select titles with coupon USED40. Shipping starts at $2.28 and varies depending on what you buy. Expiration unknown.
---
Hot Topic
Hot Topic has marked down select Halloween costumes and accessories up to 75% off. Stock up for your next anime convention or next Halloween. Free shipping to store.
---
Jet
Jet is offering 20% off with coupon code. New customers will want to use 20NOW while existing customers should use 20FORYOU. Shipping is free on pre-savings of $35+.
Alternatively, new customers may want to use coupon code 15BUCKSNOW for $15 off $35 with free shipping or buy a voucher for at LivingSocial for $15 off $30. (Voucher cannot be combined with Jet coupons.)
Here are some example prices before coupons. Your price may also drop lower based on the contents of your cart. Generally, the more you buy, the more you save. As an example, after using my 20% coupon, I got most of Vinland Saga for $7.23 a volume and Tokyo Ghoul 2 for $4.74. So look around and stock up to drive prices down.
Demon Prince of Momochi House 1 – $5.88
Devil is a Part-Timer [Blu-ray] – $38.70
He's My Only Vampire 2 – $8.18
Maria the Virgin Witch: Exhibition – $6.38
Missions of Love 10 – $6.91
Tokyo Ghoul 2 – $8.26
Vinland Saga 3 – $12.57
---
Rakuten
Rakuten is offering 5% back in Rakuten Super Points with coupon REWARDME until October 31st.
Of note is the Playstation Vita system on sale for $149.99 (discount in cart) plus $7.50 back with REWARDME. Manga fans will love all the visual novels available on the system.
---
Right Stuf
Right Stuf is running a couple of different sales. Shipping is free on $49+ or to Canada on $250+.
All Yen Press titles are 33% off until October 29th with coupon code Yen15. Got Anime? members save an additional 10%.
Select Dragon Ball Z items are 50% off with coupon code Dragon15 until November 2nd. Got Anime? members save an additional 10%.
These are in addition to their weekly sale.
---
Target
Target is offering 10% most books with coupon code BOOKS10. Coupon expires October 31st and works on in-stock titles as well as preorders. Shipping is free with RED Card or on $25+. Save an additional 5% with RED Card. Prices below are after BOOKS10 coupon.
A Bride's Story 7 – $10.94
Attack on Titan 17 Special Edition [book + DVD] – $12.50
Fragments of Horror – $11.50
Jojo's Bizarre Adventure Part 2 Volume 1 – $12.62
Master Keaton 5 – $12.50
Mayo Chiki! Omnibus 1 – $12.50
Sunshine Sketch 8 – $10.83
Tokyo ESP 2 – $10.23
Until Death Do Us Part 10 – $15.31
Vagabond Omnibus 12 – $12.50
In addition, Target is having a sale on select e-gift cards. Highlights include:
$100 eBay gift card – $95
$50 eBay gift card – $47.50
$50 PlayStation eStore credit – $50 + $5 Target gift card
$50 Nintendo e-shop credit – $50 + $5 Target gift card
---