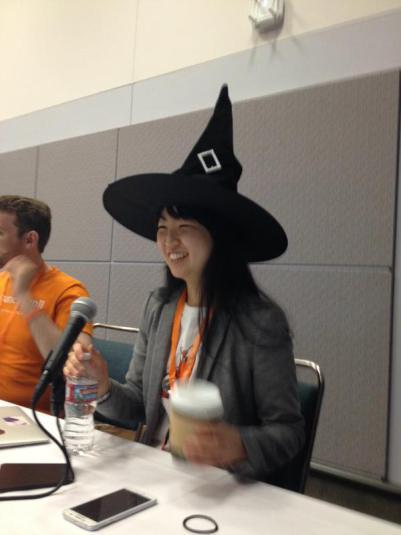 Crunchyroll, as an operation out in the West Coast, knows that Anime Expo is going to be the biggest thing they do during the year. So it makes all the sense in the world that they have many people handling those responsibilities. One of those people that handled it is Tiffany Chen. I got a chance to speak with her again, this time asking her how much she had to plan for AX. I end up learning how they really got Anamanaguchi and Porter Robinson, why they're really really glad they hired new people, and other important stuff, like why they've moved to Premium and Premium+ and outing that Tiffany only watched one anime last season.
…It has something to do with Cross Ange.
Organization ASG: Since we last spoke at NYCC, maybe it's just me, but it feels like Crunchyroll has "evolved" since then. Would you say that's fair?
Tiffany: Yeah I think so. I think really in that time CR's been growing tremendously, and even since then, that hasn't changed. The company is even bigger these days, we're almost at 170 employees, we've recently gotten some new people on board with our teams, like we have a new head of Brand Management and Community, Dallas Middaugh, and of course our new convention manager, Adam Sheehan. So we have a lot of changes and just roles getting filled and really I think we're going in a great direction, because for a while we were pretty short-staffed. We're doing our best, but really I'm excited because this means we can really focus on doing bigger and better things with the right staffing, and the right direction and mentorship.
OASG: Well I think it's gotten bigger, I don't think I've seen an anime company have videos of them advertising their company and then you in a video with a dog or you announcing what your favorite anime is, so I think that's a step up, I would think.
Tiffany: Yeah, that's also to our new marketing and distribution department actually. So they've been around for about a year or so but they've been working hard these last couple of months and we're really starting to see the fruits of our labors coming together. Doing more video advertisements, running TV ads, I think that was quite a long road to get to with approvals and stuff, but that's really now starting to come through, because obviously it's a lot slower in the beginning, just because you have to get people used to the idea of doing such things, especially Japan, but we're finally kind of establishing a pattern, sort of a work-flow.
OASG: What's been your job in prepping for this year's AX?
Tiffany: UH…everything I guess? *laughs* This is actually my third AX that I've been in charge of putting together, so for me that really has been everything, from logistics, staffing, to figuring out what we want to promote, what type of promotions we want to do, and arranging all of that whether it is with Japanese companies, internally assigning  staff on my team to handle different projects like the Porter Robinson concert, it was phenomenal. It was also a huge amount of work and really I couldn't do it all myself, so a big shoutout to my team who did that. So I'm kind of overseeing all these huge projects at the same time, and kind of overall the vision of what we want for AX, and just making sure all the pieces are chugging along and help me to unblock road blocks wherever I can.
OASG: You mentioned hiring some new people, including Adam Sheehan, who is the Events/Convention Manager. Is that gonna lower your convention count now or is it still going to be the same?
Tiffany: To be honest, that was actually why we brought in a new convention manager. You know I love going to conventions but the truth is it's really difficult on the team as a whole, and of course me as well. We realized we couldn't focus properly on doing things like actually promoting the titles as well as we can be, and really putting our focus onto trying new things, or even doing better at conventions, without someone who's solely dedicated to that.
I don't know if people know this but on top of going to conventions, all of us on the brand management team at CR, we do a lot of other stuff. Like I joke we have day jobs, whether that's social media as approvals, or getting materials from Japan, and on top of that, we have to go to conventions, so when you have a lot of conventions and you have people who aren't solely dedicated to it, it is kind of a strain. It becomes difficult to keep up with what actually still needs to be done back at the office when you're on the road all the time, and it is exhausting. I got sick a lot when I was doing conventions back to back, and that was sort of when my boss was like, "Ok that's it! You need to stop going to so many conventions!" I agree. I think it's going to be really nice to sort of just spend some time and really sit down and manage the team more and really help them out more instead of straggling and being like, "Oh, I have a con next weekend, sorry I'll have to postpone this," and with Adam coming on he's able to bring so much of his experience to the team, and not only that, but because he's solely dedicated to conventions, his time can be spent to not only to managing conventions but to thinking of strategies and really dedicating his time to make it better. I thinks that's what you get when you have someone dedicated to one thing as opposed to someone who's just sort of doing it in addition to someone else. You can do it, but you only can get so far. And I think we're ready to take it to the next step.
OASG: Like that concert. Actually, from the concert, to getting Porter Robinson over, how did this all go about?
Tiffany: You know, the funny thing was we literally were just a couple months ago, we were just thinking, "how do we make this AX the best AX we've ever done? How do we just blow it out of the water?" Last year was already really big for us, but we wanted to make it even bigger this year, so I'm like, "Why don't we just do something that thanks all of our fans and members like…throwing on a concert for them?" and we were just casually talking and thought about what would people like to see, and I was like, "Why don't we just do like a, I dunno, a special Crunchyroll party? How about dance party?" which evolved into a DJ party, which turned into like, some of us are actually friends with Anamanaguchi, and so like, "Why don't we invite Anamanaguchi?" and that turned into, "Why don't we invite Porter Robinson?" *laughs* Because we have people on the team that know him personally, so it really just went from there. It wasn't like we set out to be like, "We're gonna invite Porter Robinson!" We were just kind of talking, one thing led to another, and we just personally knew these guys, we're also fans, so we're like, "Ok why don't we just ask him and see what's up?"
So you know how people are saying, "Oh man how did you get him?" "Did you have to anything super special?" And…it's kind of anti-climatic, but we just discussed it and we were like, "Maybe we could just text him and we'll see if he'll say yes!" *laughs* And just kind of went from there. Not to say that afterwards, when we realized, "Oh my god, we're actually gonna do this," and ok, now the real work begins. It was months of back breaking work and just so many emails, a lot of late nights, a lot of last minute things, it was the first time doing it so it's been a huge learning experience for all of us, but in the end, I'm really proud of how the team came together, even though there were some moments we wanted to just die.
OASG: Whoa. That's kind of an extreme don't you think *laughs*
Tiffany: UHHH….maybe! But it was definitely stressful at some points. We're dealing with some new big names and Microsoft Theater is huge and you want to make sure the show goes off as smoothly as possible for all our fans. And in the end, I'm really happy with how it turned out, and I hope everyone who went to the concert, especially our Premium+ members were able to get discounted tickets and really enjoyed it. I think in the end, if they loved it that's all that matters, and judging from the crowd I saw last night, I think they had a really good time.
OASG: Speaking of Premium+ this was a new feature you introduced this year. What went into the decision to no longer have anime and drama memberships?
Tiffany: Basically I think our CEO just wanted to really make it a bit simpler first of all because it can be kind of confusing when you do have a lot of memberships. Before we had like 4 types, anime, manga, drama, and all-access, and the thing is, we realized that we wanted people to just be able to access all content, we didn't want to restrict membership based on what you could or couldn't access, and so he made a decision to basically have two tiers just to keep it simple.
One tier is if you're a content focused fan, then Premium membership is the way to go. $6.95 a month gets you all of our content, whether it's anime, manga, and drama. We decided it was better to just combine them all because there's so much linkage. A lot of times we have the anime that we have the manga to, or with the anime we have the drama version, but not a lot of fans would be able to watch it if they didn't have All-Access. So we decided, you know what, all content for everybody. So that's if you mostly care about content, definitely premium membership. Premium+ is essentially what used to be All-Access, just renamed so it would be simpler to say. It's All-Access but you get everything that premium does, with access to all the content, plus some extras. We're really excited to build out and basically find out what people like to see for Premium+ and that includes things like, and what I think is one of the biggest things is free shipping in the U.S. in the CR store. Kind of like an Amazon Prime aspect, and I think it's for people who buy a lot of stuff in the store it's definitely worth it. Another big thing is like the Porter Robinson concert, convention perks, whether that's doing special events at conventions with guests, we brought out a couple guests recently in past cons like Anna Yano to A-Kon, cosplayer Maridah to ACen, we had special brunches with them. If you're a Premium+ member you would basically get the chance to win a raffle to have brunch with them.
So things like that, from convention perks to obviously the Porter Robinson concert you got a discounted price for concert tickets, as well as $10 off your AX badge if you wanted to buy one as well. Another special feature is early access to beta features. We actually launched our first beta feature for our Premium+ members, which is the simulcast calendar. So if you're a Premium+ member, we made an announcement and you can check it out and give us feedback. Another one is also the quarterly Japan trip contests, so every quarter a Premium+ member get entered into a contest to win a trip for two in Japan. And that's just sort of the stuff we've been doing right now, and obviously as time goes on as we figure out and have more ideas we'll be adding to that list.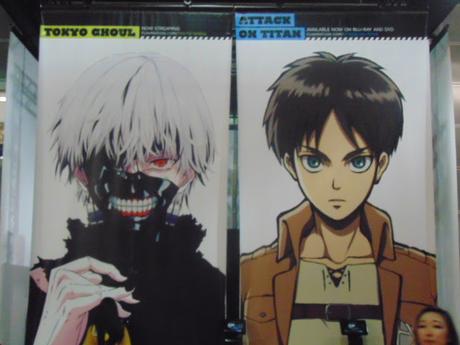 OASG: All of a sudden it feels like every other company's trying to step up their game for simulcasting, like FUNimation's getting all these titles, but not necessarily in North America. With Viewster they're starting an LA office, AnimeLab's been recently acquiring titles…what's going on over here?
Tiffany: I guess people are finally seeing that simulcasts is the future and it's viable. I've said this before, but for a long time people didn't believe simulcasting was gonna work, especially in Japan. They were still really living on DVD/BD sales, so I think the fact that Daisuki's really aggressive, it's a sign that they believe that it's working. Obviously it's competition but I think in my opinion competition makes us stronger, it forces us to be creative. I've heard a lot of people say that they do stuff because CR does it, and for us, we never say that. We always think to ourselves that as both fans and people who work here like, "What can we do next that nobody else has done? What would 'me'"–sometimes I ask myself this, "What would I, as a fan, would like to see that hasn't been done before?" And that's sort of when I came up with the idea of doing more Premium+ events at conventions. I think they used to do it in the past, it's more convention focused, if you bought a poster you would get a special signing, but I'm like "Well, why don't we do it as a company for people who pay for our service ?" and be like, you don't just get perks online but you get it in person as well.
So it's just things like that…and yeah, I mean people are stepping up their game and it's business. That's to be expected to be honest. I think I would be worried if people weren't because that means there's interest and it's definitely rising opportunity in the anime market, which kind of makes me…I mean it means more work for us, but it also makes me happy as a fan that means it's going to be here for a while. That there's this interest in…like I think really Attack on Titan, it was such a huge title when it premiered last year, and I think it bought in, I want to say a new wave of mainstream people into anime, and kind of made people who maybe weren't aware of anime before, aware of it. Like I saw people who never watched anime in their life but they could tell me everything that happened in Attack on Titan, and I think that has spurred renewed interest, so sort of like expanding the market basically.
OASG: Going back to NYCC, you guys announced Case Closed. Can you share how it's doing, and if it's possibly doing well, you'll be looking into the back catalog to add episodes there?
Tiffany: It's actually doing pretty well. It's doing pretty standard for what we'd expect for a catalog title of that type, and it's definitely gotten it's fan base who have been watching for a long time. That being said I'm not sure if we would do the back catalog because there's a lot of factors, not just whether we want to do it or not, it would depend on licensing as well. So I'm not really sure what the status of the license is right now for the back catalog, but yeah we're definitely gonna keep going as we can for the simulcast and if the opportunity comes up or if there's a chance to do the back catalog it will be something we'll have to explore. You know one of our goals, we always do simulcasts which is definitely one of our main focuses, but we're always trying to look to expand our catalogs and really been putting a little more of the focus into that. In recent months if you've noticed–
OASG: Yu-Gi-Oh! GX, Ano-Hana, Wagnaria S1…
Tiffany: Yeah basically! Because we're putting a lot of our focus on simulcasts but we also know catalogs are really important that people grew up on like, when we added Digimon I was ecstatic, I was like, this is stuff that I grew up watching, and you can't really watch it anywhere else easily. So definitely, going back, especially things we have Season 1, 2, or 3's of, we want to try and fill that gap, we love to do more of that.
OASG: Granted you have like a section of where you have popular anime and stuff like that, but was there any anime last season that aired that did particularly well, any surprises?
Tiffany: Definitely DanMachi, Is It Wrong To Pick Up Girls in A Dungeon, Hestia is Bestia! *laughs* After all, I think it just kind of blew everything out of the water, it overtook Naruto at some point in terms of popularity on a weekly basis, which is a pretty tough feat to take down Naruto, so that was like a big hit. I wouldn't say it was a surprise big hit, but we were surprised of how big of a hit it was. Let's see surprise…well Fate was always popular but that's to be expected, I love Fate—
OASG: Fate…being a surprise…*laughs*
Tiffany: That's not a surprise! *laughs* I would say I Can't Understand What My Husband is Saying S2. S1 for us, maybe not so much S2 because it was to be expected, but S1 was a complete dark horse. We were amazed at how well a short anime could do from a very small studio who haven't really done too many works before. I'm not saying they aren't great, Seven's a great studio, they're really small but just getting up there. So when S2 came out we knew it was gonna do fairly well and the fans received it well. But S1 definitely was a dark horse, usually shorts don't do as well because they're usually 5 minutes long but some people say it packs into 5 minutes better than what some anime does in 23.
OASG: …Saying shorts don't do well…what about Teekyu? *laughs*
Tiffany: …Teekyu definitely has its fans that's for sure! *laughs* Our servers love Teekyu! For me, I tried it but I think a lot of people can't handle that "hamsters on crack" speed. Like every second I'm pausing and like, "Wait, what'd you say," then pause, then read, pause…yeah…
OASG: What's in store for Crunchyroll for the rest of the year? You guys gonna come back to NYC for NYCC?
Tiffany: Yeah, we're actually planning to do some panels at NYCC this year, so definitely be on the lookout. We were blown away by the reception last year so we're definitely coming back to do more panels at least. Whether or not we'll exhibit in the future, we'll see, it depends on what our new convention strategy is and what the rest of the year has in store for us really. Like I mentioned we have a lot of new faces, but we're really excited about these changes, a lot of people a lot of the times they're like, "Oh no you got like new people are coming in and…" It is a scary thing, but I'm really confident, with Dallas and Adam coming in, I'm honestly really ecstatic that they're here. They have so much experience, with Dallas coming from Random House before this so he's got so much experience on the manga side, and Adam coming from FUNimation, they have so much experience.
They both know this area very well, and just being able to kind of come in as an outsider, I think one of the greatest things about that is they were a lot of times just able to ask me, "So why do we do things this way?" And it's great because it really makes you think, "why do we do certain things the way we do? Is there a reason for it? Or we just do things because we've always done it that way?" It really makes you think about why you do things and is there a goal behind it, and what's the goal? And so basically re-align activities to make sure that it better serves that goal, whether it's trying to get more brand awareness, making more perks for fans, making premium members feel like they're more a part of the community, getting more subscribers, all of that is just, I think, more for me I've been more aware of that in just my every day decision making with people ask me if we should do this.
So I'm actually really excited about the next half of 2015. We're definitely going through a lot of changes, but I think things are finally starting to settle in the dust and we're starting to see the fruits of that labor pay off. I'm just excited, I can't say specifics I can't really tell just because we're still building that, but whether it's gonna be more collaborations, like you've seen more artist collaborations, we got the Kokosac shirts that we did with Hime-chan, exclusive at AX, so whether it's exploring more of that, or changing the way we do conventions, maybe it's going to more different types of conventions, maybe it's doing a different type of convention experience for people.
OASG: Well I know you guys have gone to E-Sports events, so yeah, going outside the anime cons.
Tiffany: Yeah, maybe we go to different types of events, maybe we do Comic-cons, maybe we do PAX, things like that. We're actually going to be doing a panel at TwitchCon for the first time, just because they're in our backyard, but we know there's a lot of people who stream on Twitch that also have sort of that crossover who are really interested in anime, so you know, we'll see what the reception is and go from there.
OASG: At the CR industry panel, Wooser was your title you're looking forward to this season. Really? I mean, Wooser is fine, I watch it myself, but are you sure there's no other titles you're looking forward to?
Tiffany: It's really hard for me to say, because usually…as a brand manager you see so many anime titles so…you know I'll be honest, I only watched one show last season, Fate/Stay Night, and that's only because I started from the first half. I've actually wanted to start watching My Love Story so maybe I'll go back and actually watch it, otherwise I'll probably wait until my friends recommend me some. Or my boyfriend will be like, "Hey, I think you'll really like this!" That's how I started watching Your Lie in April. I didn't think I was gonna like it at first but he's like, "You should totally watch it," and I fell in love with it. So yeah, it's really hard for me to say what I want to watch at first, because also a lot of times, I've learned the hard way that what you get from the blurb that they give you, and it's not always what you think it is. Like I was really excited for Cross Ange when we announced it and I was like, "Wow it's gonna be really cool–"
OASG: Sunrise right?
Tiffany: Sunrise, it's gonna have women fighting dragons, this sounds really awesome! And then when I watch it it's like, "OOHHHHH, this is totally not what I was expecting, okay!!!" *laughs* So I've basically learned to just wait for the shows to come out and see what the reactions are and see what actually has happened, and then sort of make the decision from there.
But for sure I'll watch Wooser because I guess I like to stick to safe choices. I've seen S1 & 2 and I know not everyone gets his humor but I find it kind of hilarious. And I'm a huge fan of Mamoru Miyano and he voices Wooser so I know for sure I'm watching that. The rest, I guess I'll see how the rest of the season comes out and what the episodes actually are.
OASG: I just hope they bring back the ending song of S2, that was…so good!
Tiffany: That was brilliant! I think if we had a chance to bring out a Mamoru song, we'd be like "You need to perform this live so I can see it live!" That song was awesome, I loved it. And I think it actually hit like the top of the Oricon charts too when it came out so I'm like, "That's right!" *laughs*