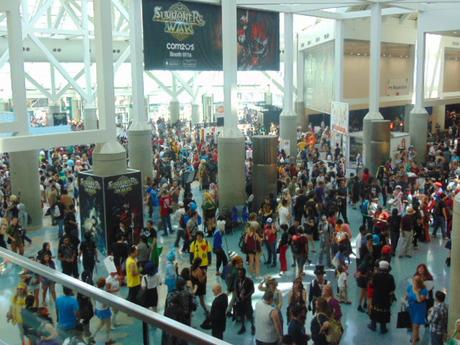 If there's been one company that's changed in the past year, that'd be Yen Press. Ok, that may not be fair — they've licensed a lot of titles that you wouldn't think would come over (Ubel Blatt comes to mind), but when you go ahead and license Prison School, Monthly Girls Nozaki Kun, and Yowamushi Pedal, it's definitely changed. And I haven't even talked about them translating a bunch of LNs for Yen On, after they had been translating a few tiles like Haruhi Suzumiya and Spice and Wolf. I of course ask this question, and more, to the director, Kurt Hassler.
Organization ASG: How's AX been for you so far?
Kurt Hassler: So far it's been great, as much as I've been on the floor, I'm kind of running around through meetings and panels but from what I've seen when I can move through the hall it's just been fantastic *laughs*
OASG: How's this AX been compared to prior years, any bigger, or just…?
Kurt: Well we really haven't displayed that much at AX over the years, this is our first booth in like…6 years? Just because it's so close to San Diego (SDCC), it's often been a bit difficult to manage both, so I can't really get a sense of the crowd from previous years from the perspective of someone with an exhibit at the show, but you know the crowds are massive. Just getting into the halls is nightmarish at times, which I think is the sign of a great show.
OASG: 6 years, wow…I guess with AX and the manga-anime dynamic, compared to SDCC, you guys decided that maybe you should try and come here this year?
Kurt: Yeah. I mean we've definitely wanted to make a point of getting out to more shows. We started to go to Sakuracon every year a few years back; AX is the most obvious choice for us, but again because of scheduling conflicts with SD it's been difficult to get that rolling, but this year we figured we'll just bite the bullet and get it done.
OASG: Ok, gonna ask you a kind of serious question: How is this gonna be the summer of Prison School?
Kurt: *laughs* How is it gonna be the summer of Prison School? Well, with the book coming out in a few weeks, the anime about to hit, I think you're looking at one of the biggest properties, and certainly, yeah this will be the summer of Prison School! *laughs*
OASG: But, seriously, you have any concerns about it?
Kurt: No, I'm thrilled about it! *laughs* We love that kind of timing, I have no concerns about it at all.
OASG: What went into the decision to license Yowamushi Pedal, especially considering how sports manga have done over here?
Kurt: Oh you know, there's a lot of common wisdom in the industry that sports manga doesn't work, but it's very short-sighted not to challenge preconceptions, there's obviously a huge Yowamushi fan base, I've seen any number of cosplayers, the anime has been a massive success…it's one of those properties that we've had our eye on for a long time. We think the timing was right, we want to challenge the preconceived boundaries of what the market thinks it can do, and we think it has an excellent chance of being a highly successful title.
OASG: When you announced a bunch of titles some months ago like Aldnoah.Zero and Monthly Girls Nozaki Kun, you also announced digital titles, like Servant x Service. Will there be any consideration of putting those in print, or is this digital only, this is a Square Enix/Yen Press thing?
Kurt: It's something that we're going to consider all of those for print. There is a lot of material out there that we want to make available. Publishing has resources that you have to consider, there's a lot fewer resources required for digital publishing, it's something we can move forward with much more quickly. So yeah, print is absolutely a possibility for all of those titles at some point. What I can't do is guarantee that there will be a print edition. We have to have those conversations with Square Enix obviously, but there's a very good chance of it.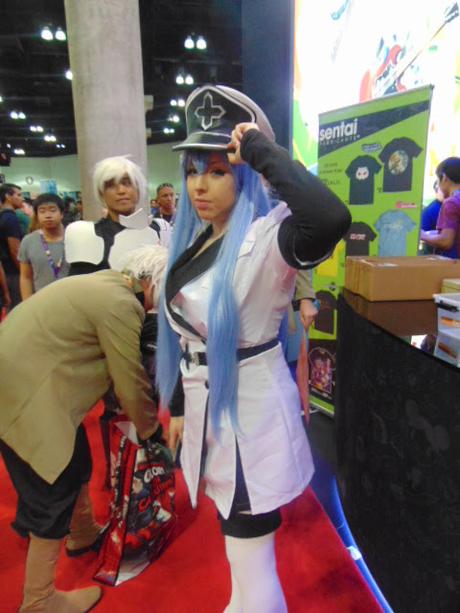 OASG: How's Yen On been doing for you guys?
Kurt: It has been doing amazingly well, it has exceeded our expectations on every front, and we are looking forward to growing the line. I mean, you asked about why Yowamushi Pedal, with sports manga, people said the exact same thing about light novels. We felt the timing was right, and from everything we've seen so far, was one of the best decisions we've made.
OASG: Any surprises so far?
Kurt: I wouldn't say surprises. Sword Art has been a phenomenon, we're thrilled with how DanMachi has been doing, the timing with the anime has been very fortuitous for us, so that's probably been the biggest surprise, but not unexpected at the same time.
OASG: What do you think will the biggest challenge in bringing over all these LNs in the next couple years?
Kurt: Finding good translators to handle all the work. *laughs* And surviving doing all the work to get them out.
OASG: How has the industry remarked upon you guys bringing over LNs to the U.S? Have you heard anything?
Kurt: Oh yes, we always hear the chatter. It pretty much seems like our competitors are in a wait and see mode, they want to see how we perform before they make any decisions about whether they want to pursue LNs. Obviously many of them have made attempts at LNs in the past, but it's something where we made a point of keeping our toes in the LN market. Yen On is "new", however Yen Press publishing LNs is not. We've published The Melancholy of Haruhi Suzumiya with our sister company Little Brown Books for young readers back in 2009, we've been publishing them consistently for years and years, and the goal there was it helps us keep a very active pulse on what's actually happening with the fan base. And having that history behind us and not having turned away with it, it allowed us to gauge if this is the right time for us to make this push.
So I understand our competitors' reticence to get into a market that people have had issues with before, but again, you really have to challenge notions.
OASG: Last year there was this big thing with Amazon and Hachette, and this ended up trickling down to you guys, what do you think you guys learned from that experience and how is your relationship with Amazon since then?
Kurt: Hachette, corporately and with Yen, have a fantastic relationship with Amazon. They're an extremely important retailer, and having that relationship is crucial. Learning wise, we learned that…it can be difficult, but not impossible, when you have market challenges, and there are always challenges in the market — Borders when it folded was a challenge for everyone in the industry, that's what publishing is, it's meeting each hurdle and overcoming it. So we have a fantastic relationship with Amazon, they do a fantastic job with working with our books. Sometimes things happen and you have to move past it.