Indrani cups / Angoori rabdi dessert - grape sized paneer balls served with creamy thick rabdi
Diwali is around the corner and we all are excited about the festival. Everyone is almost done cleaning, decorating, and rearranging the house and its now the time to make some sweet and savory items for family and friends. One thing I love about the festivals is that people come to meet and greet family and the atmosphere becomes so happy and vibrant.
Though there are numerous variety of sweets and savory snacks available in the market but I always prefer to make a few items at home. Few savory namkeens are already made and stocked by me last week, and its now time to make a great dessert!
What is Indrani Cup-
Indrani Cup / Angoori rabdi is a very popular and delicious North Indian sweet, sold individually in cute and small earthen cups. Small angoor/grape sized rasgullas are served over creamy thick rabdi. Indrani cups / angoori rabdi is very popular in Delhi and nearby areas. It is also available here in Dubai in a very popular restaurant Bikanerwala. Though they sound similar - Indrani cup is very different from rasmalai. Rasmalai is usually served with slightly thickened milk, while Indrani cups contain significantly thicker and creamier rabdi.
How to make Rabdi for Indrani Cups
For making Angoori rabdi use full fat milk ONLY, low fat milk will not give good results. Boil the milk in a non stick or a heavy bottom pan till its reduced to half. Now add sugar, cardamom powder, and chill before using. For a quicker version boil for some time and then add condensed milk.
You can check my detailed post on making- Lachcha Rabdi
How to make Angoori rasgullas-
For making angoori rasgullas you have to use homemade paneer for best and soft rasgullas. Mash the soft paneer with your palms untill it become silky soft and then shape it into small grape sized balls. Make thin sugar syrup and add the grapes in the boiling syrup and cook till they become double in size . When the rasgullas come to room temperature then squeeze the grapes and add in the thickened sweet milk and let them soak the milk and flavours for an hour.
You can also check my Rasmalai Recipe post to make angoori rasgullas
If you are short of time - you can also buy angoori rasgullas from the market - just squeeze out the sugar syrup from the rasgullas and add in the chilled rabdi before serving.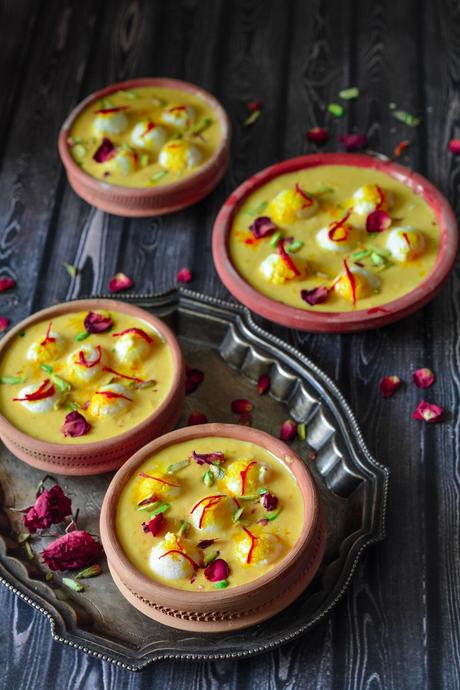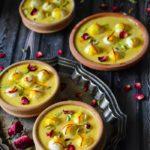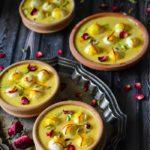 Angoori Rabdi, Indrani Cup
Indrani cups /angoori rasmalai dessert- grape sized paneer balls served on creamy thick rabdi
Servings
Prep Time
10 serving
30 minutes
Servings
Prep Time
10 serving
30 minutes