My girl loves Ang Ku Kueh 紅龜粿, I guess it is the mochi-like texture that she enjoys.
Since I had prepared a tub of mung bean paste prepared, today I shall make this for tea time.  Plus I needed to harvest my pandan as it has overgrown way too much.
It also gives me an excuse not to add food colouring to my food.  Err... shall I call it 

綠龜粿?  So lame right?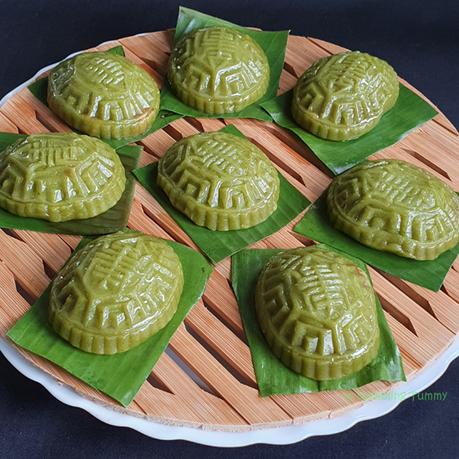 Learning experience:

I added more water than indicated as my dough cannot form.  I also pre-cook some dough to make it chewier. 

Overall, I feel that it is not as soft as those that my hubby bought but my family and neighbor gave a thumbs up for it.

Next, I will try the one from my aunt.  




Adapted


What you need:


Banana leaves

Some oil for the mold and banana leaves

A med size 紅龜粿 mouldMung bean fillingsPeanut fillingsShallot oil
Method:
Using the same pot of water for the dough, add a little oil and blanch the banana leaves. 

Once it turns dark green, remove and transfer into a tub of tap water.  (this is to stop it from turning black)

.  Dry and set aside.
Skin150g glutinous rice flour
30g rice flour
140g pandan juice
50ml water (to adjust)
3 tbsp vegetable oil or cooking oil
Method:
In a bowl, combine glutinous rice flour, rice flour and pandan juice and mix together.  Add in water slowly and knead until a dough is formed.  Pinch 20g of dough out and cooked in a pot of water until it floats.
Combined back into the main dough and continue to knead until smooth.  If it is too dry, continue to add water until a smooth soft dough is achieved.  Cover and set aside. (blanch the leaves now) 


Weigh out 18g for the dough and 13g for the filling.  Wrap together.

With seam sides up, press the dough into the mold with your palm.

Place onto the banana leaves.  Set into the steamer.


Steam on high heat for only 4 mins and remove it immediately and brush with some shallot oil.

Cool it down and served.


Enjoy!


If you have enjoyed this post by Rumbling Tummy, be sure to follow her on Facebook, Instagram, Pinterest, Twitter