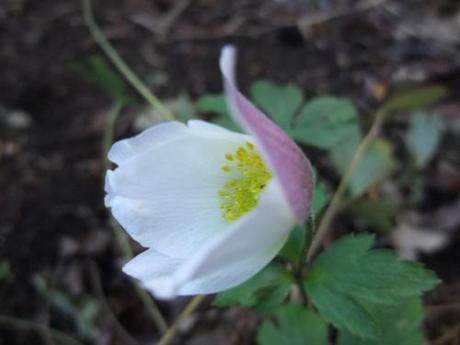 I was most taken aback yesterday to see a flower on Anemone Wild Swan.  This is the first flower the plant has produced and I felt quite confused as I thought it was a summer flowering plant.  Maybe not – maybe I was muddled, as is often the case, and it was a spring-flowering plant.  So this morning whilst nursing a rotten cold I did a bit of research.
Anemone Wild Swan was a new introduction in 2011 by Elizabeth MacGregor Nursery.  It was first shown at the Chelsea Flower Show in May where it was awarded Plant of the Year.  Now I'm not someone who has to have the latest thing but I do rather like Anemones and I seem to be acquiring more and more, a bit like my growing collection of Primulas, so when I saw it for sale on Elizabeth MacGregor's wonderful stand at the Tatton Flower Show last July I decided to throw caution to the wind and splash out the £8 for a plant.  This is far more than I normally pay for a perennial!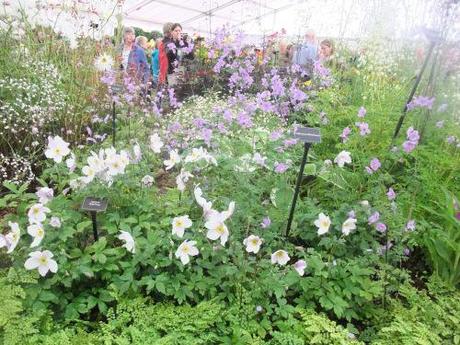 Checking on Elizabeth's website this morning I see that it should start flowering in June, although further south possibly from May.  I  can only assume that I have a rogue flower which has been confused by our ridiculously mild weather.  We have had only one frost so far this year whereas last year we had weeks of freezing weather and snow.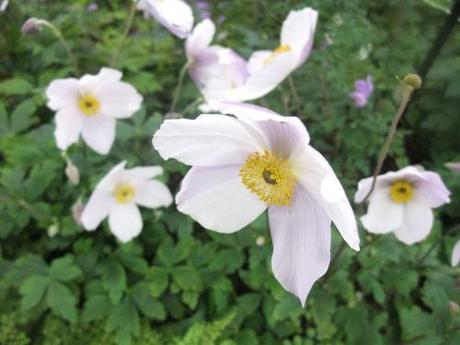 You can see from the bottom two photos the display I am hoping for.  The top photo is the lone premature bloom.
My Anemone Wild Swan is planted in the new woodland border on the edge where it will get some dappled shade.  This border is primarily planted for spring interest with a Witch Hazel as the center piece, Erythronium, and dwarf Narcissus amongst other things.  However as I didn't want this area to be without interest the rest of the year there are also ferns and Solomons  Seal and I will be adding more as I see how it develops.  The Anemone Wild Swan was bought to give summer interest so we shall see how it does but it was nice for it to  show willing to early on.
You can buy Anemone Wild Swan from Elizabeth MacGregor Nursery by mail order and I understand from her website that it is being slowly released to garden centres etc so it should  become more wildly available in the near future.
Click on any of the links  to find  out more about the plant and its growing habits
Advertisement