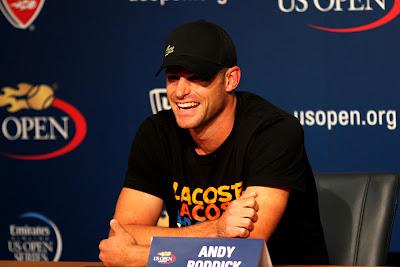 The 2012 U.S. Open is underway and I was all prepared to talk about who I like - both tennis-wise and outfit-wise. But Andy Roddick announced that he will be retiring at the end of this U.S. Open and so that's what I want to talk about.
I turned on the TV last night to watch the Open and there was Andy discussing his retirement in a press conference. It was his 30th birthday yesterday, not really old but getting up there in tennis years, and he said he'd been thinking about retiring for several months so I guess the U.S. Open just seemed like a good time to say good-bye.
It feels like the hopes and expectations for American men's tennis have rested on Andy's shoulders for quite some time. I'm sure that's a heavy burden. Lord knows I kept hoping he would  win just one more Slam. Anyway, here are a few Roddick stats that show how great a player he is:
Roddick won the 2003 U.S. Open beating Juan Carlos Ferrero in the final 6-3, 7-6, 6-3
He was the runner-up in 4 Slams - in 2004, 2005 and 2009 he lost the Wimbledon final and in 2006 he lost the U.S. Open final, losing all 4 times to Roger Federer
Held the record for fastest serve for a 155 mph serve he hit in 2004 (this record stood until 2011 when it was broken by Ivo Karlovic who hit a 156 mph serve)
Roddick held the ATP's No. 1 spot for 13 weeks in 2003 and was the youngest American to hold the spot at year-end at the age of 21 years, 3 months
He won 33 Davis Cup matches for the U.S. and led the U.S. team to Davis Cup victory in 2007
There are plenty of other stats I could through out there. But the one thing I've always liked most about Roddick is how hard he has worked at tennis. You can tell that for him - it's a serious job that he puts his all into.
Andy is scheduled to play Bernard Tomic tonight and I'm sure the New York crowd will be going wild in support of Roddick. I wouldn't want to be Bernard Tomic tonight.  Especially not if he beats Andy.
Finally, in honor of Andy, I'm posting my favorite Roddick pic ever: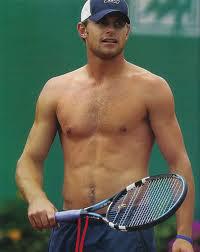 Whether you like this guy or not, you gotta love this photo!

© Kim Selzman 2012 All Rights Reserved