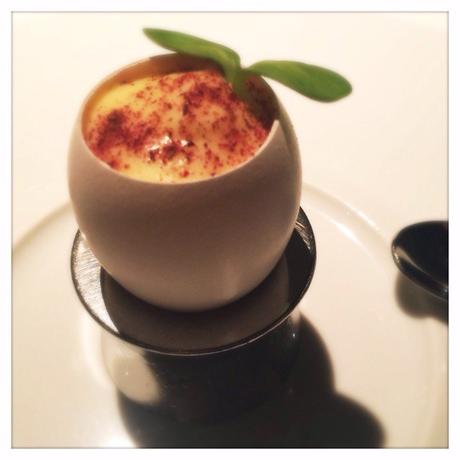 Andrew Fairlie Tasting Experience
Mr Foodie loves his food (obviously!) so where better to take him to celebrate his birthday than Gleneagles Hotel for the Degustation menu at Restaurant Andrew Fairlie, the only two Michelin-starred restaurant in Scotland!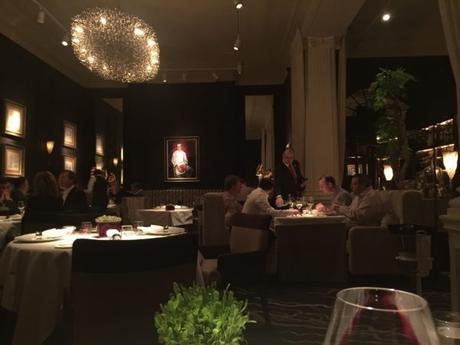 The restaurant is located within the main hotel building and is open for dinner only (6:30 – 10:00 / closed Sundays) but not restricted to guests staying there. The walls are dark and there are no windows to the outside world so it's very subdued but spotlights are directed at each guests' dining area, highlighting where the action will be.  The focus here is on relaxing and enjoying your meal.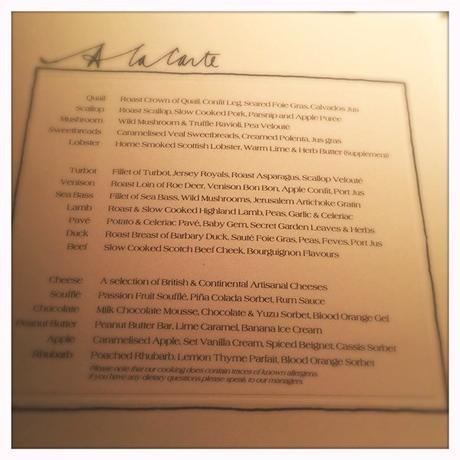 We had a peek at the lengthy À La Carte menu but had already decided on the 8 course tasting menu. We were glad we did, it took the stress out of picking just 3 and provided more oppurtunities for showcasing what the chefs are capable on this journey from land to sea and back again.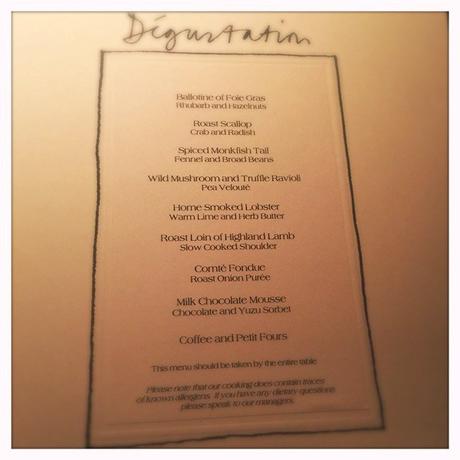 Wanting to make the most of the famous Gleneagles breakfast the next day, we didn't go for the accompanying 8 glass wine flight at £85, but did have a few different reds and whites to match the courses picked by the knowledgable and friendly Sommelier.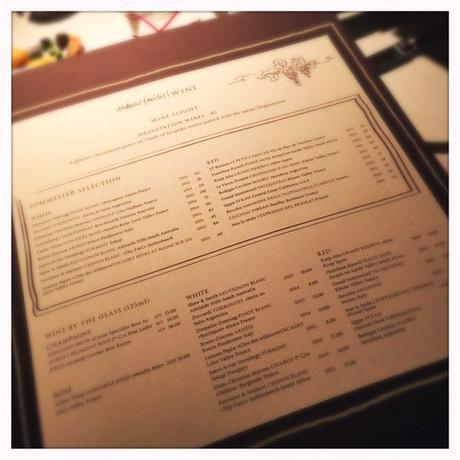 These are the wines by the glass and if you're feeling flush they have a lengthy bottle list too.
The Amuse Bouches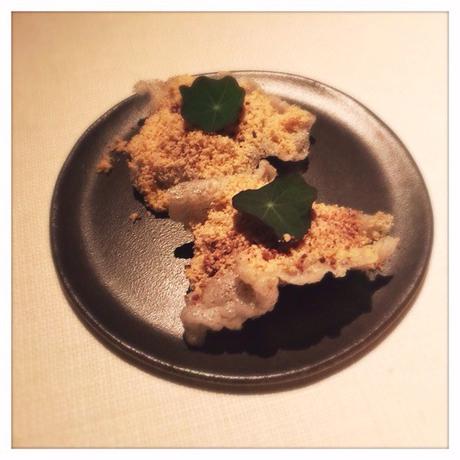 Barley Cracker with Frozen Foie Gras
A delicate prawn cracker-type taste with melting fois gras.  It was like a shredded meat ice lolly!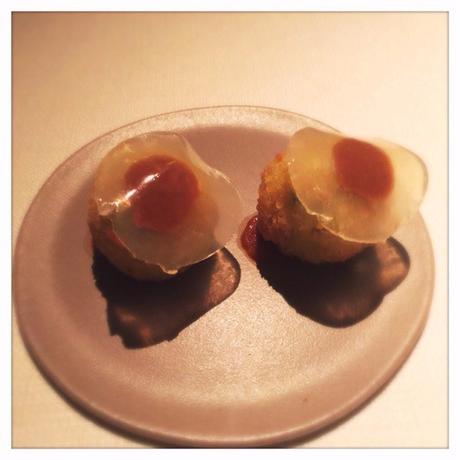 Arrancini with lemon Gel
We were spooked by these eyeball-like spheres.  However, they were tasty.  Not gloopy and stodgy like arrancini can be, smooth and risotto-ish in texture and taste.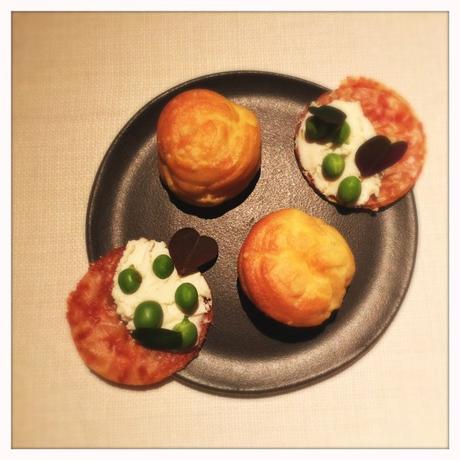 Filo disc with Crowdie and peas, and Gougere filled with Comté Mornay
Smooth creamy crowdie with crisp peas and even crisper filo worked well against the puff balls filled with comte cheese.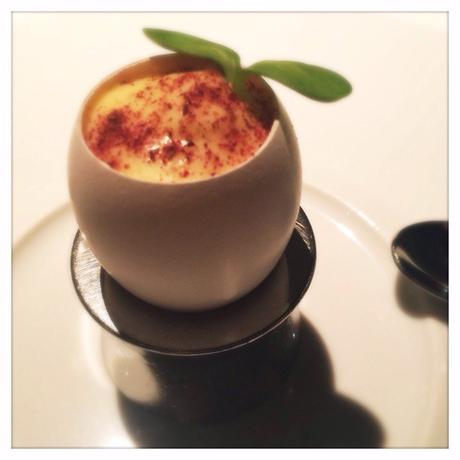 Sweetcorn Espuma
Espuma is the Spanish word for foam or froth and is the descriptive word for a technique developed by Ferran Adrià.  This foam is surrounded by a real egg shell (I wouldn't like cleaning all of these out!).  Smooth, creamy and moreish – like the smoothest sweetcorn soup ever.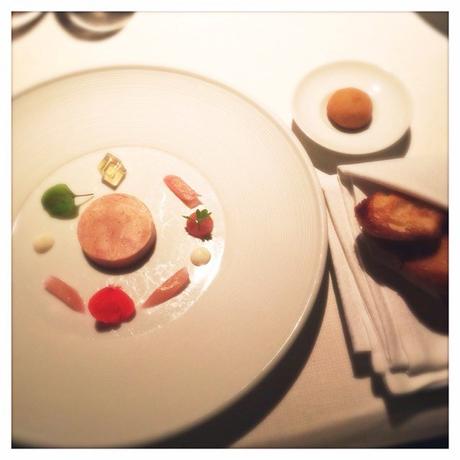 Ballotine of Foie Gras. Andrew Fairlie, Gleneagles.
Foie gras served with rhubarb.  The tart rhubarb worked excellent with the fatty and creamy fois gras. The best bit was the deep-fried ball of liquid foie gras on the side, you just popped it in your mouth in one go and let it melt away. A bowl of them would make an excellent beer snack!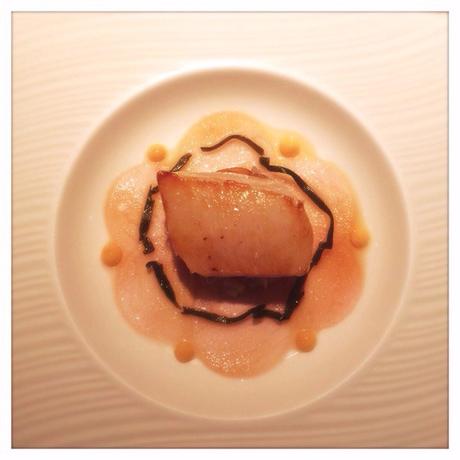 Roast Scallop with crab and radish, Andrew Fairlie, Gleneagles.
A lightly cooked meaty scallop with thin slices of radish, just enough to give a crunch and a balance of flavor.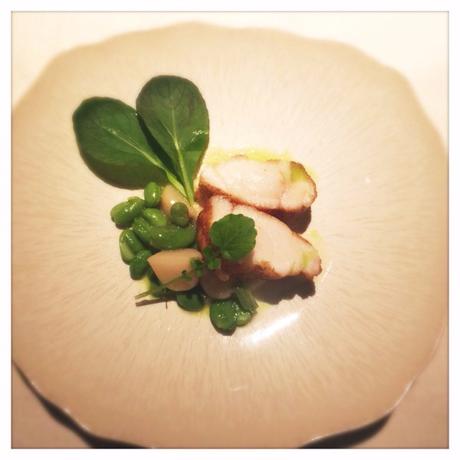 Spiced Monkfish Tail, Andrew Fairlie, Gleneagles.
Curry spices without the overpowering sauce normally served with Monkfish.  Lightly cooked, flakey fish served with firm vegetables. Again a good combination of contrasting textures.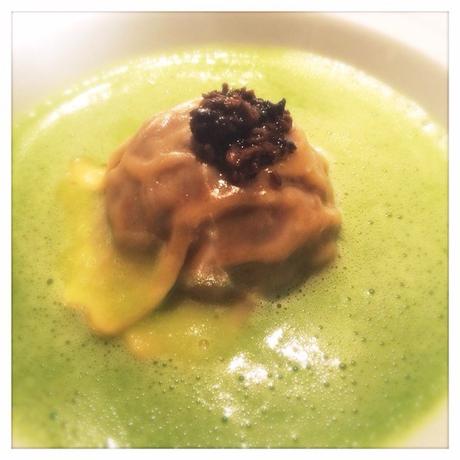 Wild Mushroom and Truffle Ravioli with Pea Velouté, Andrew Fairlie, Gleneagles.
It may look a bit alien and it was out of this world! The disctintive taste and aroma of truffle and a single large ravioli which sat in a smooth velvety pea velouté.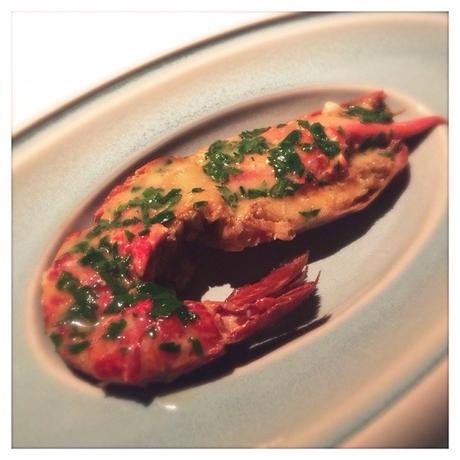 Home Smoked Lobster with warm lime and herb butter, Andrew Fairlie, Gleneagles.
We were told that only the shell goes through the smoking process as the meat is momentarily removed so not a full on smokey experience but enough of a lingering aroma that was reminiscent of Islay whisky.  Mr Foodie has never been much of a lobster fan due to the meat to price ratio but there was a lot of meat here, smooth and pleasantly buttery.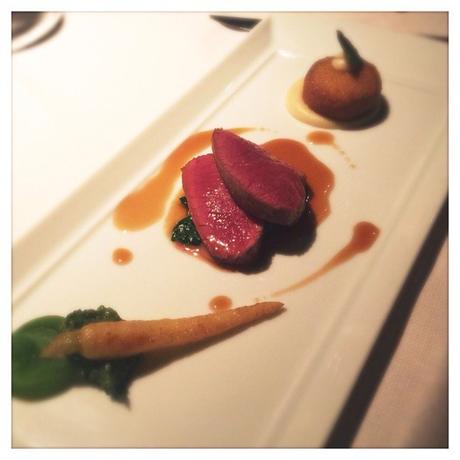 Roast Loin of Highland Lamb, Andrew Fairlie, Gleneagles.
Expertly cooked pink lamb was the star of this dish.  Delicate, juicy and tender.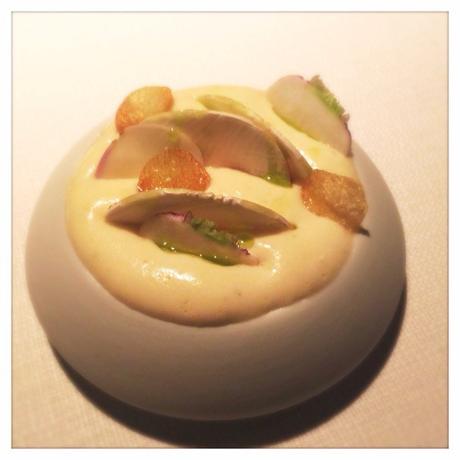 Comte Fondue with roast onion puree, Andrew Fairlie, Gleneagles.
Not what we were expecting given it looked like another egg or something from another planet! This was a fairly simple flavor combination: cheese and onion(!) but it was so incredibly moreish that we would've loved a bigger portion.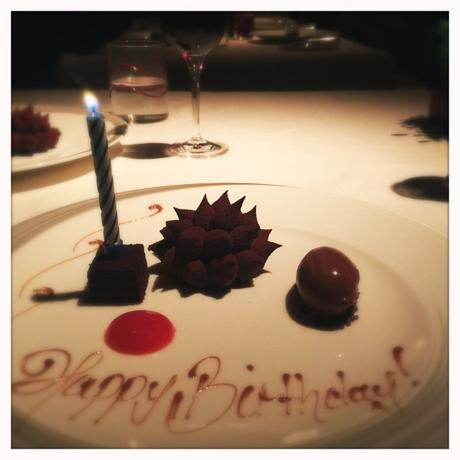 Milk Chocolate Mousse with Chocolate and Yuzu Sorbet, Andrew Fairlie, Gleneagles.
Hurrah, a lovely gesture added to Mr Foodie's dessert.  The yuzu citrus zing and chocolate was divine, and following a recent trip to Japan we'd love to see more yuzu featured on menus here.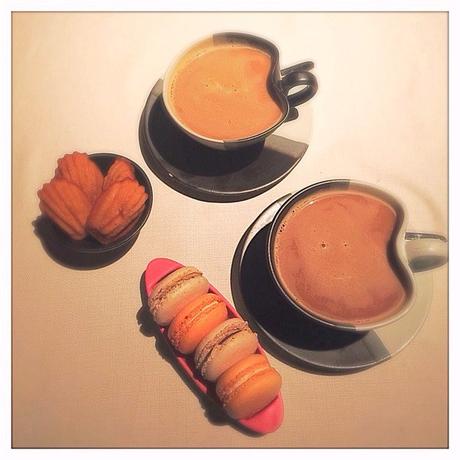 Coffee and petit fours, Andrew Fairlie, Gleneagles.
By this point we were quite merry and the coffee looks more like hot chocolate here – it was very good coffee (as far as we remember!)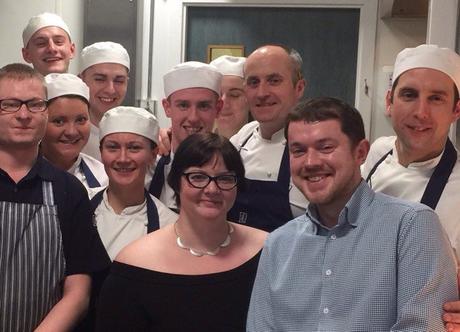 Head Chef Stephen McLaughlin and his brigade
We then had the pleasure of meeting Head Chef Stephen McLaughlin and his staff for a quick tour of the kitchen.  We were like grinning fan boys here.  Such a lovely crew who somehow found time to accommodate us.
Dining at Scotland's only two-Michelin-starred restaurant is a memorable experience and currently if you book a stay at Gleneagles with the new Andrew Fairlie Tasting Experience package you can experience the full eight-course Dégustation tasting menu for £540 per room per night (Monday – Friday only) until 30th September 2016. This is inclusive of VAT and a saving of £75 on standard rates.
More details on the deal can be found HERE.
We loved our visit to Andrew Fairlie, the food and staff were superb.