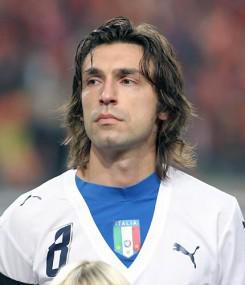 Andrea Pirlo (Wikimedia)
Football is becoming more dependent on statistics.  Let's not doubt that for one moment.  We use stats to be able to quantify performances and why teams win or lose.  Still these formulas and monitors do not tell the entire story.  If there is one thing that it still cannot show
Andrea Pirlo had one of the best individual performances in recent Euro play as he was a maestro with the ball at his feet and peppered the English defense with precise passes.   His performance not only earned rousing ovations from fans and foes alike, he was able to prove to the world that Italian football was not about taking teams on a teeth churning white knuckle ride where they defended and willed their way to victory.
Click here to view the embedded video.
This era of  Italian football showed panache, class and also a constant threat to score.  Now whether they scored or failed to do so, that's another story.  Pirlo did everything for Italy against England expect push the ball into the back of the net.  His focus was superb and his touch made him the different player on the pitch.
Of course, the crowning moment of the night for him was the penalty kick he took.  Sometimes we say it's ballsy to do it in the middle of the match or as the championship winning kick.   But to be able to do it right after seeing Riccardo Montolivo miss right before him.  The stakes were as high as they could be.  That penalty kick not only left people in awe- it also rocked the English psyche to an extent.  It turned the tide of that shootout and Italy rode that crest to the semifinals.
"At the moment I saw the goalkeeper making strange movements, so I waited for him to move and hit it like that. It was easier for me to chip it at that stage. Maybe my effort put some pressure on England and in fact  missed the next one after me."                                                                                                                                                                            - Andrea Pirlo on his penalty vs. England
Those moments will be remembered.  As a matter of fact, they will overshadow everything he did this season with Juventus helping them win their first Scudetto in over six years.  It was hispresence as well as his ability to work his magic from far out that made Juventus such a solid team in the middle of the park.
Yet despite all he did, he will be overshadowed by more tangible and measurable statistics such as goals.  No, I am not here to bash Cristiano Ronaldo and Lionel Messi.   I would be going into that gunfight with a toothpick.  What I am actually doing is looking to get more love for players like the man that first started to use his prolific right leg as a paintbrush in the small town of Flero up in Lombardy. Since then he's been able to leave many in awe of his abilities.
More importantly, a player of that ilk is one that is best appreciated when he is not present.  If you have any doubts, just ask any Milan fan about how happy they are that he's over at Juventus.  Better yet, look at Milan and Juve this past season and then look at them the season before that to see how they played.   Also at Juve, being able to play a little higher and play what he actually was born to do, the difference is now seen as the 33-year-old just allows everyone to get touches at a frenetic rate.
They're game is one of intangibles.  Yeah, there are statistics that somewhat can measure their impact in any game on the pitch, but that only tells you a minor part of the story.   Every goal has an inception.  It has a genesis. It has a moment where you see it coming and there is little that any defense could do to stop it.
Hearing many after Sunday's win against England, you would have thought that he was just coming out of some obscure South American club and he was Neymar's stiffest competition in early battle for supremacy as the next great footballer.
Andrea Pirlo with the ball at his feet, is a constant threat.   Andrea Pirlo with his sights locked in on an opponent is a goal in the making.  What is most shocking to me is to hear the press in various countries begin to just now realize that this player is great- among the greats. They weren't paying too much attention to Vicente Del Bosque when he said that the Italian midfielder was a player that worried him a great deal.  That alone is the greatest tribute to a player that an opposing coach could give.  Coming from Vicente Del Bosque, that is a sincere compliment as well as a warning to any that are willing to heed his warning.
"Honestly, I am worried about China, but I am worried more about Pirlo."                                                   - Vicente Del Bosque on Andrea Pirlo
So for many in the English media it was an eye-opening revelation to a true talent of the game.  It was reality knocking them upside the head as they succumbed to a team that was better and a player that showed them how the game was to be played.
This is where the Ballon D'Or selection process fails in recognizing the ones that create or set up the goals.  It is Pirlo, just like others such as Xavi and even Andrés Iniesta, that gets snubbed for the glory boys that put the ball into the back of the net.  They might not make constant noise like the players in front of them on the pitch; they are able to leave you just as flabbergasted with a single touch of the ball.  In Pirlo's case, his passes are longer and much higher risk, this is what makes his passing and completion percentage all the more impressive.   His numbers are head-to head with players such as Xabi Alonso- tops in the final third of the pitch.
What was most ironic about all of this was that Pirlo's play was part of the reason why England were offering up the best homage to the Catenaccio that they had so often mocked and thumbed their noses upon.   It was his precision that kept England pinned back after those first 15 minutes;  Pirlo's  teammates' imprecision kept England alive for as long as they were.
So for a season filled with performances such as this one, the love he should receive from Ballon D'Or voter should be much greater than what it will inevitably be.  Should he be the winner?  Not sure that I would go THAT far. What I do know is that he should be considered among those upper echelon players by the recently converted.   I think that is just as big a victory for him and, more importantly, Italian football.
WHAT DO YOU THINK ABOUT ANDREA PIRLO?  LET US KNOW VIA FACEBOOK and TWITTER