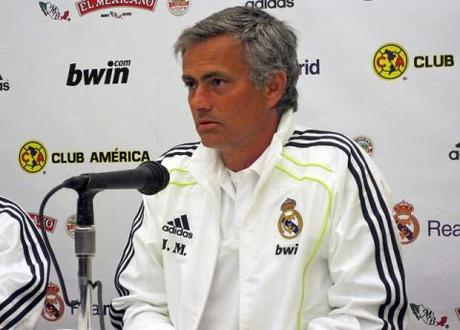 Real Madrid manager Jose Mourinho. Photo credit: Apasciuto
Andre Villas-Boas has been sacked after less than a year in charge at Chelsea Football Club. The sacking of the 34-year-old Portuguese manager followed Chelsea's disappointing one-nil loss at West Bromwich Albion, which saw the west London club slip to a disappointing fifth place in the Premier League. Former Chelsea midfielder Roberto di Matteo has been put in charge as first-team coach on an interim basis until the end of the season. While the sports commentariat continue to furiously debate whether Russian owner Roman Abramovich's sacking of Villas-Boas was unjust or overly hasty, frenzied speculation has already kicked off about who's the best candidate to take the reins at  the end of the season. Real Madrid manager Jose Mourinho, who won five major domestic trophies as Chelsea manager between 2004 and 2007, is undoubtedly Chelsea fan's firm favorite.
Mourinho has been installed as the bookmakers' warm 3/1 favorite to be appointed the next permanent Chelsea manager. Rafael Benitez, Pep Guardiola, Roberto di Matteo and Fabio Capello are the other most likely candidates say the turf accountants.
Guardiola is Abramovich's dream candidate. Matt Hughes at The Times (£) drew up a "dreamer's wish list." It identified Barcelona's manager Guardiola as the "dream candidate for (Russian owner) Roman Abramovich, who is a big admirer of Barcelona's style of play, but unlikely to swap the Nou Camp for Stamford Bridge despite uncertainty over his plans for next season." The paper interpreted Mourinho's repeated "flirtation" with Chelsea to  be "an attempt to strengthen his position at Real Madrid" and insisted Abramovich "would not sanction his demands for total control." Ex-England manager Fabio Capello has the "has the best club CV in the business, but his limited English and reputation for producing functional football may count against him." Tottenham gaffer Harry Redknapp was discounted on the grounds that "Tottenham would resist all the way … and would prefer to lose him to England."
Chelsea have never won the UEFA Champions' League. They lost in the final to Manchester United under the management of Avram Grant. It is widely recognised to be Abramovich's ultimate goal.
Abramovich seduced by Spanish titans. Writing from Madrid, Sid Lowe at The Guardian's Sport Blog said that Mourinho and Guardiola "make intriguing contenders." Lowe suggested that Abramovich has been "seduced" by Spain's intense Madrid v Barca rivalry, and has previously tried to "import" the Barca philosophy to west London, but reminded that neither manager may be seduced by the prospect of cleaning up AVB's sizeable mess at Chelsea. Besides Mourinho and Gaurdiola, "from Chelsea's point of view, there are few apparent candidates. If Benítez was a serious long-term option, he would already be in place. Guus Hiddink took up employment elsewhere. Fabio Capello has hardly seen his reputation enhanced with England, although his support of John Terry would make his landing smoother."
Who do you think would be the best man to take Chelsea forwards? Leave a comment and let us know your thoughts.
Return of the Special One. Henry Winter of The Telegraph said Mourinho is the "only man who can save Chelsea." "For those whose lives revolve around events on the Kings Road, all roads lead to the old king, to Mourinho, the Special One. All the signs, and not solely estate agent signs, point to Mourinho leaving Real Madrid this summer. He has talked frequently of a desire to return to the Premier League one day. He has made respectful comments about Chelsea Football Club since leaving. He has stayed in contact with certain players. An old flame burns bright." Mourinho "would inspire Chelsea, making them stronger mentally and also drilling them better defensively," insisted Winter, who said that Mourinho "possesses the intelligence to manage change more adroitly than the ingénue Villas-Boas."