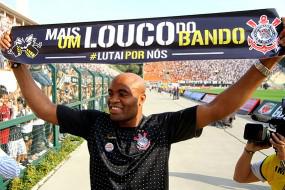 MMA superstar and famous Corinthians fan Anderson Silva will have a documentary retelling the story of the middleweight champion's road to his classic battle against Chael Sonnen.
Like Water is due to be released in select theaters all over Brazil on March 16th.
The movie talks brings home to the audience different perspectives of the champ's preparation as well as all the other events that occurred on the way between him and Sonnen back in June 2011.  There were also interviews with individuals like UFC president Dana White where he talked about how great and how cocky he can be.  The film has a great deal of footage of him preparing with good friends Minotauro Noguera, Junior Dos Santos and Lyoto Machida.
It also gave an intimate look at the family man and more laid back individual compared to the man that he is inside the ring.  From his personal side he also talks about one of his greatest passions- football- more specifically Corinthians.
Director Pablo Croce talked about this film at length and about the man that he had absolutely no idea about.  He came in with a blank slate and was able to paint a canvas that is very unique compared to the one constantly portrayed about the UFC middleweight champion.

Corinthians, which are one of his sponsors,  have been promoting this movie which received raving reviews in various film festivals around the world.  It even won awards at last year's  Tribeca Film Festival.
FOLLOW ME ON TWITTER