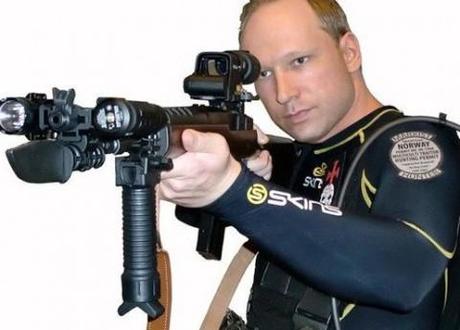 Anders Breivik. Photo credit: "2083: A European declaration of Independence", a manifesto by Anders Behring Breivik
The ongoing trial of Norwegian far-right loner Anders Behring Breivik, whose July 2011 gun and bomb attacks left 77 people dead, has prompted a thorough examination of what goes on inside the mind of a serial killer. It has also encouraged true crime watchers to re-open the simmering debate about who is the worst serial killer of all time.
Body count. In terms of sheer body count, Pedro Alonso Lopez, the so-called "Monster of the Andes," is comfortably the worst serial killer of all time. Lopez reportedly raped and killed over 300 young women in the 1970s and 1980s in South America. He begun by targeting Peruvian tribal women. After killing around 100 women, he was caught by a native tribe, who were preparing to execute him, when an American missionary intervened and persuaded them to hand him over to the state police. Somewhat inexplicably, the police soon released him. Lopez moved to Ecuador where he stepped up his killing spree. At the height of his horrendous activity, Lopez confessed he was killing three young girls a week. He later told journalists "I like the girls in Ecuador, they are more gentle and trusting, more innocent." When he was finally arrested he confessed to the killings but the police only believed him when a flash flood uncovered a mass grave containing many of his victims. Homessecurity.net noted that Lopez "butchered enough people to fill a small town."
Sickest? Andrei Chikatilo has to get the nod as the sickest serial killer of all time. Ukrainian sexual deviant Chikatilo, who suffered from impotence since adolescence, was only able to achieve orgasm by stabbing and slashing his murder victims. Active from the late 1970s through to the early 1990s, Chikatilo killed over 50 people. During his confession, he revealed that he had often tasted the blood of his victims and admitted he had chewed upon the excised sexual organs of several victims of both sexes. His atrocities earned him three a whopping three nicknames – "The Ripper of Rostov", "The Rostov Ripper" and the "Butcher of Rostov."  In 1994, he was finally caught when trying to approach young children whilst under police surveillance. He was famously kept in a cage at his trial to protect him from his victim's families and was sentenced to death, a sentence which was carried out by a gunshot to the head.
Creepiest. John Wayne Gacy, perhaps America's best-known serial killer, sexually assaulted and murdered at least 33 teenage boys and young men between 1972 and 1978. He buried 26 of his victims under his home and buried three others elsewhere on his property. Gacy earned the nickname the "Killer Crown" due to his charitable services at fundraising events, parades and children's parties where he would dress as "Pogo the Clown", a character he devised himself. He was executed in May 1994, by lethal injection. Supposedly, his last words were "kiss my ass."
Most gruesome? Jeffrey Dahmer murdered at least 17 men and boys between 1978 and 1991, with the majority of the murders occurring between 1989 and 1991. His murders were particularly gruesome, involving acts of forced sodomy, necrophilia, dismemberment, and cannibalism. After a few near misses, Dahmer was arrested in 1991 upon which the police discovered his apartment to be a house of horrors: several corpses were stored in acid-filled vats, severed heads were found in his refrigerator, and implements for the construction of an altar of candles and human skulls were found in his closet. In 1994, Dahmer were beaten to death by fellow inmate while on work detail in the prison gym.
Giles de Rais: 15th century nobleman serial killer. Listverse.com noted that not all the worst serial killers operated in modern times. They made French nobleman Giles de Rais (born 1404) their "most evil serial killer" ever. The website reported that de Rais "is considered to be the precursor to the modern serial killer." According to surviving accounts, military captain de Rais lured children, mainly young boys who were blond haired and blue eyed (as he had been as a child), to his residences where he raped, tortured and mutilated them. De Rais also had a fondness for bathing in the blood of his victims. The precise number of Rais's victims is not known, as most of the bodies were burned or buried but a few have conjectured numbers upwards of 600.