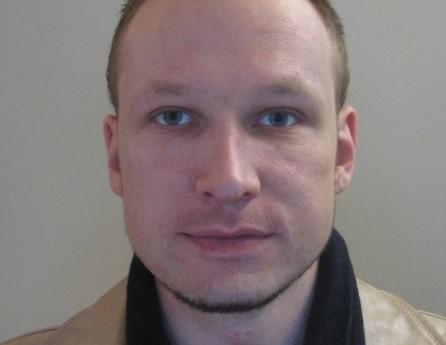 Anders Behring Breivik. Photo credit: oslo politidistrikt
The background
The defence team in the trial of Anders Breivik, the man accused of killing 77 people in total, in Oslo and on the island of Utoeya in Norway, is summing up today. He admits to the killings, and to injuring 242 people, reported the BBC. He bombed government buildings in Oslo on 22 July 2011, before proceeding to a camp for Labour Party supporters on Utoeya in revenge for the Labour Party allowing Islamic immigrants into Norway.
Breivik did not belong to any known right wing organisations, and said he commanded a network called the Knights Templar, although investgators could find no trace of it.
His lawyer, Geir Lippestad, says that Breivik is of "sound mind" and therefore should not be placed into psychiatric care; the defence want him declared insane. Lippestad claims that it's impossible to decided whether or not Breivik was mad, and argued that nothing in Breivik's life up to the shootings. Breivik insists he did the attacks to prevent the Islamisation of Norway. The ruling, said an Associated Press report, is expected a month after the trial ends on Friday 22nd June 2012. The crux of the matter is whether or not Breivik was sane, with each decision having serious consequences.
What drove Anders Breivik to mass murder? Read about it on Periscope Post
Terrorist or madman?
Jessica Gray reported for AP that whether or not Breivik is declared insane, he'll spend most of his life in prison. The decision will also reflect whether the massacre "goes down in history as right-wing terrorism or as the work of a bloodthirsty madman." She said that the "image of global terrorism was jolted" by the blond, blue-eyed Breivik. 74 per cent of Norwegians believe he is mentally sane. Psychiatrists have found differing results: one team said he had paranoid schizophrenia; another said he was legally sane.
It doesn't matter which
"I've lost the dearest thing I had," said Trond Henry Blattmann, whose 17-year-old son was killed in the shooting massacre on Utoya island. "It doesn't matter whether it's prison or hospital," quoted by Jessica Gray.
There's too much tension between diagnostic and legal arguments
Peter Beaumont in The Guardian's Comment is Free said that this trial shows how dificult it is to "match the complexities of diagnosis" with penal codes that insist on strict definitions of mental responsibility. Few disagree that Breivik is "profoundly abnormal." Those who argue that he is psychotic say that he was obsessed with "the act of killing, not his stated political motivation", and had "coined neologisms" to fill the gaps in his "world view" – a sure sign of schizophrenia. But the real problem is the "tension" between the diagnosis and the legal requirements. Judging Breivik either insane or sane will have "wide political and social implications." Ultimately, if he's mad, he's not responsible; if he is mad, "we will have to pity him," wrote Beaumont, quoting one of the victims' lawyers. The latter, for many, "is as awful as the specter of Breivik himself."