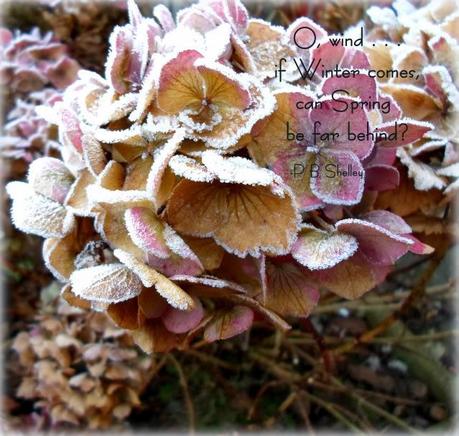 I am feeling a tiny bit under the weather today so I hope that you don't mind a repost from about 2 1/2 years ago now.  Nobody minds an impromptu tea party do they? 
I thought not . . .  so here we go.   And then we had tea . . .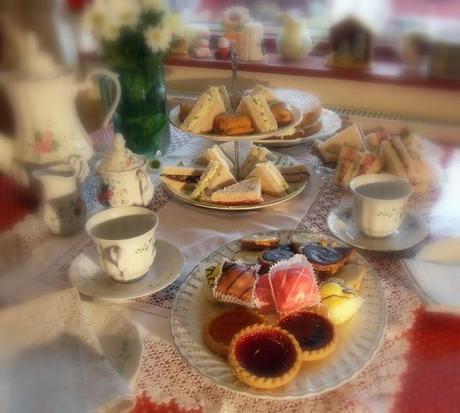 These cold dismal and dreary January days can get one a bit down after a while. Day after day of drizzle or snow . . . very little sun . . . blah, blah, blah.
Here's one way to perk them up and bring a bit of sunshine into your life! Have a tea party! You don't need anything special . . . or even to invite a whole bunch of people over. Some of the best tea parties of all happen when there's just two of you and a dog!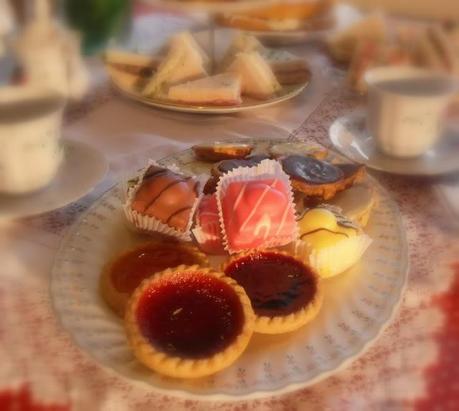 All you need is a table spread with a fine cloth and some tea . . . in a pot of course, (today we had blackberry and mint and it was delicious!) and cups and saucers.
The perfect afternoon tea should begin with some delicious savouries . . . finger sandwiches, sausage rolls, little toasts, savoury pastries . . . followed with scones (if you wish) and a selection of fancies and cakes.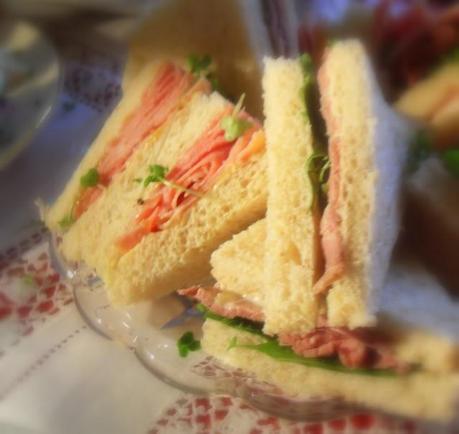 I decided early on during this particularly dreary day that I was going to treat Todd and I to a traditional English Afternoon tea party. He had no idea what I was up to, as he sat upstairs engrossed in his war games on the computer.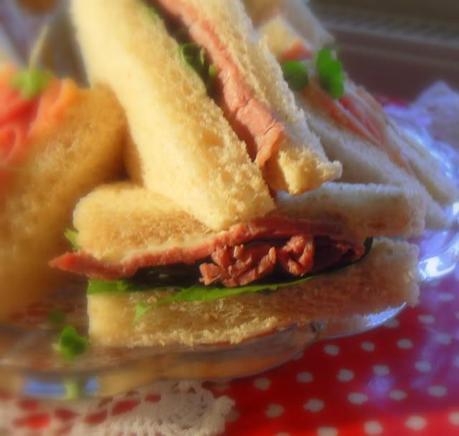 Things don't always go to plan though . . . do they. The dog mischeviously ate half of my first Victoria Sponge when my back was turned. Bad doggie. I seized the engine on my new baby sized food processor, chopping the glace fruit for the florentines. Bad idea. Chop it by hand.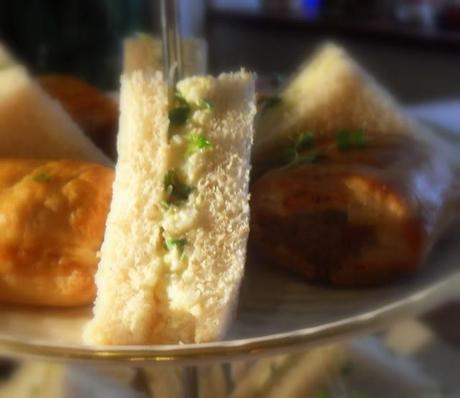 Never mind we got there in the end and Todd was so surprised when I called him down to lunch and he saw what I had been up to.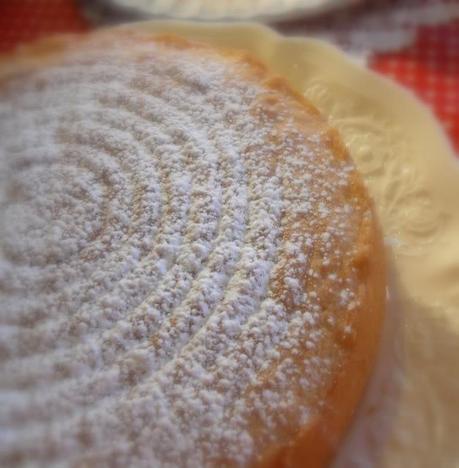 We sat there smiling and sipping and nibbling . . . all was right with the world, drizzle or not, dog eaten cakes . . . it was fun, plain and simple.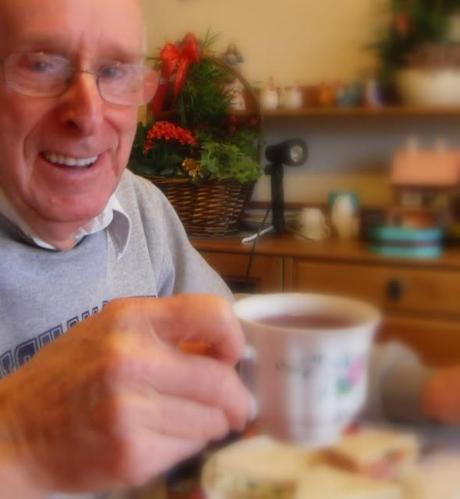 Don't forget to use your pinkies!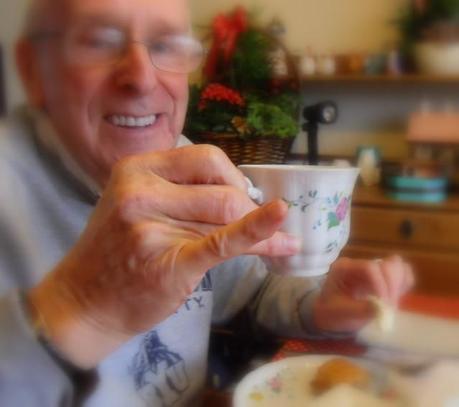 *Finger Sandwiches*
makes 18 to 24
Printable Recipe
What would afternoon tea be without a plate of tasty sandwiches? (Choose 3 of the below fillings)
12 thin slices of white or wholemeal bread, crusts removed
(I just buy the bread that already has the crusts removed,
easy peasy, lemon squeasy)
room temperature butter, for spreading
sea salt and freshly ground black pepper as desired
For the egg and cress filling:
2 TBS good quality mayonnaise
1/2 tsp finely grated lemon zest from an unwaxed lemon
2 hard boiled eggs, peeled and chopped
a handful of mustard cress
For the Gentleman's Morsels:
1/4 pound shaved roasted ham
apricot jam, seived
Dijon mustard
For the Roast Beef:
1/4 pound thinly sliced rare roast beef
horseradish mayonnaise
a handful of rocket leaves
For the Parma Ham and Fig filling:
1/4 pound of parma ham
1 ripe fig
1/2 tsp balsamic vinegar
1/2 tsp olive oil
handful of rocket leaves
For the Stilton and Pear filling:
50g of Stilton cheese, thinly sliced (1/4 pound)
1 ripe firm pear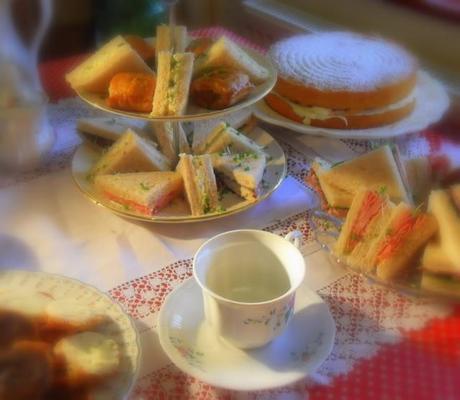 To cut sandwiches, lay your hand on top of the sandwich and lightly press down. Using a serrated knife and a gentle sawing motion, cut diagonally into quarters or lengthways into 3 fingers.
For the egg and cress sandwiches, thinly butter 4 slices of the bread. Combine the mayonnaise, lemon zest, egg and season with some black pepper, folding together well. Spread evenly on half the slices of bread. Sprinkle with the cress and top with the remaining 2 slices of bread. Cut as above.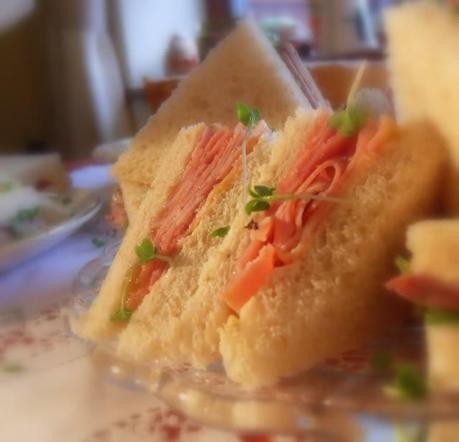 To make the Gentlemen's Morsels., thinly butter 4 slices of the bread. Spread 2 slices with seived apricot jam. Spread the other 2 with Dijon mustard. Lay the ham evenly over top of 2 slices and top with the other 2. Cut as above.
For the Roast Beef, thinly butter 4 slices of the bread. Spread 2 slices with the horseradish mayonnaise. Top with the roast beef and season to taste. Sprinkle with the rocket and top with the other 2 slices of bread. Cut as above.
For the Parma Ham and Fig sandwiches, thinly butter 4 slices of bread and fold ham on top of two of them. Cut the fig into thin wedges, remove and discard the skin and then arrange the wedges on top of the ham. Whisk the vinegar and oil together. Season with a bit of salt and pepper. Drizzle over the figs. Top with rocket and the remaining slices of buttered bread and cut as above.
To make the Stilton and Pear sandwiches, thinly butter 4 slices of bread. Arrange the stilton over 2 slices of the bread. Slice the pear into thin wedges, removing and discarding the core, then arrange on top of the cheese. Season with black pepper, then top with the remaining slices of bread and cut as above.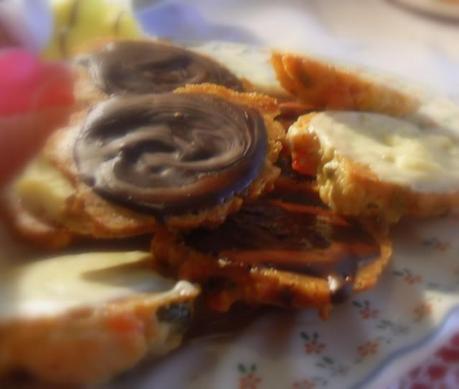 *Dark and White Chocolate Florentines*
Makes about 24
Printable Recipe
Sticky, crisp, chewy, gooey. Moreishly addictive.
50g of butter (3 1/2 TBS)
50g of caster sugar (2 TBS)
3 TBS double cream
25g of flaked almonds (1/4 cup)
75g of mixed nuts, chopped (Pistachios, walnuts, hazelnuts, etc.) 3/4 cup
4 glace cherries, chopped
50g of mixed glace fruits (apricots, pineapple, peel, angelica) chopped (1/3 cup)
25g of plain flour (1 heaped TBS)
50g of white chocolate
(2 ounces)
50g of dark chocolate
(2 ounces)
Preheat the oven to 180*C/350*F/ Gas mark 4. Line two baking sheets with parchment paper. Set aside.
Gently heat the butter, sugar and cream together until the butter melts. Bring to the boil and then remove from the heat. Stir in the nuts, cherries, fruit and flour. Mix thoroughly. Drop by teaspoonfuls onto the prepared baking sheets, spacing them well apart.
Bake for 10 minutes, until golden. Remove from the oven and gently press back the edges with a rounded knife to keep a round shape. Allow to cool on the baking sheets for 10 minutes before carefully peeling off the paper and setting on a wire rack to cool completely.
Break the white and dark chocolates into individual bowls. Melt carefully in the microwave without over-heating. (Be careful as white chocolate burns easily.) Alternatively melt in bowls over simmering water. Spread over the bottoms of the florentines, coating half with white and half with dark. Let set before serving.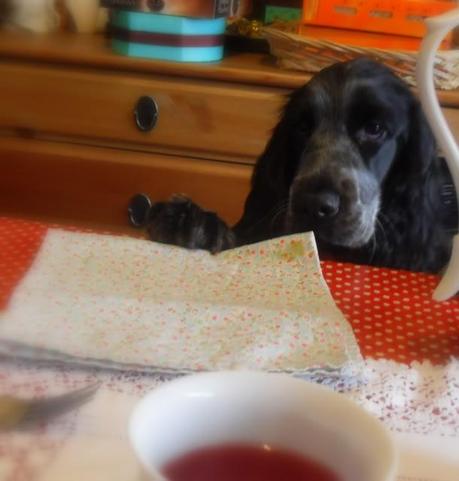 Ohhh . . . doesn't she have a longing and innocent look on her face? I think half a cake is more than enough don't you?