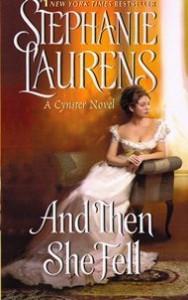 Title And Then She Fell
The Cynster Sisters Duo Book #1

Author Stephanie Laurens

Publisher Avon

ISBN 9780062068644

Pub Date March 26, 2013

Category Fiction, Historical, Romance
Summary:
#1 New York Times bestselling author Stephanie Laurens has returned to another utterly irresistible branch on her beloved Cynster family tree . . .
The only thing more troublesome than a Cynster man . . .
. . . is a Cynster lady who believes love is not her destiny. Famously known in London society as "The Matchbreaker," Henrietta Cynster's uncanny skill lies in preventing ill-fated nuptials—not in falling victim to Cupid's spell.
But then she disrupts one match too many and feels honor-bound to assist dashing James Glossup in finding a suitable bride for a marriage-of-convenience.
A task infernally complicated by the undeniable, unquenchable attraction that flares between James and Henrietta, who continues to believe she will never fall . . .
 My Thoughts:
Oh my goodness. It has been some time since I read a Cynster book, and after reading this one all I want to do is to go find all the stories of the older cousins the Bar Cynsters. I had faithfully read all the Cynster books till the Cynsters Sisters Trilogy, when for what ever reason I just dropped the ball and missed those- so now I'm off to find and read those book.
This book like the others takes you back to the 1800s London, and you get transported to that time period with this book. I have always loved that about these book its to easy to get lost in that time period. With Simons younger sister Henrietta, who has made a name for herself as the Matchbreaker. She has the uncanny ability to find out truths that others want to be hidden. So her peers have turned to her to find out if that particular someone who is courting then is really the one for them. Since most want a love match, they usually want to know if the gentleman really loves them or is only after their money or something else. So Henrietta has become a great friend to the ladies but someone that the gentlemen don't always like because she has thwarted many marriage plans due to her knowledge. But Henrietta is also quick to point out that she has helped many couples to the alter too by her information gathering.
In this case though Henrietta is helping out a close friend Melinda learn why James Glossup is really courting her, its not the love match that Melinda really wants. But what Henrietta later learns is that James really does need to marry, or else those people who depend on him for their lively hood might just find themselves in deep trouble do to James an inheritance from his grandaunt. So Henrietta decides to find James a wife that will really work for him, because she sees that James is really trying his best to take care of those who he is ultimately responsible for.
So Henrietta and James spend a lot of time together combing the eligible ladies who might be right for James. During this time they both start to fall for each other, but due to their relationshop it takes a lot for them to really admit it to themselves and then to the other person. Add into the mix the 'accidents' that are happening to Henrietta where James is forced to come to her rescue.
This is a really good story, the characters, both the new ones and our old favorites are as likable and as interesting as ever. There is plenty or mystery, intrigue, suspense, romance and even murder to keep you turning the page.
Over All Rating: 4 Stars
Disclosure: This book was provided to me by the publisher via Edelweiss. The rating, review, and all opinions are my own