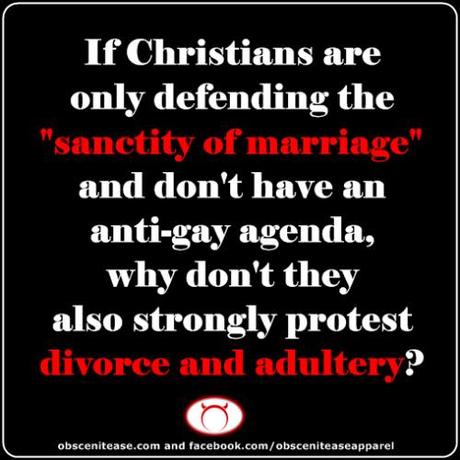 We do not see conservatives trying to make THESE more legitimate challenges to the sanctity and success of traditional marriage illegal. In fact we have seen some of the clerks who claim sincere religious belief as a failed excuse not to do their jobs turn out to themselves have multiple failed traditional marriages to their credit, raising questions about how sincerely they really believe in monogamy.
For example, Rowan County, Kentucky clerk Kim Davis, who is suing to be able to refuse to issue same sex marriage licenses on religious belief grounds, is apparently on her own fourth marriage. From
Snopes:
A 9 July 2015 report from Lexington station WKYT on David Moore's video noted the rumor that Kim Davis had herself been married four times and stated that her marriage certificate confirmed that fact
My understanding and impression is that Ms. Davis has undergone multiple divorces, not multiple deaths of spouses.
Quite the opposite of supporting traditional monogamy in practice, we see conservatives engaging in more cheating on spouses, more use of pornography (remembering that committing adultery in one's mind and heart are the same as doing it in the flesh), higher rates of divorce, and high rates of multiple marriages (mostly while ex-spouses are still living). So the concept of one man/one woman until death do us part is just simply bullshit; the right does not defend this kind of traditional marriage. Rather it is more a case of TREAD-itional marriage, where they trample all over it. No, the objection to same sex marriage equality is about one thing and one thing only -- screwing over the LGBT community and doing their level best to treat them as second class citizens. Shame shame shame on them; they do NOT deserve respect for their position. They instead deserve to be called out for their hypocrisy and hatred of others, and their desire to harm others.
A federal judge promises to rule later this month on the Davis sincere-religious-belief suit. Rowan County is claiming they are immune from this suit, since the county is not refusing to issue the same-sex marriage licenses, which could leave clerk Kim Davis on the hook for some considerable cash. However as her position and suits are being funded by the radical right wing instead of her personally, I'm sure there will be a generous outpouring of bigot bucks in her direction to help defray judgments against her, since it looks highly likely she will lose, and lose big.