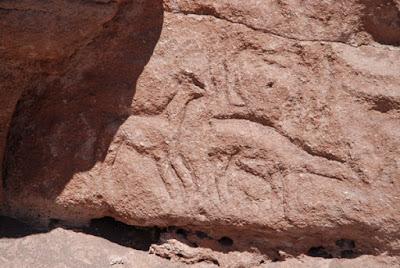 Petroglyphs in the Atacama Desert in Northern Chile
In December 2009, Art and I spent five days in the Atacama Desert in the far north of Chile, staying at Tierra Atacama in San Pedro de Atacama. Each day, our hotel arranged tours to sites in the area.
The focus of our second day's trip was an ancient petroglyph site in the foothills of the Andes. This turned out to be a private tour, as no one else from the hotel wanted to go there that day.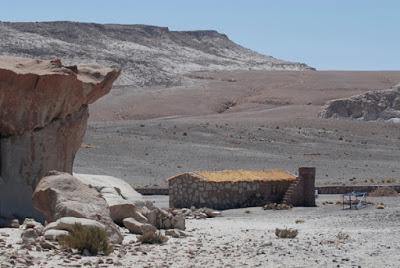 For thousands of years, a large rock outcrop at the foot of Andes has been used by indigenous artists to make drawings of people, animals and other images.
About an hour's drive north of San Pedro, we approached an open valley surrounding a semi-circular rock outcrop. A caretaker was inside the small visitor center, but otherwise we were the only people there.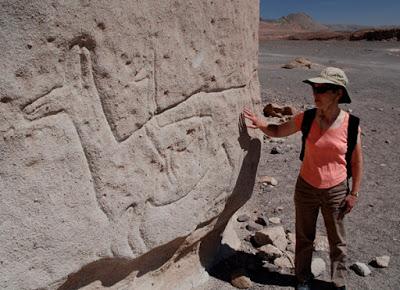 A life-size drawing of a llama, with a smaller image inside it.
Even from a distance I could see the outline of a llama on the first boulder. Deeply incised on the vertical surface, it was nearly life size. The surprise, as we got closer, was that there was another smaller llama drawn inside the larger one, perhaps to indicate fertility.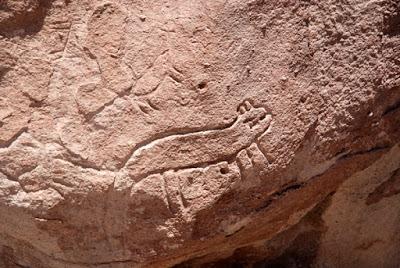 Puma
Although it is difficult to date rock art, it is believed that some of the images are thousands of years old.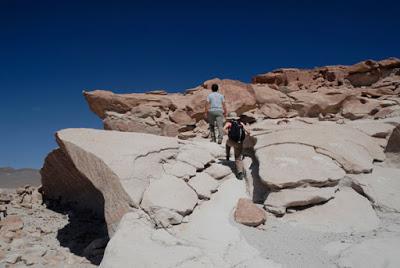 Drawings were found all over the site.
Scrambling up the boulders we saw petroglyphs of more llamas, big and small, as well foxes, pumas, jaguars, snakes, flamingos, and human figures with feather headdresses.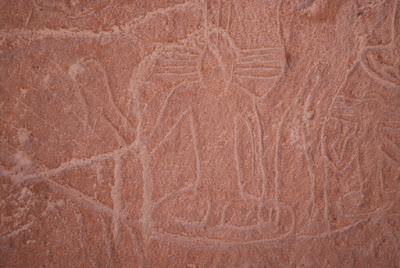 Seated person with feather headdress
As we stood there in the shadow of these ancient images, it was easy to imagine prehistoric hunters resting here on their way to the next oasis.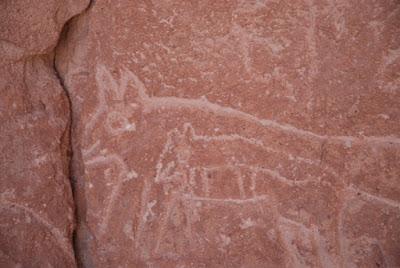 Foxes
The extremely dry climate is ideal for preserving rock art, and in many cases the drawings appear as fresh as if they were made yesterday.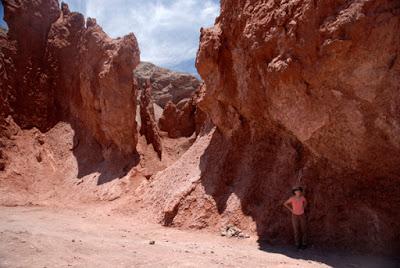 Our shaded lunch spot in Rainbow Canyon
For our picnic lunch we went to nearby Rainbow Canyon, named for the unusual variety of colorful rock formations. Shade was in short supply, but we found a large rock whose shadow was just big enough to set up our lunch table.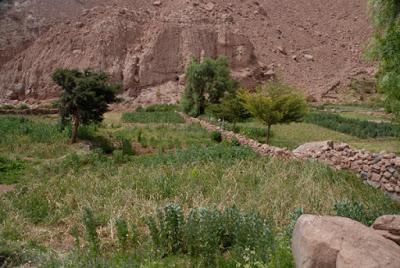 Terraced fields in the village of Rio Grande
For our final stop we drove to the remote village of Rio Grande for an example of terraced farming. The contrast between the small but lush fields at the base of the river canyon and the stark, steep walls that contained them was huge.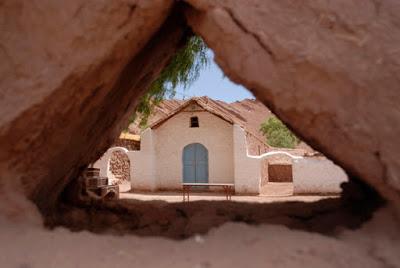 Village church in Rio Grande
On the way back to the highway, we spotted a group of guanacos, the wild relatives of llamas and alpacas, domestic animals that are kept for their wool and meat.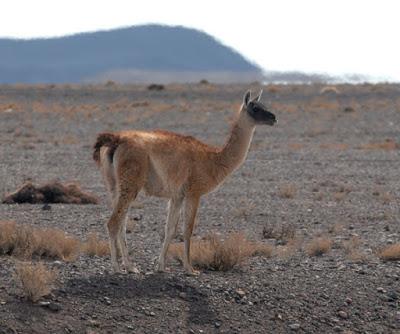 Guanaco
A full report of our visit to the Atacama can be found in these posts from May 2011:
Chile: Atacama Desert, Part 1, Flamingoes, Oases and Volcanoes
Chile: Atacama Desert, Part 2, Ancient Rock Art, Llamas and Geysers