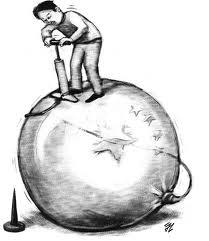 Right now, we don't understand why people get caught up in self-reinforcing expectations of rising prices. The first time you're in this experiment, you may have bought early and you may have sold before the break. Bring those same people back in another two or three days, put them in the same environment, and we get a lower-volume bubble. Typically, it booms earlier and crashes earlier; they are expecting a bubble. Bring them back a third time, and they tend to trade fairly close to fundamental value.
How does this type of experiment map onto, say, the last five years in America?
If you think about the housing bubble, buyers, sellers, borrowers, lenders, real estate agents, government regulators—everybody believed that prices would rise and continue to rise. And that is the essence of a bubble. Suppose a regulator in 2003 or 2004 said, "Hey, this thing is not sustainable. We've got to do something to stop it." I think he'd have been fired. If the bubble had been stopped in 2003 or 2004, it probably would have been a lot less damaging. But who's going to know that?