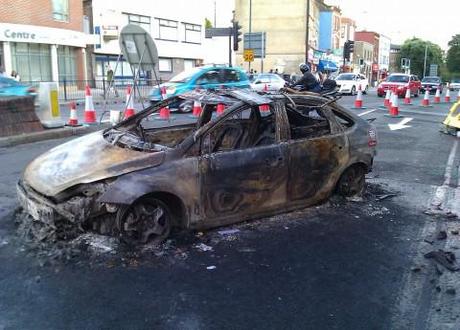 The remains of a police car in Tottenham, north London. Photo credit: Yurri
It was eerily quiet in London last night where a massively beefed-up police presence on the streets seemed to dissuade the rioters from wreaking more havoc. But as the riots spread to other big cities, there's no doubting that England remains firmly in the grips of serious civil unrest. So-called copycat violence, looting and arson erupted last night in Manchester, Birmingham, Liverpool, Salford, Nottingham and elsewhere.
In Birmingham, three men were killed when they were hit by a car. Locals report that the men were attempting to protect their neighbourhood from rioters. The worst mass rioting took place in Manchester and nearby Salford, where police arrested 113 youths overnight. In Nottingham, Canning Circus police station was firebombed by a mob of 40. In total, over 1,100 arrests have been made since the riots kicked off.

The level of violence has led many to call for heavier-handed policing to reclaim the streets. The Met's Deputy Assistant Commissioner, Stephen Kavanagh, said the use of plastic bullets – never before fired to deal with riots in England- would be "considered carefully" in the event of further disorder. That tallied with tabloid demands for tougher action from the police.
A poll by YouGov for The Sun has found that nine out of ten British adults say police should be able to use water canon on rioters and one third support use of live ammunition. And 77 percent supported bringing in the army to restore order.
English Defence League sniff an opportunity. Where the police have been slow to respond, it seems vigilante groups have stepped into the void. There were widespread reports that the far-right English Defence League, who have been largely keeping a low-profile since their embarrassing links to Norwegian mass murderer Anders Breivik were revealed, mobilised to protect Eltham High street from rioters on Tuesday night. "We're going to stop the riots – police obviously can't handle it," Stephen Lennon, English Defense League leader, told The Associated Press. He warned that he couldn't guarantee there wouldn't be violent clashes with rioting youths.
"Whatever ends your from put your ballys on link up and cause havoc, just rob everything," read an (intercepted) text which rioters spread via mobile phone.
Who are the rioters? Paul Lewis and James Harkin reported from the front lines of the rioting in Chalk Farm for The Guardian and found "unadulterated, indigenous anger and ennui. It's a provocation, a test of will and a hamfisted two-finger salute to the authorities." They said the rioters are mostly "young men from poor areas" but noted that that's not the "full story … It can't be said that they are largely from one racial group. Both young men and women have joined in." The spreading of the rioting from London to "multi-ethnic areas" including Birmingham, Liverpool and Bristol "dispelled" the "myth" that "so-called 'black youths'" are largely behind the violence, said the reporters.
Be scared, be very scared: Seven out of the top ten 'movers and shakers in sports and leisure' on Amazon.co.uk are either baseball or rounders bats, noted The New Yorker Sport Scene blog.
How to stop the violence. Writing at The Financial Times, Danny Kruger, a former advisor to David Cameron who runs a crime prevention charity, argued that "the only way to stop" the rioters "is to frighten them home with the real threat of reciprocal violence." Kruger backed Tim Montgomerie of conservativehome.com call to "baton charge the yobs: without fear of the police there can be no order." Kruger suggested that young people's feeling of hopelessness is what's driving the anarchy: "Our young people have nothing to lose and nothing to gain, except thrills and new trainers. They are simply confirming, in the most disgraceful terms possible, their own disgrace." Kruger said the rioters "think their lives are wrecked anyway, and a couple of months in prison … will not make a difference. Inured to cheap goods, they are also inured to punishment and the threat of it."
Craigslist is awash with seemingly looted items including the latest iPhones.