Not only energy's future, but also Africa's entire continent will be based on using renewable energy sources. Many countries (although slowly) are investing in the energy industry, but as of today, the African power grid can't reach the majority of its population and only 20% of families have access to electricity. Constructing numerous, small, regularly distributed plants in the region is primarily designed to satisfy local needs. In this scenario, well-placed renewable sources(hydro, wind, solar and geothermal) that, in addition to being sustainable from an environmental point of view, are able to adapt well to the needs and each area's specific potential.
Ethiopia investing more than all others
Among all African nations, Ethiopia is the one that's increasingly investing in the renewable energy industry. This is also a necessity for sustaining economic growth, which is moving at the rate of 8 % annually. Recently, impressive projects have been launched for constructing dams, such as the Gilgel Gibe and the Millennium Dam, which should be able to cover more than 85% of the national demand in a few years.
Various concerns awaken the strong environmental impact of hydroelectric systems that, in the future, also may not be able to maintain high production levels due to a decrease in the country's availability. In the wake of these worries, the Ethiopian government has decided to diversify its sources and, in September, announced the construction of some geothermal plants which, by capitalizing on Rift Valley's existing potential (which runs through the country), should guarantee adequate energy production for subsequent years.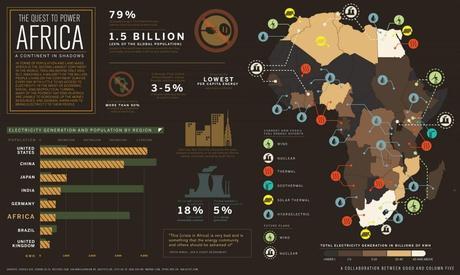 Renewable Energy Development in Africa infographic. (Sources: Census.com, Eskom.co.za, Reuters.com, SolarMellenium.de, Destatis.de, Stat.go.jp, Mbendi.com, CPIRC.org.cn, IndiaStat.gov). Click to enlarge.
Photovoltaics growing in Kenya, South Africa and Morocco
Kenya is bringing some industry investments forward, and soon, it will have created a 50 MW solar photovoltaic power plant, which will cover 81 acres of desert land in Garissa (in the country's north). It will be one of the largest renewable energy plants connected to the grid.
In South Africa, the Kathu photovoltaic plant (part of the first round of projects under the specific program for spreading renewable energy sources) has the purpose of diversifying the country's energy mix and reducing environmental impact. When it's operational in 2014, Kathu will be one of the photovoltaic plants with the world's largest single-axis tracking system and will have a generating capacity of about 146 GWh. Thanks to the energy that it will put on the grid, it will be able to satisfy the needs of more than 40,000 inhabitants, contributing to the reduction of about 50,000 tons of carbon dioxide emissions yearly.
In Morocco, the beginning of construction on the Ouarzazate Noor solar park was announced in March. The impressive plant will have 160 MW of power in the first phase and 500 MW by the end of 2015.
The potential of renewable energy sources are, however, enormous on the continent, and some Sub-Saharan African countries could capitalize on solar energy to give nourishment to their economies and encourage new job growth and economic development.
In June we reported on how oil and gas development is picking up pace in East Africa.
This article was originally posted on Power Clouds.