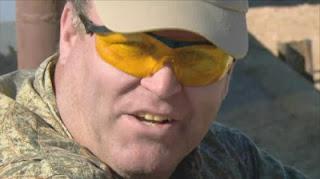 Murderer, and gun authority, Richard Erick Venola
If someone is an authority on all matters related to guns, like this editor and writer, wouldn't you expect that they would live up to higher standards?  Another "law abiding" gun owner who now isn't.  Now he's a drunken murderer.
From an article:
Former 'Guns & Ammo' editor charged in Arizona slaying
The former editor of Guns & Ammo magazine was accused of murdering a friend with a gun and ammo in Golden Valley, Arizona on Wednesday.
Mohave County sheriff's charged 53-year-old Richard Erick Venola with second-degree murder for the killing 39-year-old James Patrick O'Neill, who was found dead at the scene.
Sheriff department spokeswoman Trish Carter told the Las Vegas Review-Journal that Venola shot O'Neill in the chest with a "high-caliber" rifle and at least three weapons were removed from the scene. O'Neill was visiting the former Guns & Ammo editor's house at the time.
Detective Larry Matthews wrote in his report that Venola seemed to be intoxicated by the time he talked to officers. Neighbors told deputies that the the suspect was having "heavy words" with O'Neill.
"Mr. Venola came over to the neighbors carrying a rifle and stated he just killed a man," according to the report. "Mr. Venola acknowledged he killed the man, but didn't say why."
According to the Guns & Ammo website, Venola became the 12th editor of the magazine in 2007. He had served as the associate editor of RifleShooter magazine since 2004 after being honorably discharged from the Marine Corps in 1996.
After President Barack Obama took office in 2009, Venola used his position as editor to warn readers that they should join his "largest business competitor," the National Rifle Association (NRA), or "those in the new administration who drool at the chance of neutering the Second Amendment will become emboldened."
Guns & Ammo spokeswoman Amy Sorrells told the Journal-Review that the former editor continued contribute as a writer.
There's also a lovely video there of Mr. Venola shooting up an iPad because, well, just to be destructive with his gunz.  Lovely.
Did you catch that bit about his paranoia about joining the NRA out of fear of a Barack Obama anti-gun conspiracy?   Well, apparently this murderer "neutered" his own Second Amendment rights without needing a "drooling" government to do it for him.
ADDENDUM:  HERE is an article he wrote for Guns & Ammo, wherein he echoes the NRA conspiracy-theorists in claiming that government concern about U.S. guns being illegally trafficked to Mexico is an overblown liberal government conspiracy to disarm gun owners:
But the Department of Justice doesn't care about this. They want to take Mexico's chronic (no pun) strife and make it the excuse to disarm YOU, the law abiding American Citizen, by doing a little end-run around the Constitution. ....
If Mexico is so upset about American guns, why don't they do something about it? Because that's not the problem. The only problem is the one being cooked up by anti-gun partisans and thier fellow travelers in the left-wing mainstream media: those who have reccieved thier marching orders from the new administration and are in full blown frenzy. The message that they're speading is that because Mexico can't keep its own house in order, we should give up the only right that keeps that sort of disorder and tyrrany at bay here in the United States.

 
What a gunloon!