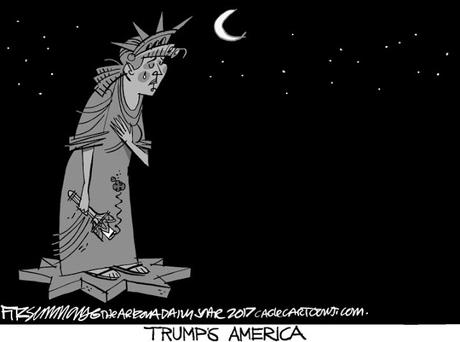 (Cartoon image is by David Fitzsimmons in the Arizona Daily Star.)
Donald Trump was surprised at the negative reaction to his executive orders banning muslims from entering this country. Poll after poll showed that a majority of Americans opposed the ban, and a federal judge stopped the ban. Trump is now trying to revise those executive orders to meet constitutional requirements -- but he should consider just dropping this terribly bigoted move.
It isn't just the political and legal ramifications that should make him stop (although that should be enough). There is another unintended consequence that was caused by the ban. Travel to the United States by foreigners has dropped significantly -- and it's not just travel from muslim countries. Travel is down from all countries.
On the web, searches for flights to the U.S. have dropped by 17%. And Travel Weekly magazine says foreign tourism is down already by about 6.8%. The Global Business Travel Association says that in just one week since the ban business travel had declined by $185 million.
The travel industry is calling this drop the "Trump slump", and they are not happy about it. If Trump persists in this bigoted attempt to ban muslims, this country could lose billions of dollars in businesses that depend on travel -- and that could mean the loss of hundreds of thousands of jobs.
Actions have consequences, and actions by the White House have consequences that affect the entire country. It's time Trump realized that, and reined in his bigotry for the good of the country. He had claimed he wanted to be a jobs president, but so far his actions seem destined to cost jobs.