Text Post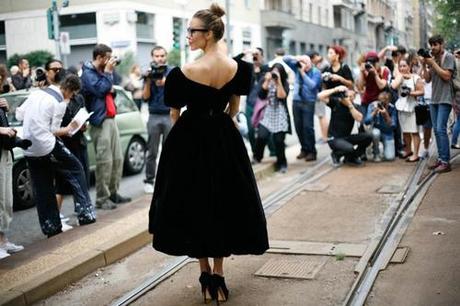 As I said in an earlier show, I've been looking at a LOT of fashion shows this week. In fact, almost every fashion show that's taken place in Milan, New York, London, and Paris. I remember like 5% of what I saw—the passive absorption capacity of an aging mind, shall we say—some of which I thought I'd share with you. I honestly don't know how people stay on top of this fashion shit, it's like a deluge.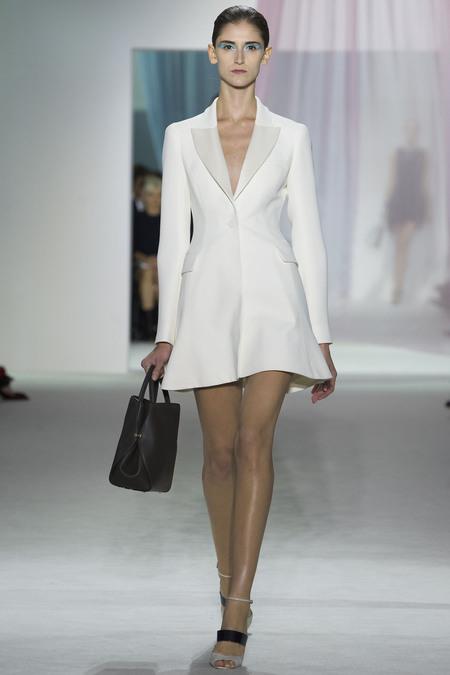 Now, you must keep in mind that my fashion taste runs towards "pretty" and "wearable" rather than "revolutionary" or "intelligently ugly." I can appreciate that some people like Alexander Wang's new collection, for instance, mostly because vogue.com said it was a masterpiece of deconstruction, which sounds important. And I'm still relatively young, so an old lady collection such as that put together by L'Wren Scott doesn't appeal to me. I also don't like clothing that look too faithful to a certain house—the slutty lady-like-ness of Chanel, the downright slutiness of Versace, the Gwyneth Paltrow-esque Tom Ford—but rather, the garments that look as if they were inspired by something external. A movie. A fabric. Celestial beings.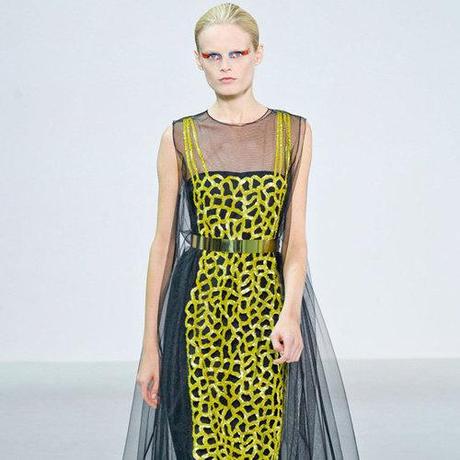 So, without further ado, and because you might be bored at work, here are some of my favorite pieces from fashion week.
Antonio Berardi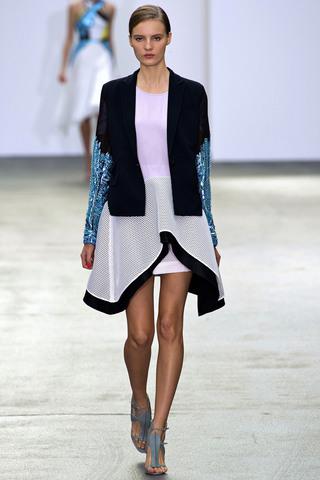 Antonio Berardi's collection was very pretty—lots of shades of blue—and very wearable. I like the mesh, and I absolutely love the sandals.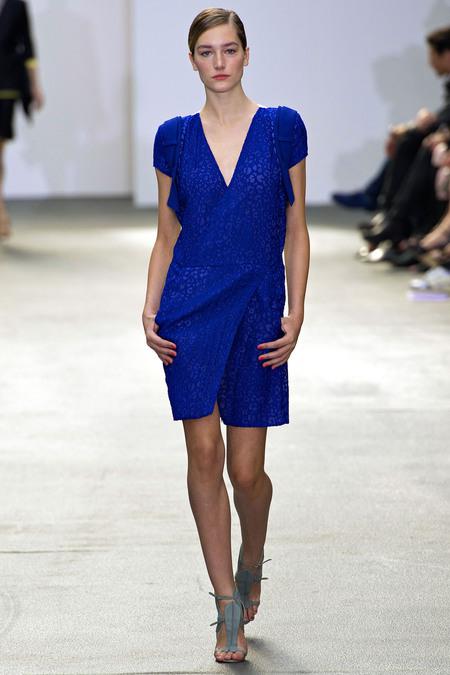 The dress above would probably look pretty on you, dear friend, am I wrong? It would make me look like a tree stump.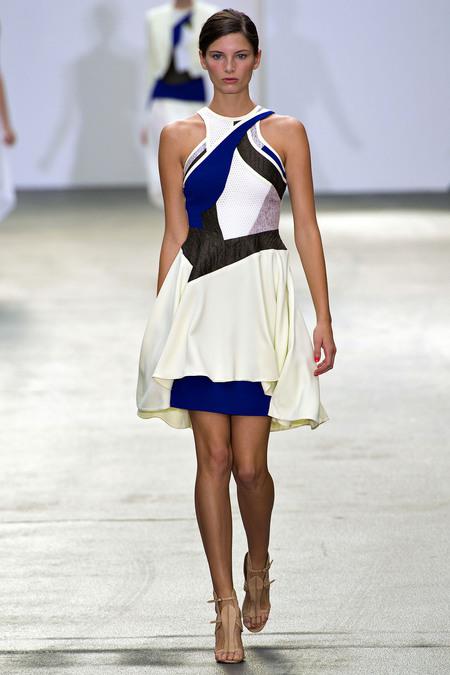 But I could probably rock this if I wore a pair of high heels.
Erdem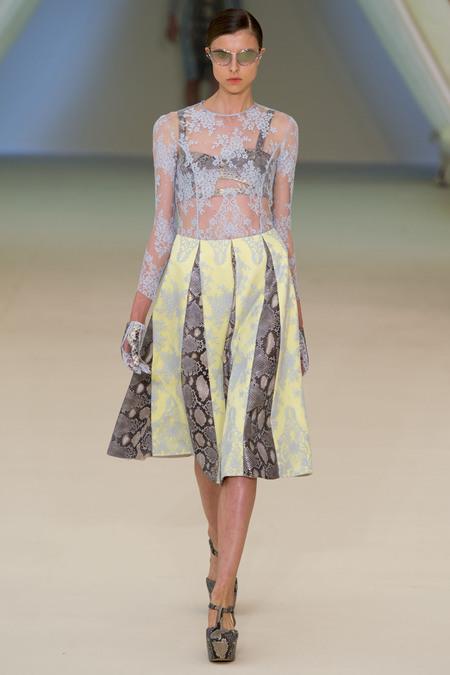 I thought the fabrics at Erdem were unreal, even though the sunglasses make the model above looks like a scary bug, and the dress looks like something Carrie Bradshaw might have worn when she was really, really desperate for attention.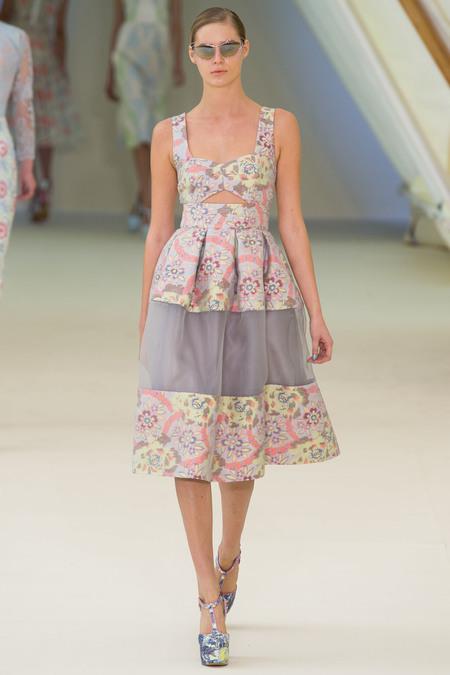 But I mean, this dress. To die for. Erdem was also one of the only houses that was able to pull off exposing midriffs without their models looking like starving toddlers in bloomers.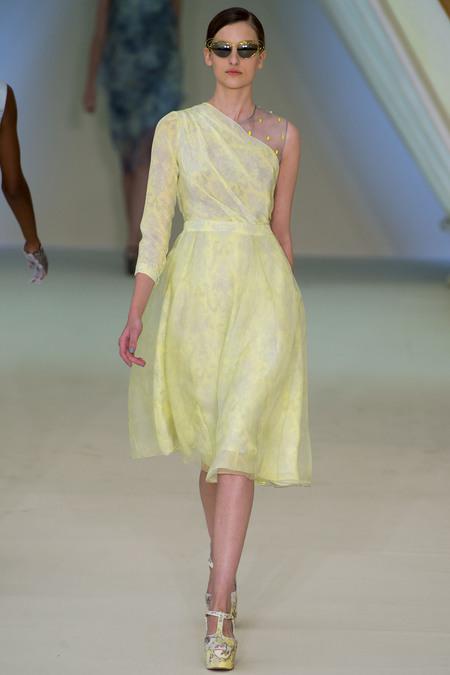 And this one as well, if you could afford it, would be just perfect for an April wedding.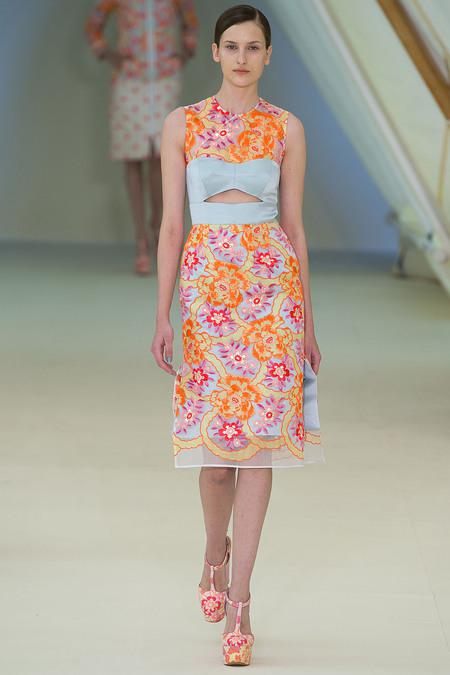 Some of the cuts were a little too Kimono-inspired, but still, the fabrics made up for any mistakes.
Rochas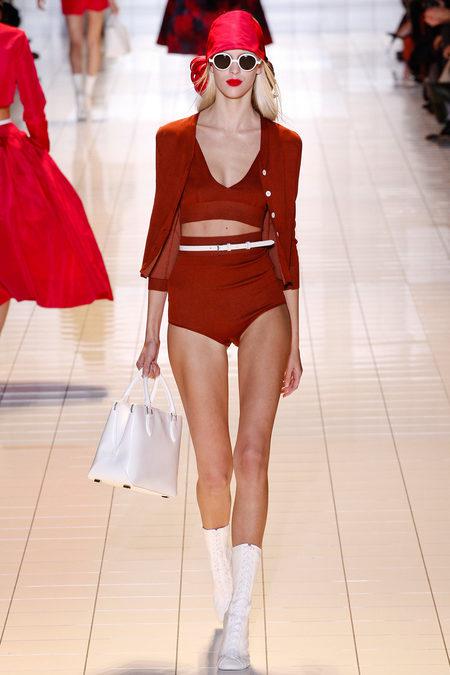 I actually hated most of the Rochas collection, but include it to show you where Anne Hathaway might have gotten the inspiration for the roll of toilet paper she wore on her head at her wedding.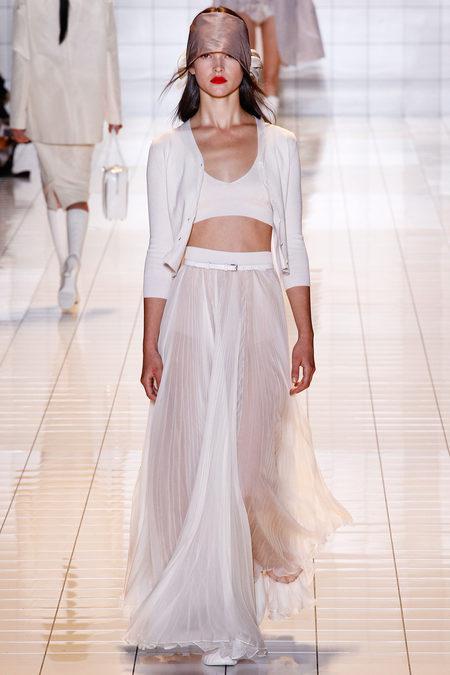 But I do love this dress. And the model, Agne Konciute, is gorgeous. She is definitely my favorite model of the season. On the runway at least. In her Polaroids, she looks a little beat down.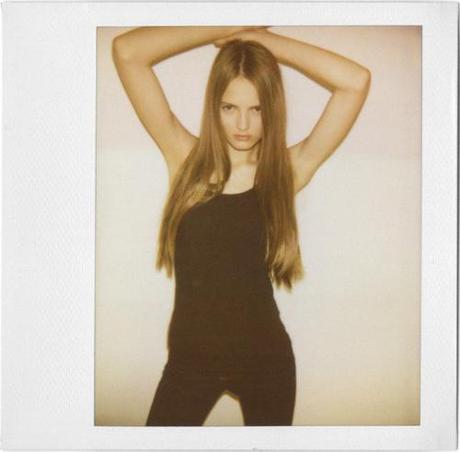 Balenciaga
Balenciaga had a lot of bullshit going on, the worst of it cropped top houndstooth suits.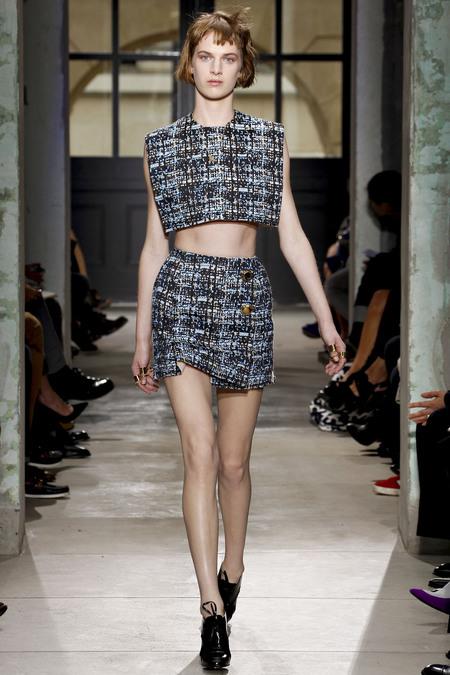 And much of the collection was downright boring, the type of stuff you'd buy at cut prices at Loehmann's.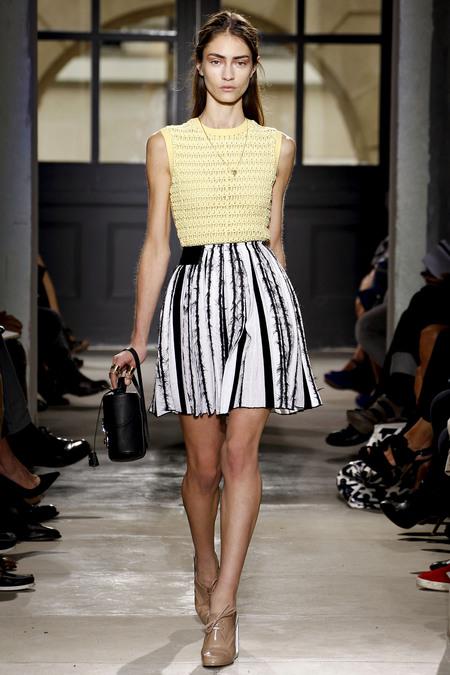 But this dress, on a flat-chested woman like me, would look flattering.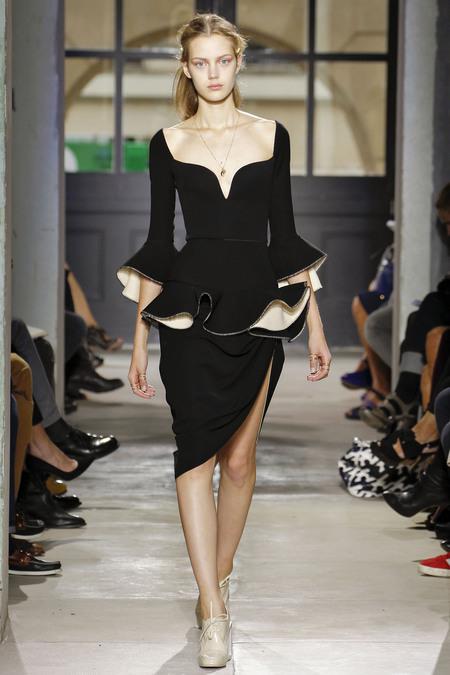 I absolutely love the peplum, and the sleeves.
Altuzarra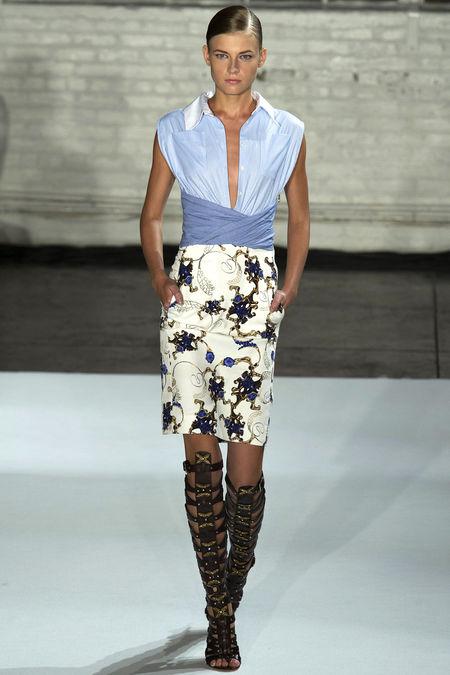 I also thought Altuzarra had an inconsistent, although ultimately pretty collection. A lot of it looked a little too "Spring In the Mongolia Steppes" for me.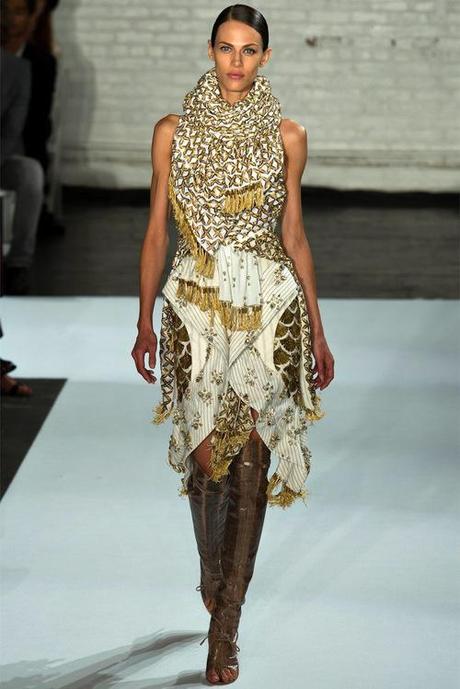 There was one dress that I would give the tippy top part of my left pinkie finger to own.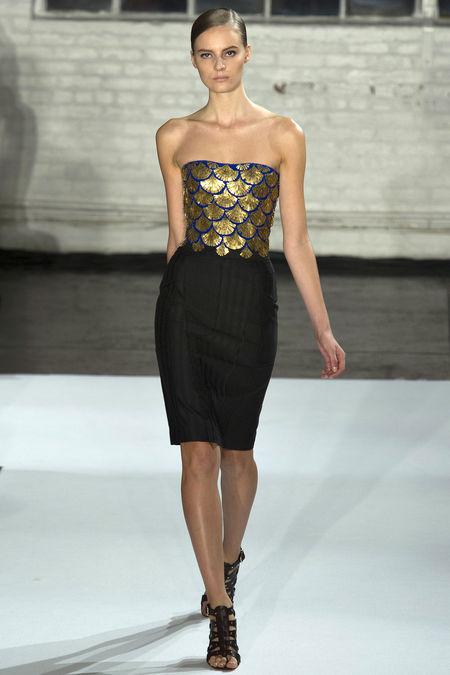 Azarro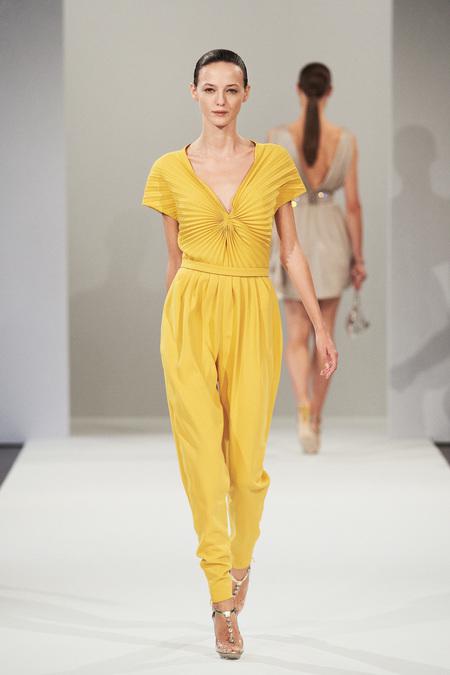 I have a hard time with Azarro because on one hand, the clothing is really gorgeous and simple, but on the other, I could see it on Kim Kardashian making an appearance at a mall.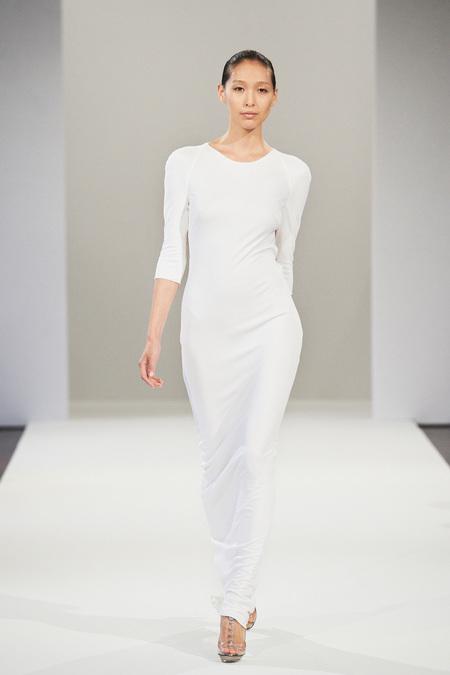 And a lot of it looks like something a really boring celebrity would wear on the red carpet.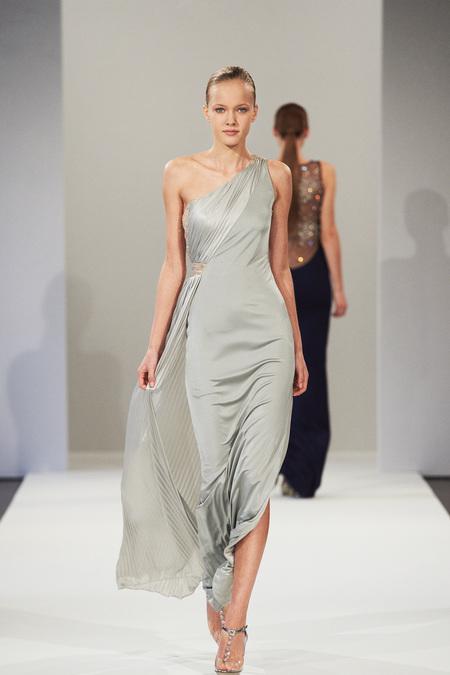 Some of it even looks like it was ripped off the back of Tara Reid in Ibiza.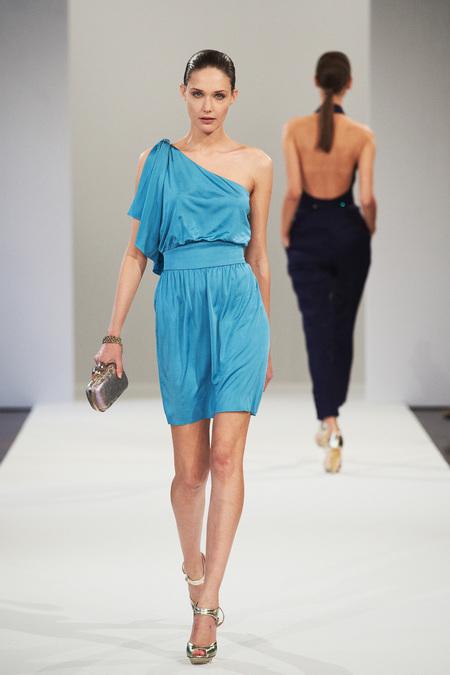 Christian Dior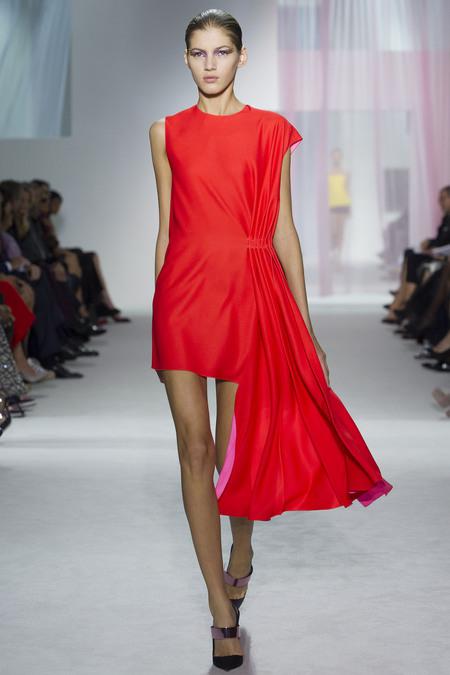 The Dior show, in my humble opinion, was the absolute best of the season.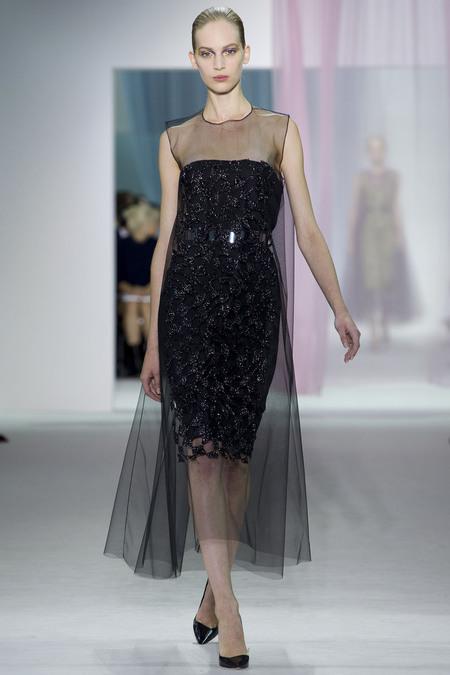 There was a little something for everyone.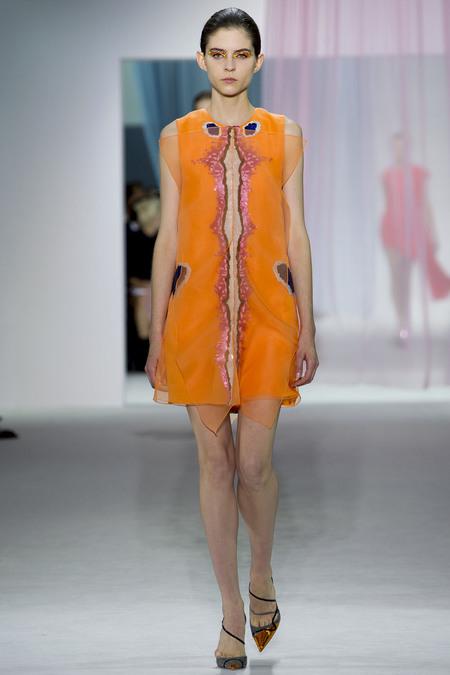 Bold, classy, flamboyant, or even-understated dressers could each walk away with a few pieces.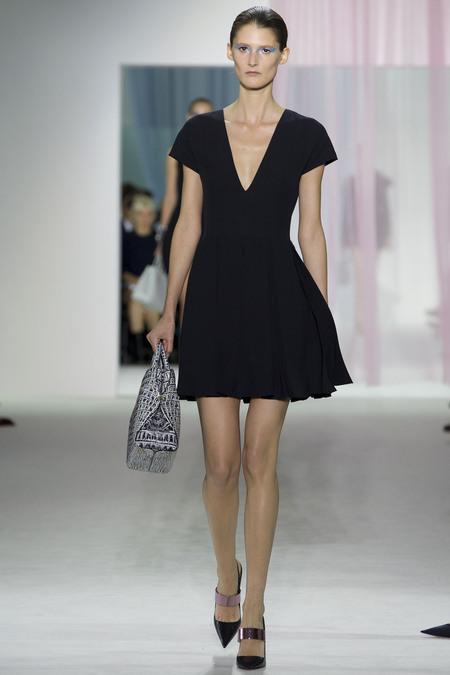 I mean, seriously, is this not the best little black dress you've ever seen?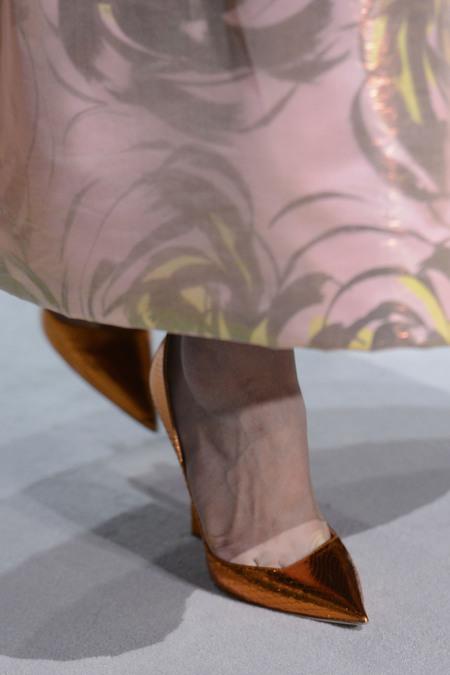 Even though they look like they might break my toes, the shoes were beyond beautiful.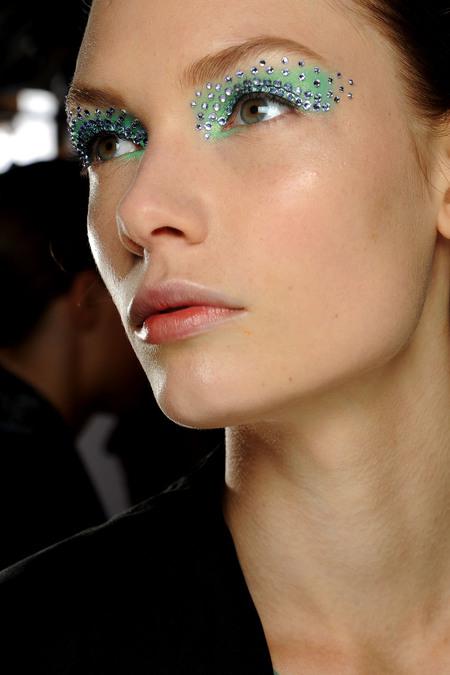 And the beauty, even though it looked like fairy make-up, was arresting.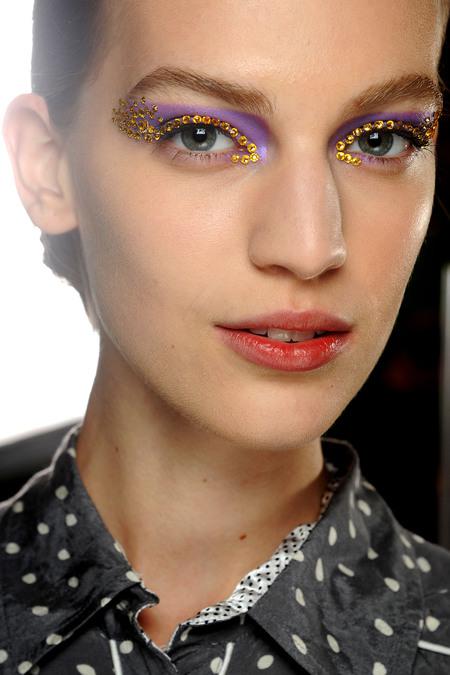 I don't know about you, but I'm stocking on bold eyeshadows for the season. (Which by the way, Mark, the young adult make-up line by Avon, has some great, cheap options.)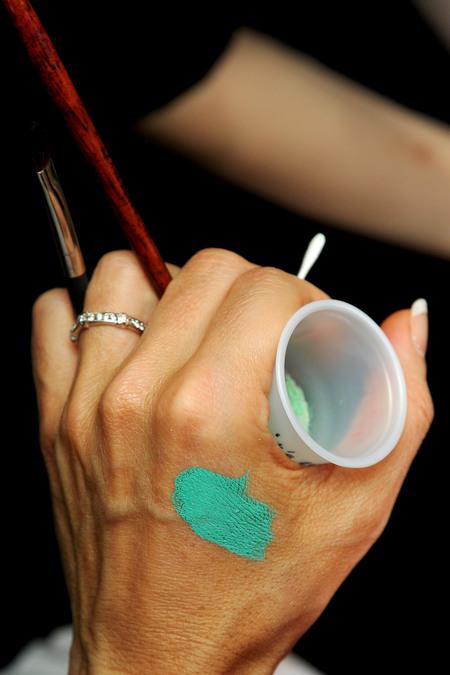 Matthew Williamson
Matthew Williamson had some pieces that looked interesting on models on the runway, but would make normal people look like they were wearing printed garbage bags.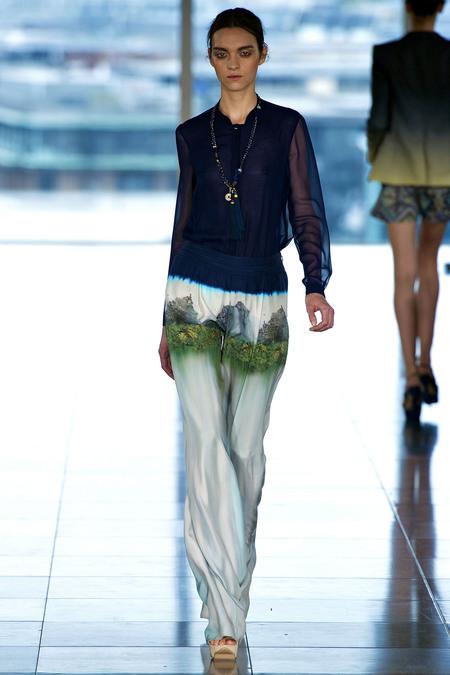 And a lot of the dresses looked just very, "Matthew Williamson."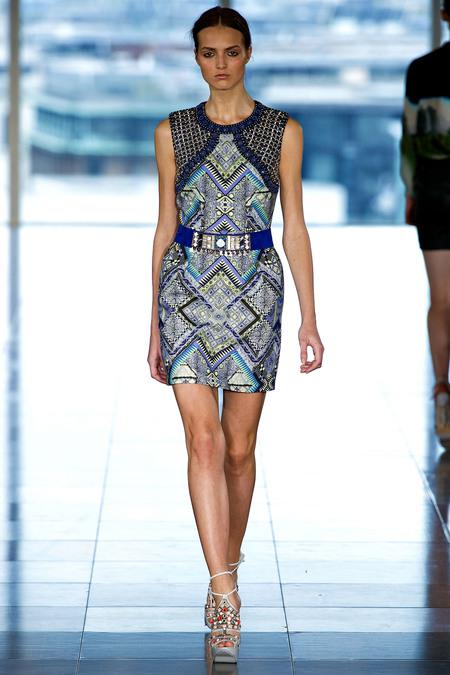 But there were a few pieces that, if you were to wear them, people would "ooo" and "aaah" over like you were fucking Jesus Christ.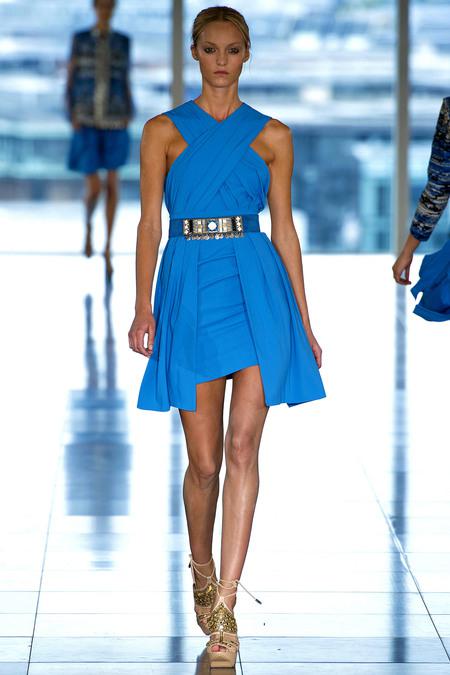 Or some shit. Yeah. That reference made no sense.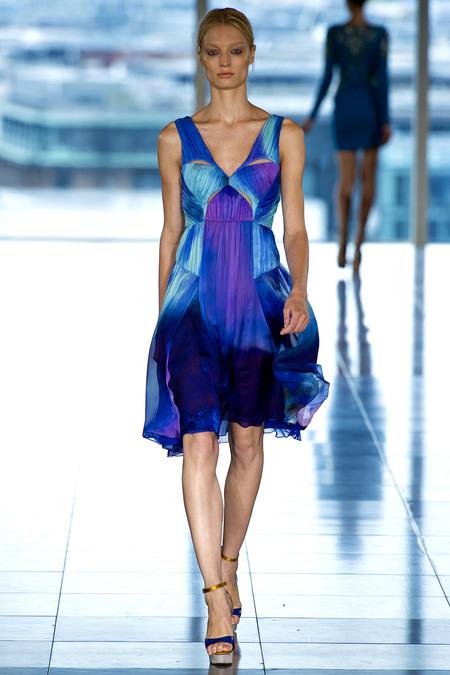 Celine
On the runway at Celine, models wore Big Bird shoes.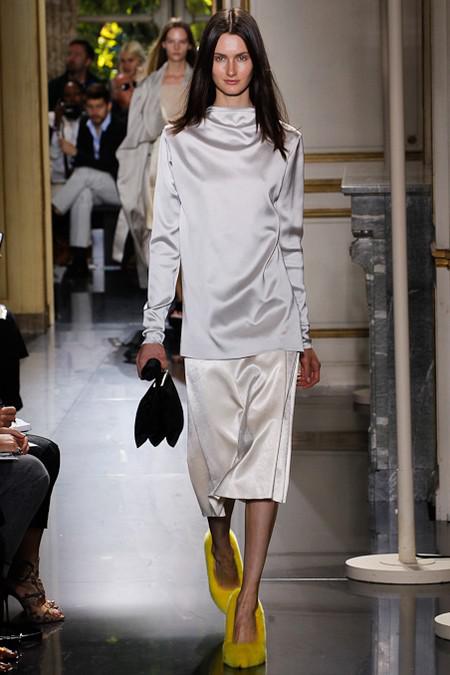 And furry Birkenstocks. I bet, even though you're looking at pictures of it, you don't even believe me.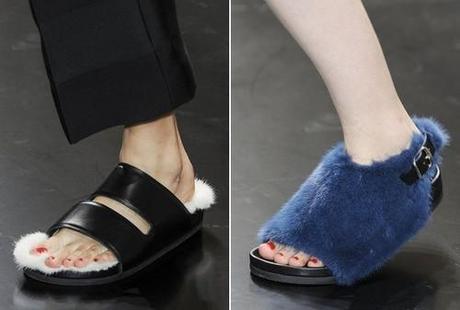 I thought most of the collection was abysmal, but I would probably Dr. Kevorkian someone in exchange for this trench coat.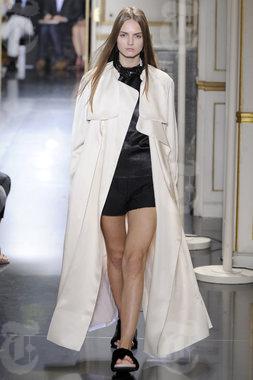 Rick Owens
You kind of have to be out of your minds to be into the Rick Owens collection, which looked like medieval boudoir-wear, and was inspired, allegedly, by Gustav Klimt.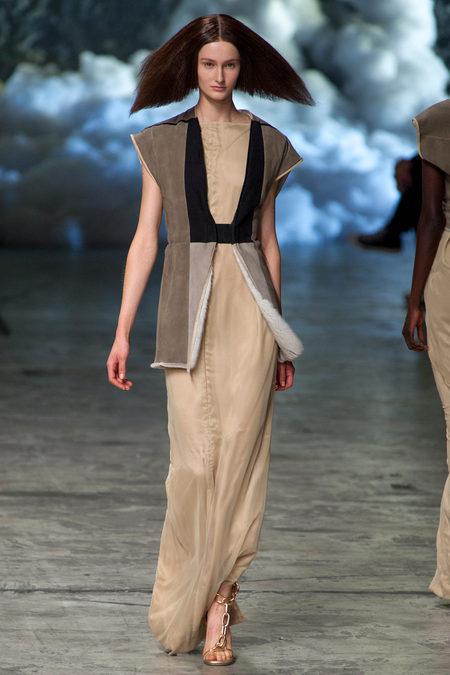 But I am out of my mind. And there was something about the fabrics that really moved me.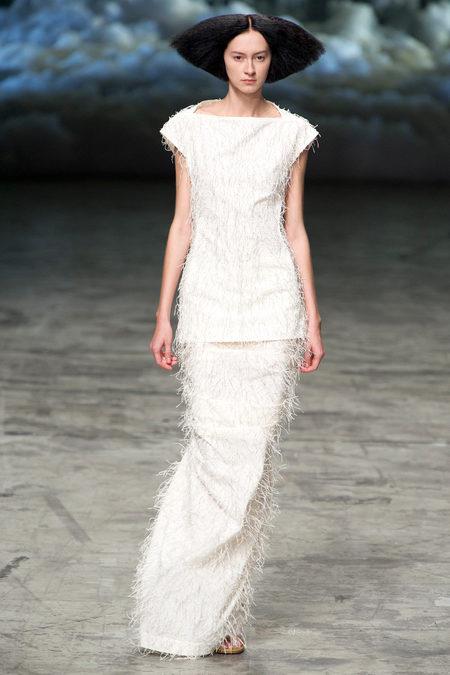 I'm not kidding.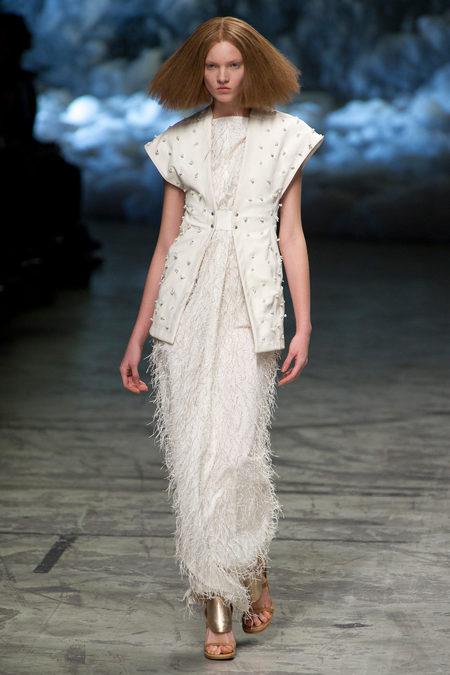 It just occurred to me, as I've been posting these pictures, that gladiator sandals are "back in."
Valentino 
Much of the Valentino collection was wackadoo, perhaps because for whatever reason, the models looked jaundiced, like they were dying from hepatitis. On a woman with darker skin, however, this dress would look killer.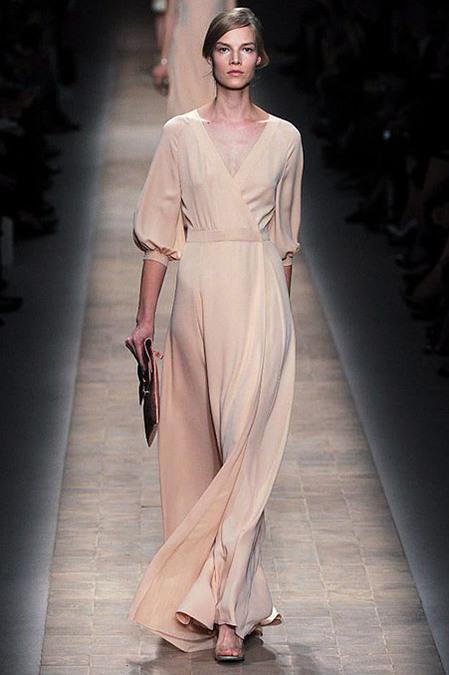 That's all, for now. It's fucking exhausting dragging images off the Internet. Plus, there's a new Gallery Girls on Channel 1012. I'll be seeing you.