I read this story earlier today on the blog of fellow officer Constable Chaos. I was surprised and moved by what I read, and felt that the story deserved to be shared as widely as possible to demonstrate how the concerns about privatisation of our service are felt by many, and not just a few moaning bobbies.
Speaking at the 2012 UNISON conference in Bournemouth yesterday Neville Lawrence, father of murdered teenager Stephen Lawrence, addressed the issue of Police privatisation, saying:
"It will be a disaster,"

"I can tell you why it will be a disaster. If you privatise the police force, the government is no longer responsible. It won't be about crime any more, it will be about making money."

"If you go to the police and they're a private company, they won't listen to you, just like if you go to a bank and ask for money – they can just say no. At the moment, the government is ultimately responsible."

"We want the police to be accountable to the public and not a fly-by-night private conglomerate."

"We're going to fight [police privatisation] tooth and nail. Down to the wire. You and I together can make a difference."
He then went on to remove his jacket revealing a t-shirt with the words 'Stop Police Privatisation' proudly displayed on it. The fact that someone with every reason to stand against the Police is willing to stand alongside us in support of this cause is a massive endorsement in my view. Whether his words will be heard by those that make the decisions is debatable. Unfortunately, even this brave act is unlikely to halt the tide of reform sweeping across England and Wales.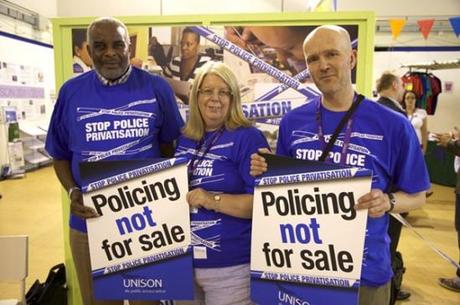 Picture from http://constablechaos.wordpress.com
I thank Mr Lawrence for his support and hope that some will open their eyes and ears to his wise words.
Please share this story with those around you – perhaps someone will listen.