I have a confession, I have managed to inadvertently miss the sweetpea season at Easton Walled Gardens.  I have not missed the sweetpea season there for three years and I did not intend to this year but its been a busy year and things happen as they do.  Suddenly it is September and autumn is in the air.  So when I heard that there was an Autumn Fair at Easton Walled Gardens I jumped at the chance to visit.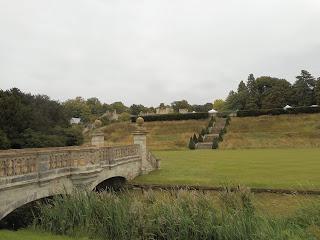 The fair was very good, fudge, a pen and soap were purchased.  I could have bought a lot more but there is another fair in November so I thought I should behave myself a little.  It was difficult to behave myself as the fair was packed with interesting stalls.  Crafts and foods were available and all were relatively local to Easton. Once the purchasing was complete we went for a wander around the gardens.  It was quite a gray day and rain kept trying to make its presence felt but this was not going to get in our way.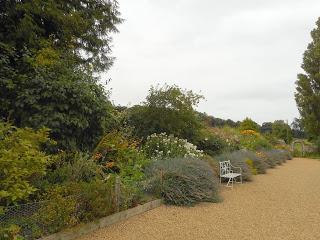 The long border was looking very good.  The colours and planting all working together extremely well.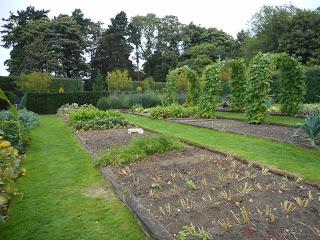 The vegetable gardens were neat and tidy as ever.  I always like the vegetable patch as it is so well managed, better than I could ever achieve.  I am always delighted to see the tiny tractor waiting in the borders for its tiny tractoring work.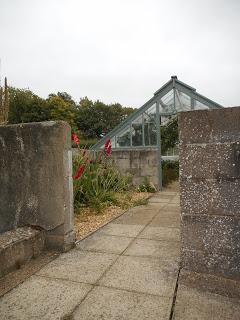 We wandered behind the greenhouses and noticed these brightly planted borders.  I don't remember seeing them previously and I thought they were very well done.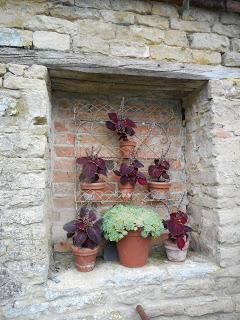 Niches are filled with pot plants,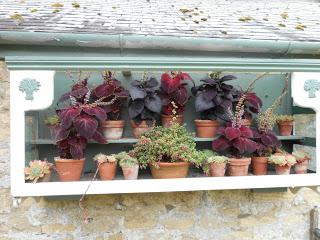 .... and I loved this display particularly.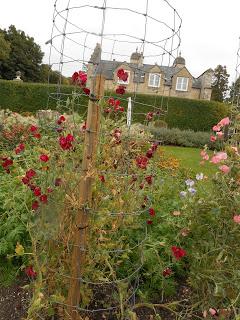 Into the Pickery and there were still some sweetpeas to be seen......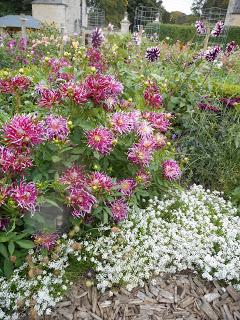 ...... but it was dahlias that were stealing the show.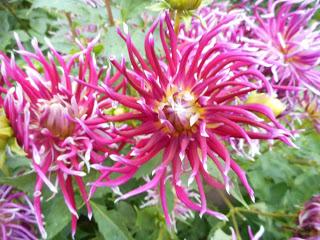 Look closer, this dahlia is just an amazing spike of pink craziness.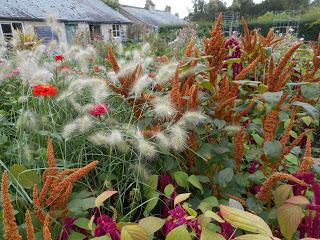 This border of amaranthus merged into grasses and zinnias,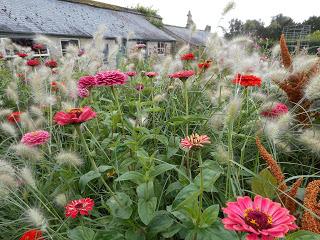 again it was a look closer moment.  This combination is just stunning.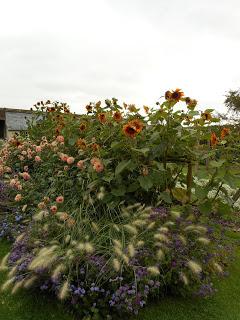 Even on this gray day the sunflowers were shining to give us some color.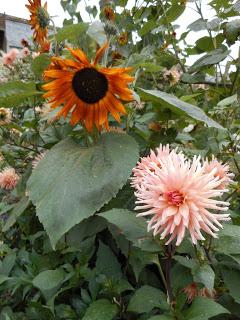 Yes I am again going to say look closer, because I am fairly sure that these salmon dahlias should look rubbish with these sunflowers but they really do not.  The color mixing is spot on.
We left Easton happy with our purchases, somewhat full of cake and agreed that the gardens were looking top notch.
There is going to be an Artisan Food Fair at Easton in November, so I am going to make sure I get back there for that.  I have always been fond of Easton as I think it is a special place and this visit did nothing but reinforce this.