I am an adamant believer that we should dress for our body type, and every trend  or style does not look good on every body type. I am still trying to master this idea, some people have mastered it; especially blogger Karla Deras. I do think, however, there are a few outfits or styles that look good on everyone. I happen to believe that wide-leg printed pants are among these few styles. Below is an outfit that I believe looks good on everyone. 
Why do I believe in printed wide-leg pants? Because it doesn't matter whether you have thick legs or thin legs. If you have short legs it makes them look longer, if you have long legs it maintains the length. They are super comfortable and can be dressed up or dressed down as you see in the collage.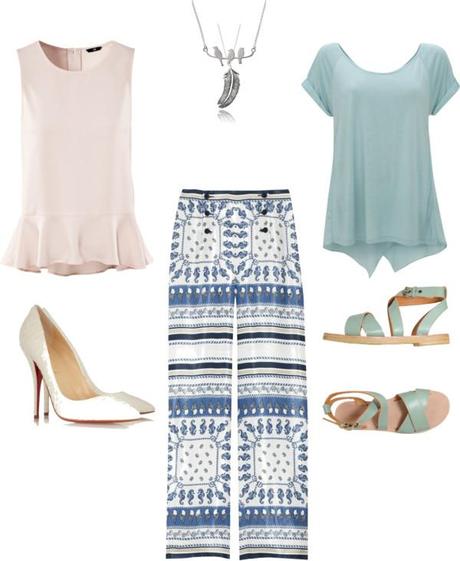 Peplum blouses and slouched tees look good on practically all body types. Peplum's accentuate the waist creating a feminine silhouette, which we talked about in this post. Slouched tees work whether you have big breasts or small breasts and are airy-flowy. This outfit is perfect for Spring or Summer and will work for any body type. Do I think you should invest in some wide-leg trousers? Yes.
It's important to figure out what looks good on you and what doesn't flatter your body because some of the styles and trends we see on the Runway, in lookbooks, and on mannequins do not work for all of us. I am quite curvy so a lot of styles that look good on tall shapeless models do not look flatter my body type. On the other hand, because I am curvy, peplum styles and high-waist skirts flatter my body type because they accent my small waist (the only small thing on me, ha!).
So try out this outfit and find out what kind of outfits and pieces flatter your body! Happy Thursday. Almost the weekend.