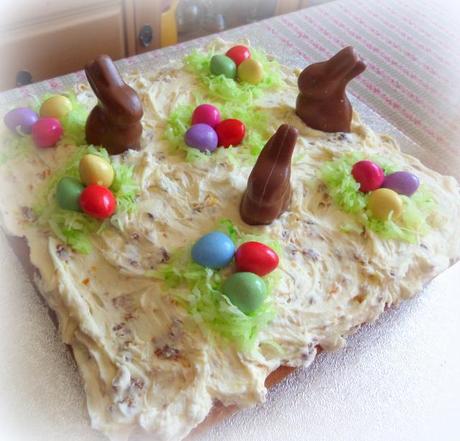 I wanted to do a special bake for Easter this year.  Something sweet to celebrate this special holiday.  I wanted it to be fresh and different and spring-like . . .  and yet at the same time something which I could use to convey the joy that is felt during this holiest of holy holidays of the year.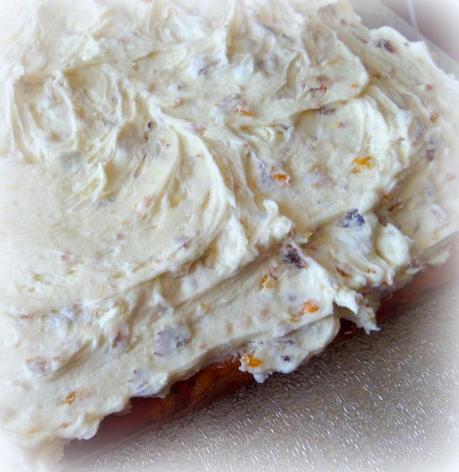 I settled on my Orange and Sultana Cake.  I had not made this in years.  It was something which I made frequently when my children were growing up, but something which I had not made in recent years.  And I don't really know why . . . it's a fabulous cake really.   Handwritten on a yellowed piece of paper, spattered with use . . .  a tell-tale sign of it's fabulousity!  (Yes, I know that's really not a word!!)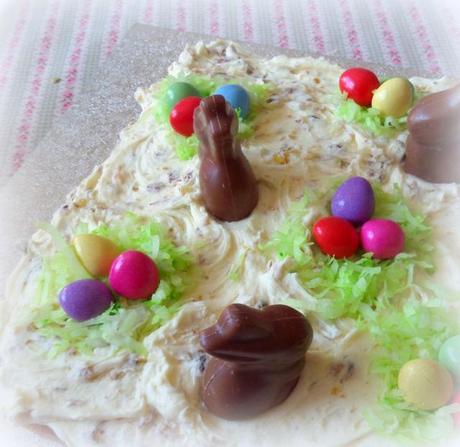 Fabulous because, not only is it buttery and moist . . . but it's also fruity  and spicy  . . .  with nice orange flavours, from two sources . . . the juice from the orange, of course, which is mixed with sour milk to make for a lovely moist cake . . .  and the peel and flesh of the orange,that you chop together with sultana raisins and then fold into the batter . . . so good . . .  and the spice coming from the addition of mixed spice.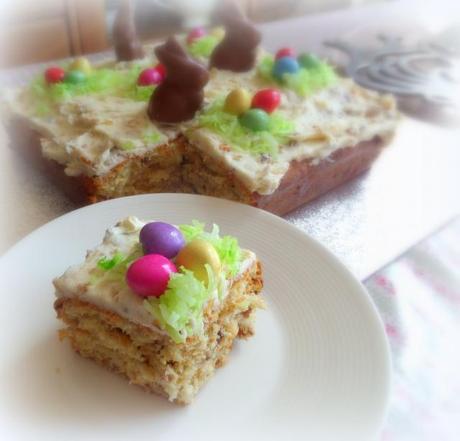 Almost like the flavours of our favorite Easter treat . . . the Hot Cross Bun.  The joy goes on in the frosting, which is a delicious and simple butter-cream, into which you fold some of the sultana/orange mixture which not only gives it a bit of texture, but delicious fruity flavours as well.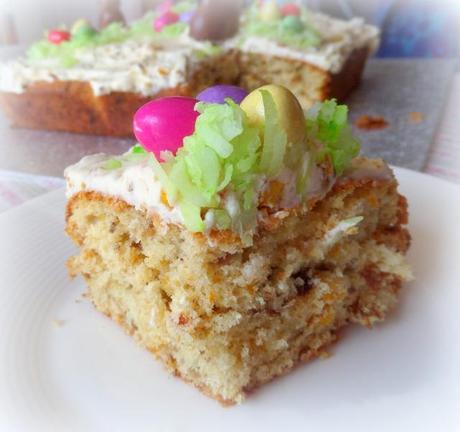 It makes a fabulous cake any time of the year, but dressed up for Easter???  Well . . .  you just can't get much better than this.  I created little Easter Egg Nests, by shaking flaked coconut with a teensie bit of green food colouring in a jam jar, which I then placed as nests over the top of the cake, filled with little candy covered chocolate eggs and guarded by llindt mini bunnies of course!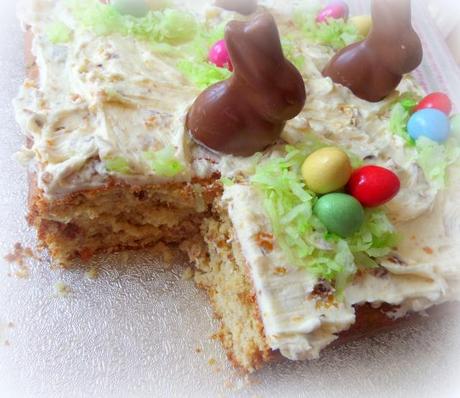 The end result being a moist and whimsical cake, full of the joys of Spring and Easter.  Perfect for an Easter weekend Brunch or Coffee Time, or as a dessert option after that delicious Easter dinner we will all be enjoying on Sunday.  In any case I do hope that you will give it a go.  Here, it only has Todd and I to admire it's fabulous qualities, but in your house . . . I am sure there will be oodles of kiddies and grown-ups to go gaga over it!    This truly is a special treat.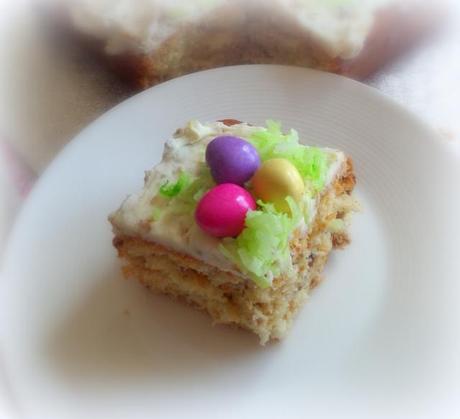 *Orange and Raisin Cake*
Makes one 9 inch square cake
Printable Recipe
A deliciously moist and buttery cake with a fabulous fruity butter-cream icing.For the cake:1 orange, washed well to remove any wax115ml sour milk (1/2 cup)150g of sultana raisins (1 cup)115g of butter, softened (1/2 cup)190g of caster sugar (1 cup)2 large free range eggs280g of plain flour (2 cups)1 1/2 tsp baking powder1/2 tsp bicarbonate of soda1 tsp mixed spice1/2 tsp saltFor the icing:140g butter, softened (10 TBS)280g icing sugar, sifted (generous 1 1/3 cups)1-2 TBS milk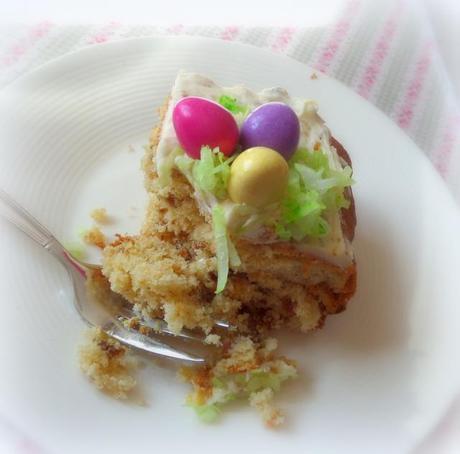 Preheat the oven to 180*C/350*F/ gas mark 4.  Butter a nine inch square baking pan and line with baking paper, leaving an overhang to lift out.  Measure out the milk.  (If you don't have sour milk, add 1 tsp of lemon juice to your measure and fill with milk to the amount you need.  Let stand 5 minutes.)  Squeeze the juice from the orange and add to the milk. Set aside. Put the rest of the orange into a food processor along with the raisins and pulse several times, until you have a mixture which resembles gravel.  Reserve 2 TBS of the mixture for the icing. Set aside.Cream the butter and sugar together until light and fluffy.  Beat in the eggs, one at a time.   Sift the flour together with the baking powder, soda, mixed spice and salt.   Add the flour mixture to the creamed mixture alternately with the milk mixture, beginning and ending with flour, beating until smooth.   Fold in the sultana/orange mixture.   Turn into the buttered and lined pan.   Bake in the oven for 35 to 40 minutes, or until the top springs back when lightly touched and a toothpick inserted in the center comes out clean.  When done allow to sit in the pan for ten minutes before lifting out to a wire rack to finish cooling.To make the icing, beat the butter with an electric whisk until nice and creamy.   Add the icing sugar, half at a time, and 1 TBS of milk,  Beat until creamy only adding the remaining milk if needed.  Beat in the reserved orange/raisin mixture.   Spread this frosting on top of the completely cooled cake.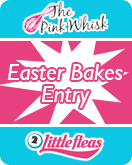 This post has been entered into the Easter Bake & Make Competition on The Pink Whisk as sponsored by Two Little Fleas.