All the magazines say summer is the time to lighten your makeup. Switch from concealer and foundation to a tinted moisturizer or BB Cream. I say… who are these people who come June have shrunken pores, their zits disappear, and have invisible redness and dark circles? it's 2014 and any smart woman knows that tanning is terrible; come summer my skin is the same, only sweatier. I still want to cover and even my skintone, I just want it to stay put through summer's heat and humidity.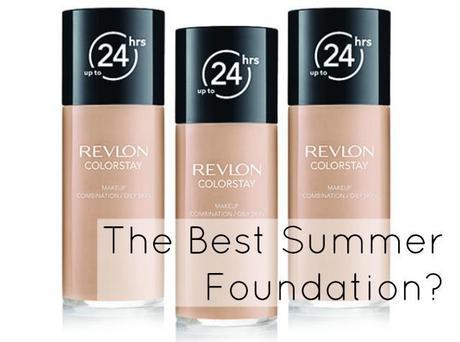 And so today is an ode to Revlon's ColorStay Foundation. I know, I know I've already raved about this product here and here, but it's worthy of a THIRD post. I used the whipped version almost all winter, but as soon as Memorial Day arrived I switched from the jar for dry skin to the bottle for oily/combo skin. And I haven't looked back.
Most days, I put on my SPF moisturizer, let it soak in, then put on the foundation, set it with E.L.F. spray and go. Some cream blush (this one is still my jam), some waterproof mascara, and lipcolor. The foundation doesn't cover my freckles, but it's heavy enough to cover the scar from the zit I had most of May, the redness under my nostrils, and the giant dark bags under my eyes thanks to allergies and my cast being the size of a third person in our bed (but not snuggly enough to spoon).  Don't slather it on; a fine layer (I use my fingers to apply though it also goes on great with a brush) gives plenty of coverage and doesn't feel heavy.
When I want to look more polished, I'll apply Dr. Brandt's Pores no More, the foundation, pat some Laura Mercier Secret Camouflage under the nose and eyes, and finish with the E.L.F. spray or a dusting of NARS powder if I'll be inside most of the time. No need for concealer anywhere else, Revlon blurs enough for me to look pretty darn fabulous. The other day, I got to work at 7 and had an event after work; I was able to be evening ready with a light mist of Avene, remove under eye smudges with a Neutrogena wipe, do a couple pats of Laura Mercier, and another dusting of NARS. Last summer I had to wash and reapply my face to look human after 5pm.
One thing to note: this is a long-wearing foundation and doesn't come off completely with wipes or a quick face washing. In the summer I wash my face twice (with CeraVe); once with my fingers, and a second time with my Clarisonic. This really removes all the makeup, the sweat, the grodiness of the city but doesn't dry me out.
The older I get, the harder it is to look healthy and refreshed with a bare face. I care for my skin, but life still makes its mark. It's nice to have a budget-friendly product not make me look caked on and too made up, but look the way I feel. To have it last all day even in Washington DC humidity? Mega bonus!