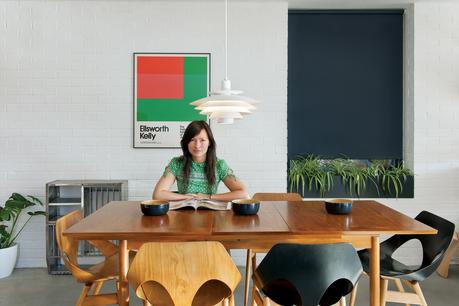 A palette of wood, concrete, and painted brick forms a neutral backdrop for Kathryn Tyler's vintage treasures, including a $30 dining table, $3 poster, and a set of 1950s Carl Jacobs Jason chairs she snagged on eBay for $400.
Image courtesy of Andrew Meredith 2007.
Project  Corkellis House Architect 
Kathryn Tyler, Linea Studio
Having an eye for a bargain is useful when you're a student, and it was while studying graphic design in Falmouth, England, during the late 1990s that Kathryn Tyler began hunting for affordable mid-century design. Most of her friends' apartments were filled with throwaway furnishings, but Tyler found that by scouring local thrift shops she could unearth classic Scandinavian pieces that were not only made to last but priced cheaply. "It's far more satisfying to give new life to an old object than to just pick something from a catalog," says Tyler, who founded her interior design company, Linea Studio, in 2003. "To my eye, the design of that time has a much better balance—I just love its simplicity."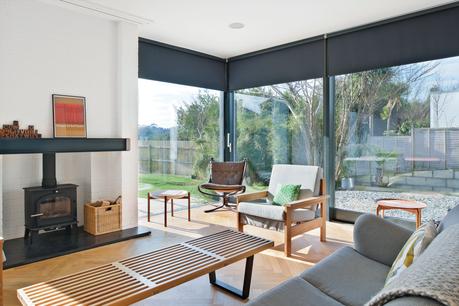 Tyler and Brown's living room is packed with furniture yet manages to avoid feeling cluttered. The coffee table is a Nelson Platform Bench from Herman Miller, and the low tables are Tablo Tables by Magnus Löfgren for Design House Stockholm. The Nørreskoven fireplace is from Cleanburn Stoves.
Image courtesy of Andrew Meredith 2007.
Although she began collecting out of necessity, Tyler admits that "I ended up with three times more furniture than I probably needed. I just kept buying things that I liked. When I'd furnished my bedroom and the front room in our student house I started filling my mom's garage as well." The obsession escalated after she graduated and continued to pick up pieces, "magpie-like," from online sites and local vintage shops, occasionally selling them on eBay for profit.
In 2005, while considering building a studio for her budding interior design business on her parents' property in Falmouth, Tyler discovered that the plot had been zoned for residential development. Despite being just 25 at the time and having no previous construction experience, she leapt at the opportunity to design and build a home for herself, her boyfriend, Chris Brown, and her ever-expanding collection. To save money, she decided to collaborate on the design with a friend, Ian Tyrrell, who was studying architecture, and to manage the building process herself. The furnishings she had gathered over the previous decade informed many of the key decisions. "I worked out where each piece would go and how much space was needed around each one for flow, and that gave me the footprint of each room," Tyler says. "It's probably a very weird way of working, but I'd never built a house before so I didn't know any better!"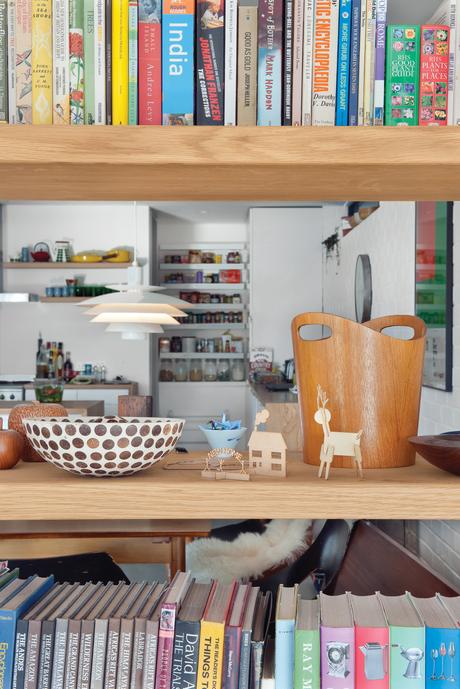 Open shelving between the living room and dining area maximizes light and air flow and showcases eclectic objects, which include old printing blocks found at a garage sale and bowls Tyler's mother bought in South Africa.
Image courtesy of Andrew Meredith 2007.
Blueprints and permits were obtained, but the project was unexpectedly halted for two years when Tyler's father became terminally ill. After he passed away, Tyler and Brown moved into Tyler's mother's house, just uphill from the site of their future home. But Tyler soon decided to get the building process back on track. "Chris and I needed our independence and Mom wanted her garage back," she explains.
Work on the site began in June 2009. Tyler hired local builders and other tradesmen, but the pressure to reduce costs led the couple to undertake some laborious jobs themselves—including shifting 15 tons of earth in two days using a mini digger, buckets, and wheelbarrows. Tyler insists that being so involved made the experience more rewarding, since "being in control at every stage of the process meant I didn't have to compromise on anything."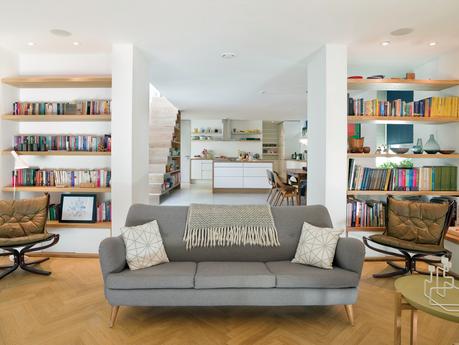 A Knoll sofa is bracketed by two leather-and-wood Falcon chairs by Sigurd Resell. "Being in control at every stage of the design and construction process meant I didn't have to compromise on anything," says Kathryn Tyler.
Image courtesy of Andrew Meredith 2007.
The result is a 2,150-square-foot house that is thoughtfully tailored to their needs, with a light-filled design studio adjoining the open-plan kitchen, dining, and living area. Upstairs are the master and guest bedrooms, plus a study for Brown, who works as a consultant for humanitarian NGOs.
Inspiration for the interior spaces came from the work of Scandinavian architects like Alvar Aalto and Sverre Fehn, as well as the Swedish summer houses that Tyler saw during childhood summer vacations. "The houses we visited in Scandinavia had such a welcoming feel, often because they used lots of wood and had really well-considered layouts. They looked lived in rather than pristine and they weren't soulless like so much contemporary modern architecture can be."
Drawing from those experiences, Tyler chose materials that would develop a patina with age, such as oak and concrete. "I put everything that I've always loved into this house," she says. That includes design ideas that clients had rejected for their own projects, like the white-painted brick stretching along the kitchen wall and the gray grouting in the bathrooms.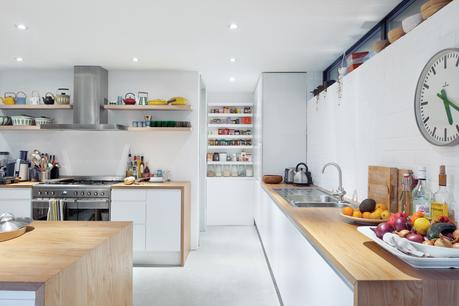 For the kitchen, Tyler hired David Restorick, a furniture maker and friend, to build an island for storage and to wrap Ikea cabinets with oak for a customized look. He also built a staircase that doubles as display space for Tyler's vast collection of colorful cookware by the likes of Finel, Copco, Cathrineholm, Jens Quistgaard, and Stig Lindberg.
Image courtesy of Andrew Meredith 2007.
Wherever possible, Tyler supplemented her vintage treasures with furnishings and fittings she designed herself and had fabricated by local carpenter David Restorick. "I like to have lots of objects on display, so I treated storage as integral to the actual structure of the building," she says. Her intelligent solutions include a staircase with integrated shelving that displays dishes, cookbooks, and kitchenware and an open bookshelf that allows light from the full-height windows in the front room to reach the dining area.
Having spent over ten years sourcing objects that she loves and five years designing and building the perfect house to contain them all, it's hardly surprising that Tyler wouldn't change a thing. Most nights Tyler and Brown are more than happy to stay in, the better to reap the benefits of their endeavors. "I've become much more antisocial since the house was built," says Tyler. "Every time we go out I can't wait to come home!"
Tyler's Design Tips
Stick to your instincts and avoid trends.
"If you're a fan of a particular era then keep an eye out for things in that style and add them gradually. They will always work well together."
Do your research.
"The difference between the most expensive quote and the cheapest we received for building materials was almost double. If you are in a rush you will get ripped off, because people will recognize that and charge a premium."
Storage is critical.
"It's something that always gets overlooked but it's actually the most important thing. I calculated the linear footage of the books I own to make sure everything would fit!"
Futureproof your space.
"Analyze what you have now and anticipate how much storage you'll need in five or ten years."
Consider handmade and vintage pieces.
"Vintage and craftsman-made furniture is often of higher quality. Spending more on something that is beautifully made and will last could save you from investing twice!"
Use international versions of auction websites.
"If you're looking for Swedish design, try Swedish eBay. It's likely to be much cheaper there."
Log in or register to post comments