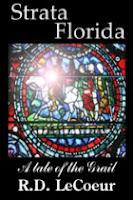 Roy Le Coeur is an author of fantasy, historical and science fiction who has always had a passion for literature, history, Art and for the ridiculous. He lives in South Wales and his latest novel 'Strata Florida: A Tale of The Grail' is a story of  deceit, lust and adventure  set in 1538 in Glastonbury and Wales.
Roy's Website
Writers of Wales DB
AmeriCymru:  Croeso i AmeriCymru Roy and many thanks for agreeing to this interview. I think it's fair to say that your work covers a wide range of genres. Indeed your Dragon's Heart series is a mixture of both science and historical fiction. Care to introduce the series for our readers?
Roy: There have been legends for centuries about a sunken island off the Welsh coast. There are also many reports of huge inexplicable towers from antiquity dotted around the globe. Dragon's Heart is a science fiction attempt to draw all these things together, but the starting point is a young man who wants to seek fame and fortune by becoming a gladiator in the amphitheater at Isca Silurum (Caerleon). Frankly and not wanting to give the game away, it poses the question of have we been visited by creatures from another world?

AmeriCymru:  You have written a historical novel about the life of Spartacus What was the Spartacus prophecy?
Roy:

An interesting question! It is believed that Spartacus was a Thracian and auxiliary and served in the Roman Army. In short, he deserted and was recaptured and enslaved. Whilst at a Slave 'holding' facility in Rome, he had a liaison with a prophetess. Whilst he was sleeping, the woman noticed a snake coiled about his face and she prophesied that this would bring greatness but it would all come to nothing, 'nullus eventus'




The prophecy for Spartacus was reported by Plutarch and is open to interpretation. Some say she said, 'no happy event,' others, no event 'nullis eventus'. Taking artistic license I have decided that 'event' could be taken in modern parlance as consequence, ergo, 'no consequence.'


AmeriCymru:  In the promo video for New Shoes we learn that the heroine, Constance discovers that "Einstein is more than just an order to a German barman....." Care to tell us more? 
Roy:

New Shoes is an 'in your face' comedy. An out and out satirical take on the ramifications of the 'real' alien abduction of the world's most unlikely abductee. Its humor is very British, very un-pc, if not downright Cardiff docks humour!


AmeriCymru:  What prompted you to choose Strata Florida for the setting of your latest novel?
Roy:

It seems these days that the people of this country (Wales) have completely forgotten Strata Florida, which was for centuries the most important monastery in Wales, if not its epicentre. It is after all, the place where most of the Welsh Princes are buried and its history is fascinating. It is also a place of legend and one such legend is that of the Holy Grail. My novel retells that legend.




AmeriCymru: 
Your fantasy trilogy Vengeance looks different to most of that genre why is that?
Roy:
Vengeance is my attempt, the first so I believe, to write a Fantasy trilogy that completely does away with the standard format and in fact does exactly the opposite. Apart from being refreshingly different and having humor throughout, from concept to execution, I wanted the reader to complete the series having enjoyed it and still feel like he/she had read a good fantasy novel. Let's be fair, all fantasy novels are pure escapism, the plots are preposterous, and I love 'em. 

AmeriCymru:  What are you reading at the moment?
Roy: As I am up to date with all my fav Fantasy authors I've decided to read an old favorite. I love PG Woodehouse, to whit, I am currently reading Piccadilly Jim. Fluff for the brain after all the extensive research for Strata Florida!

AmeriCymru:  What's next for Roy Le Coeur? What are you working on at the moment?
Roy: Mmm... I am currently co-authoring a retelling of a literary classic with an American author. As this is a romance for a publisher, I'll be doing it under a pseudonym. I'm doing the 'literary' retelling, she'll insert the romance-ha! No pun intended. When that is complete I'll be tackling a new story set in a medieval monastery in the north of England based on a truly horrible factual event.

AmeriCymru:  Any final message for the members and readers of AmeriCymru? 
Roy: Only to say Hi and thanks for taking the time to read this and a heartfelt wish that those who decide to read my books, enjoy them. Also if anyone has any questions fire them via AmeriCymru and I'll be happy to answer them.

Interview by Ceri Shaw