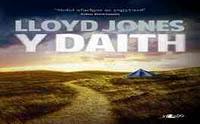 AmeriCymru: Hi Lloyd and many thanks for agreeing to be interviewed by AmeriCymru. You have recently finished your second Welsh language novel Y Daith Care to describe the book for our readers?
Lloyd:
The book begins and ends with Mog Morgan washing up at the sink on the morning after his fiftieth birthday. We go on a journey of discovery along the Welsh borders as Mog traces the history of his marriage to Meg. Using devices such as questionnaires, e-mails and postcards, Mog reveals a lot about his attitude towards women and love. Brought up in a children's home, he is inept and frightened of life; he lives in a daydream and has a comical relationship with his psychiatrist. The book is a bittersweet and tragi-comic examination of the self in relation to one's homeland and other people. I hope it's rather sad and quite funny.
AmeriCymru: Y Daith is dedicated to Pol Wong and Carrie Harper from Wrexham "who were responsible for bringing to the public's attention the Welsh Assembly and local authorities' underhanded plans for destroying the beauty and culture of north Wales through unlimited housing development and the encouragement of immigration," Can you tell us more about the dedication and the campaign against the housing development?
Lloyd:
This has been such a bad experience, and an illustration of the widening gap between the people and politicians of Britain. No-one was happier than I when the Welsh Assembly came into existence, but then a group of campaigners led by Pol and Carrie discovered that our politicians and councillors had been working covertly with English agencies to establish townships in North Wales which would be colonised by immigrants. I've nothing against immigrants, but desecrating Wales's legendary beauty and killing off what's left of the native culture is surely too high a price to pay. What really rankled was the sneaky way our 'leaders' went about it. For instance, a bunch of venture capitalists want to build a huge greenfield estate by a lovely little Welsh village,
Bodelwyddan
, famous for its landmark marble church, so the Welsh Assembly went behind our backs and downgraded the land so that the plan could go ahead. The whole thing stinks to high heaven.
AmeriCymru: You are also contributing a volume to the Seren New Tales From the Mabinogion series. Which of the tales are you 'modernizing' and when can we expect to see it in print?
Lloyd:
I'm writing a modern version of the third branch, about Manawydan, a nice bloke who has to put up with a lot of shit. It's an honour to be involved, since the stories so far have been told by the cream of Welsh writing, and I've enjoyed their renditions. It's all downhill from here folks! I think my version comes out next Spring.
AmeriCymru: Many people enjoyed your first collection of English language short stories  My First Colouring Book . Do you have any plans for further collections?
Lloyd:
That little book didn't register on the literary richter scale in Wales. Not a blip. A very small mouse stifling a yawn in a dark hole three miles below Llanddewi Brefi would have had a greater effect on Welsh literature than My First Colouring Book. One the other hand, the Wales-inspired Extreme Sheep LED Art on YouTube has enjoyed well over 15 million hits, so the obvious answer is to write exclusively about sheep running around the Welsh hills, fetchingly adorned with fairy lights. I did consider writing a tract comparing the decline of the Welsh Mountain Sheep (rather gorgeous) in direct relation to the native Welsh (also rather gorgeous) but I was afraid I might attract the attention of the authorities again. Last time I got away with a fine and a warning, but I wouldn't get away with it again.
AmeriCymru: For three years now you have generously agreed to be the judge for the West Coast Eisteddfod Short Story Competition. Do you have any advice for this years competitiors?
Lloyd:
Be yourself, and just enjoy it.
AmeriCymru: What are you reading at the moment. Any recommendations?
Lloyd:
I'm reading In the Shadow of the Pulpit by Professor M Wynn Thomas, a very readable book about the influence of the Nonconformist religion on Welsh literature. Together with a family history I did recently, it tells me exactly where I came from, and why I write the way I do. It's very well written by a very nice man who knows his subject inside out. I've been wading my way through the Penguin Modern Classics recently and two American authors have made a distinct impression: I loved the rampant use of language in Don DeLillo's Americana, and I was mesmerised by Walter Abish's writing style in How German Is It.
AmeriCymru: What's next for Lloyd Jones?
Lloyd:
Over the years I've produced a couple of poetry chapbooks, featuring squibs and short light poems. I've taken it up a notch or two and I'm trying to write a decent book of poetry.
AmeriCymru: Any final message for the readers and members of AmeriCymru?
Lloyd:
Hia!