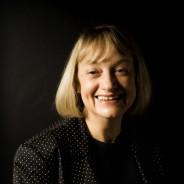 AmeriCymru spoke to Welsh author Evonne Wareham about her work and future plans. Evonne is the winner of the Joan Hessayan New Writers' Award 2012 for her novel Never Coming Home
Evonne's Website Evonne on Wednesday ( Blog ) Choc-Lit UK ( Publishers Website )


AmeriCymru: Hi Evonne and croeso i AmeriCymru. If I may quote you:- "...walking on the beach to the sound of the waves and the gulls....and plotting murder." Could you tell us a little more about your creative process? Which part of the Welsh coast do you most favour or frequent
Evonne: For me, producing a book is as much about the thinking process as it is about writing. At least, that is my excuse for staring into space, sitting in the garden, walking on the beach … There is quite a long gestation period before I begin drafting, when I test out ideas, do research, collect background material and absorb atmosphere.  Once the book is begun there are always points where it ties itself into knots, or where your characters run off and do something that you did not expect, leaving you to deal with the mess!  Then you need some space, to sort it out. I was born and brought up by the sea, in Barry, although I spent a long time living in London, so for me the word "walk" always means "beach".  I now live about ten minutes from the Barry Island section of the Wales Coastal Path and my feet go towards the sea automatically.  I also have very good memories of childhood holidays in Pembrokeshire. In that case it was beaches and castles.
AmeriCymru: How would you describe your work? "Romantic fiction with a dark edge"?
Evonne: I write romantic thrillers – what are known in the States as romantic suspense.  There is always a strong love story and I adhere firmly to the principle of a happy ending, although it is not achieved without a struggle, and some characters do not make it to the end of the book. I blame the thriller elements of my work on my addiction to the theatre, especially early exposure to Shakespeare and the Jacobean dramatists, as in those plays betrayal, murder and mayhem are always mixed with love, beauty and poetry.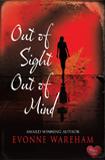 AmeriCymru: Your first novel, 'Out of Sight, Out of Mind' made the final of more than one competition in 2008. Can you tell us more about the book and the success it enjoyed?
Evonne: Out of Sight, Out of Mind is a paranormal romantic suspense, with a hero and heroine who read minds. It was my first excursion into writing romantic thrillers and was a finalist in several contests on both sides of the Atlantic, but the biggest was the American Title contest, which was run by Romantic Times Magazine (Now RT BookReviews) and Dorchester Publishing.  American Title was a reality writing contest. Parts of the novel were printed in the magazine, and readers voted for their favourites, over the Internet. I didn't win, but I had a fabulous time and traveled to Pittsburgh for the RT Booklovers Convention where the award was presented.  The following year I entered the contest again, and was again chosen for the final – the only person ever to have done it twice. I didn't win that time, either, but had a lot of fun. And that book was Never Coming Home.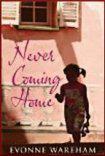 AmeriCymru: Care to tell us more about Never Coming Home ?
Evonne: Kaz Elmore, the heroine of the book, has lost her young daughter in a fatal car crash while she was on holiday in the United States with her father, Kaz's ex husband. Six months later, in London,  Kaz has a visit from a stranger, who has a very different version of the crash from the one Kaz received from her ex. Naturally she needs to know what happened to her daughter, and she hires the stranger, Devlin, to help her find out. The search for answers takes them across Europe and uncovers a complex web of plots and conspiracies. Something very nasty from Devlin's past comes back to threaten him, people start dying and Kaz and Devlin fall for each other. This is a particular problem for Devlin, as he considers he is not capable of love, because of things he has done in the past.
It has been an incredibly exciting journey to see the book published. The excitement was compounded in May this year, when Never Coming Homewon the Joan Hessayan New Writers' Award from the Romantic Novelists' Association, here in the UK.
AmeriCymru: We learn from your website that you have many unpublished manuscripts including one particular favorite - 'The Time We Have Left'. Are there any plans for publication? Please tell us more about the book?
Evonne: The Time We Have Left is the book that ran away with itself. It's meant to be the first part of a trilogy, and is over 140,000 words - which is a very fat book. It's a regional family saga, set in the South Wales coal ports of Barry and Cardiff during World War Two, charting the lives and loves of a family of three sisters. It was written a number of years ago and is nothing like what I write now, but it was a major part of my learning curve as a writer, when I was experimenting to find my style and favorite genre.  Although it is an early manuscript it has received good feedback from experts and I have a very soft spot for it, as I spent a long while writing it - 140,000 words do not happen overnight. I did a considerable amount of archive research for it and it also owes a lot to family members and friends, who gave me first hand background material on what it was like to live through those times. It also records and celebrates things about Cardiff and Barry, particularly buildings, that have disappeared or been substantially changed - landmarks and lifestyles that no longer exist. It would be lovely to work on it with an editor, to find out if it could be brought up to publication standard, but I don't see it happening in the near future. A retirement project, perhaps?
AmeriCymru: What do you read for pleasure and what are you reading at the moment? Any recommendations?
Evonne: I'm a compulsive reader in all sorts of genres. In my own genre of romantic suspense, Karen Rose, Nora Roberts and Jayne Anne Krentz are favourites. I also read historicals and I enjoy the golden age detective stories, as well as contemporary police procedurals and thrillers.  I've recently finished Season of Storms from Canadian writer Susanna Kearsley.
For anyone interested in sampling a wide variety of women's fiction from the UK,  they might like to take a look at what is on offer from my publishers, Choc-lit, who are small independent publishers. The Choc-lit authors have a number of award winners amongst them and we all write in different genres – paranormal, historical, fantasy, romantic comedy, thrillers, contemporary romance …
Choc-lit are currently looking to recruit two new authors, one from Australia and one from the U.S., and are running competitions for unpublished writers. They also have a tasting panel, made up of readers, who comment on submissions and recommend them for publication. Choc-lit are recruiting from America and Australia for that also. Details of the writing contest, the tasting panel and the Choc-lit catalog are all available on the Choc-lit website. All the authors blog there too,on a regular basis. http://www.choc-lit.co.uk/
AmeriCymru: What's next for Evonne Wareham? Any forthcoming publications or projects in the works?
Evonne: Never Coming Home, my debut published novel, was the finalist from my second American Title contest. Choc-lit have also contracted for Out of Sight, Out of Mind and that will be out in the UK in March next year. So – both my American Title books will be published, but in reverse order. I'm hoping to make it over to the States next year to attend the RT Booklovers Convention. Fingers crossed on that one. I'd also love to attend some of the crime and thriller conventions such as Bouchercon and Thrillerfest, but I think that will have to wait for a while.
AmeriCymru: Any final message for the members and readers of AmeriCymru? 
Evonne: I like to include at least one scene set in Wales in all my books, so if Americymru members and readers are persuaded to try one of them, I hope they will enjoy the connection to Wales.  In Never Coming Home the scene is a short but crucial one, near the end of the book, which takes place in and around Cardiff station.  In Out of Sight, Out of Mind, Wales has a much larger role, as a chunk of the action takes place in Pembrokeshire. 
I've really enjoyed talking to Americymru and would like to thank Ceri for some interesting questions. If I've tempted  you to read my work, I do hope you enjoy it.
Interview by Ceri Shaw