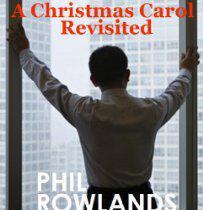 Philip Rowlands is a former Headteacher from the Rhondda in South Wales. He is now an author and editor of 'Kindle Authors', a website which offers :- 
'Encouragement, practical 'how to' advice, and support for all aspiring and established Kindle authors.'
Kindle Authors
A Christmas Carol Revisited

AmeriCymru:  Croeso i AmeriCymru Philip. Recently I have been admiring your work on Kindle Authors .

How would you describe the site?Philip: Thanks Ceri. Writing is essentially a solitary craft. Kindle Authors was established to create a supportive community of potential Indie authors who want to go down the self publishing route. Hopefully it provides helpful technical advice, promotional ideas, amusing posts but above all a healthy dose of encouragement. A blog is also a great way to discipline yourself to the daily task of actually getting some writing done. There must be lots of people including members of AmeriCymru who have a novel currently residing in their head but unless they impose some self discipline and start writing on a regular basis that's where it will stay. 

AmeriCymru: 
In addition to blogging you are also a writer who publishes electronically. How did you get started with that?
Philip:
I have always loved writing. As a teacher I was very conscious of how drama could impact positively on children especially with regard to emotional literacy. Consequently I wrote many play scripts and entered children in various competitions. We achieved success nationally winning the Cardiff International Science and Drama Festival run by Professor John Beetlestone of UWIST, came runners up in another national finals sponsored by Savlon which were held at BAFTA and also were awarded a prize in the National Eisteddfod held at Builth Wells.
I decided to try and get some of the plays published back in the day when you sent your manuscripts to a publisher and waited several months for a rejection slip. When I retired I continued to write and with the advent of devices like Amazon's Kindle I decided, like many established authors, to ignore the traditional route and publish directly with Amazon and Smashwords. The fact this option was available gave me the impetus to finish one of several projects I had started but abandoned. There is no excuse now because anyone can write and get published if they really want to.
AmeriCymru: 
You have published 'G+ Explosion'. Can you tell us more about this title?
Philip:
Writing a book about social media marketing was the furthest thing from my mind if I am honest. I was always actively involved on the internet even when it was new and computers were alien beings that sat in the corner of a  classroom making strange beeping noises like a disgruntled R2D2 and whose sole purpose seemed to be to intimidate nervous teachers.
It was obvious to me that here was a possible outlet for the play scripts and educational programs (see http://www.helpyourchildsucceed.com ) I had written. Down the years I have sort of become a social media marketing expert by default. Please don't ever call me a guru! Having then begun to self publish my work I soon realised that was just the first stage of the self publishing author's task. The next is to promote your book. Nobody is going to do it for you and there are now so many books published on Amazon every month that it is easy to become lost in the digital crowd. When Google+ arrived I took a close look and immediately glimpsed its immense potential. Here was an opportunity to establish a presence while Google+ was still a new kid on the social media block. Having already established Kindle Authors I viewed Google+ eXplosion as a natural extension of providing information and help on a social network that can provide authors with a powerful promotional platform. In order to get Google+ eXplosion written I took time off from my current project, as time is of the essence when opportunities presented by the likes of Google+ arrive.
AmeriCymru: 
The inevitable G+ question. In your opinion will it ever catch up with or be a viable competitor to Facebook?
Philip:
In my humble opinion, most definitely. Google have already failed with one project, failure is not an option this time. They are totally committed to Google+ and as soon as apps linking them to other social media networks like Twitter become available momentum will build exponentially. One feature that is particularly effective is the way you can group people into Circles. This allows you to set up sub groups within your account. For example I have groups for various genres like Fantasy, Science Fiction etc and only post what is relevant to that group. This facility is lacking on Facebook. Google+ is still evolving. When Google+ first introduced their Pages the maximum number you were allowed was just 20. I now have 28 pages and there has been no warning from Google that I am anywhere near my limit. They are adding new features all the time and the latest is the Local Tab that allows you to search a local area within a given postcode for restaurants etc. Google+ will become a massive presence in the social media universe and now is the time to get a foothold.
AmeriCymru:  
You have also published A Christmas Carol Revisited.
Can you introduce the book for our readers?
Philip:
Certainly. Charles Dickens is one of my favorite authors and '

A Christmas Carol

'

, my favorite story. Although Dickens was not Welsh he shares with us one very common trait which is evident in all his works. Dickens possessed a well defined social conscience and his novels frequently illuminate the dark corners of Victorian society where social injustice and abuse of children were commonplace. I often wondered what issues Dickens would have written about today and that was the intial motivation for '

A Christmas Carol Revisited'

. I realised it might appear an act of arrogance to try and follow in the footsteps of the great man but I reasoned if the Muppets could do it, why not me?
I have been asked why the story was set in New York not London. When Dickens wrote

A Christmas Carol

Britain presided over a vast empire at the height of it's powers. During the 20 century that mantle fell upon America and she has since been at the center of many of the significant events that have shaped and changed our world. New York seemed the obvious setting for Ebenezer Clinton Scrooge III, very much a self made man of his times. There were two other aspects of Dickens work I hoped to reflect in some small measure. First was his love of words and descriptive powers and second was the fact that he always wrote darned good stories. In this age of CGI movies the art of story telling often takes a back seat.
Thankfully

A Christmas Carol Revisited

has been well received by everyone who has read it. I was fortunate to secure an hour long interview and review with Roy Noble and Nigel Crowle on BBC Radio Wales
and they were extremely supportive. Hopefully readers will find it an uplifting experience.( Access the interview from
here
)
AmeriCymru: 
Your latest title 'Billy: Family Secrets' is featured in your photo album on AC. ( see below ) . Care to tell us more?