A star of stage and screen, Academy Award winner Cate Blanchett turns evil in her latest role as the stepmother in Walt Disney's highly anticipated new film, Cinderella.
It may be a sign that I'm in denial about aging when I could still envision Cate as the princess, not the stepmother! However, she certainly is a busy mom in real life, with three sons (Dashiell - 13, Roman - 10 and Ignatius - 6) with husband Andrew Upton.
Read on for Cate's thoughts on the new film. While I would love to say this is an exclusive interview (maybe next time!) in the interests of full disclosure you must know that it was shared with me by Walt Disney Studios Canada - but it's still fun to get the perspective of this famous mom!
***********


Tell us what drew you to the project.




I love fairy tales, and "Cinderella" in particular, because they deal with complex issues that face children. So many stories that children are told now make them feel like they are heroes who can overcome anything and that the world is a perfect place. The timeless fairy tales, like "Cinderella," tell us that the world can be a nasty place and require a good deal of courage and resilience to survive. This is a story where kindness is a super power, which is something Ken Branagh and I talked about early on that I found really exciting. Plus, I have three boys so I'm aware of all the films out there that have male superheroes at the fore, so I was thrilled to be part of the telling of a female-centric story.




How was it playing such an evil character like the stepmother?


A.

  

I loved it. Like a friend of mine once said, 'At a dinner party I'd rather be sitting

next to Lady Tremaine,' so it was great fun to inhabit such a colorful role like this. But Ken Branagh decided early on not to go for high camp, which you can absolutely do in a fairy tale, and to find the core of truth to the character instead, so it was quite a balancing act. No one is purely evil…everyone's got a motivation. The stepmother is what happens when 

good is perverted: it often turns wicked. I was interested in exploring what makes someone wicked. Through little vignettes in the film, you get a glimpse that this is a woman who has tried to start her life again, and becomes intensely jealous of the deep affection that her new husband has for his daughter, Cinderella. She's not as beautiful and not as kind and as good as Cinderella.

 

When Cinderella's father dies, the financial pressures, the panic and the jealousy grow…that is what makes her wicked.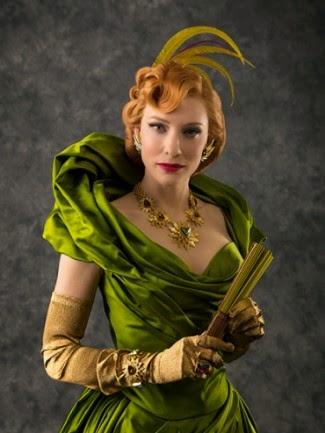 All photos courtesy Walt Disney Studios Canada
How did you come up with the look of the character?
A.

  
Costume designer Sandy Powell and I drew inspiration from images taken in the
1940s of screen legends like Marlene Dietrich and Joan Crawford – women that we still admire today – who had a tremendous sense of danger and mystery about them, especially the dramatic way they were lit.
Tell us about Lily James' performance as Cinderella.
Lily is a blithe spirit…she glows, and I think she is absolutely perfect for the role.
She is like a breath of fresh air and is totally unaffected. And there's a generosity of spirit to her as a performer, which is really rare and which requires incredible discipline, focus and depth.
How was it working with Holliday Grainger as Anastasia and Sophie McShera as Drisella?
Sophie has such exquisite natural comic timing, and both she and Holliday are so unaffected, so they found a way of playing the sisters that was totally believable. You genuinely believe that they felt they were both the brightest button and the most beautiful girls in the room. But, they didn't over play it, despite how they were dressed, because they could have easily camped it up.  They were fantastic. They found the balance immediately, and they were so sweet and so funny.
Tell us about Kenneth Branagh.  Did his acting background have an effect on his directing style?
Ken was able to find the tone of the film, at once sweet and delightful, but also sinister. He was able to harness both the domestic and the grand moments between the 
characters. He's got a wonderful sense of rhythm as a director, so we knew we were in safe hands. Being such a great actor, he's very good at using the rehearsal time in the 
morning. He's able to incorporate everyone's process, and make it feel like a collective effort.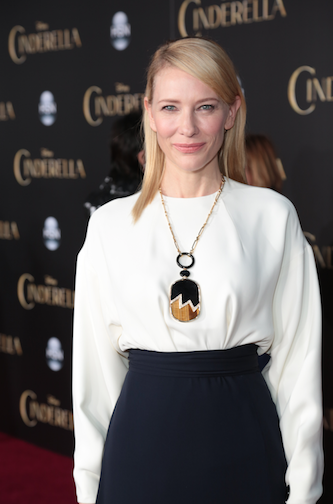 At the film's Hollywood premiere
Tell us about the look of the film.
Well, everything about the film exceeded my expectations. The production was 
blessed to have people like Ken Branagh, Sandy Powell and production designer Dante Ferretti collaborating to create the extraordinary visuals of a storybook world you'll see on screen. The world they have created is a bit David Lynch in the sense that you've still got the old telephones but within a modern setting so you don't quite know where you are. But the story of "Cinderella" is timeless in the best possible sense. The first time I walked onto the set of the ballroom I had to pick my jaw up off the floor...it was like an MGM Technicolor moment, and in terms of cinema I felt like I was transported back in time. When Cinderella and the Prince took to the floor to dance, it was profoundly moving.
What do you hope audiences take away from "Cinderella"?
I think we're
used to seeing fairy tales told in animated form that allow us to sort
of guffaw and laugh at these characters from a distance. But when you see Cinderella in the flesh, you're really brought back to the actual human cost (that is often personified in fairytales via fictitious characters like the big, bad wolf or the wicked stepmother). And I think audiences are going to genuinely be rooting for her.  We
all know the story of "Cinderella." We all know the story of "Hamlet." But we go and see "Hamlet" over and over because the best productions make us think maybe this time he will kill Claudius. And with this "Cinderella" people are going to feel the same way and will be surprised by a lot of scenes because they are so true, and therefore truly funny and truly tragic as well. Audiences are going to feel like they're being told the story of "Cinderella" for the first time."
**********
My daughter celebrates her 9th birthday just days before the movie's release date, and she has eagerly agreed to forgo a party in order to take a friend to see Cinderella. She's been counting down the days for weeks! The film opens in theatres on March 13th. See you there!