Published as:  Greece A far cry from the whitewashed buildings of Mykonos, this vacation home on the Aegean island of Skiathos will make any modern design fan go Greek. Slideshow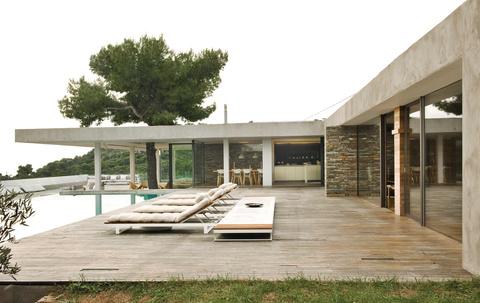 Stone walls, a pine tree exploding out of a deep overhang, iroko decking, outdoor rooms, a glassy swimming pool, and endless views of the sea make this home a paragon of indoor-outdoor living.
"My dream was of a summerhouse whose design 
alone, rather than any added-on decoration, made it beautiful," says Athenian Achilleas Mourtzouchos, who, with his girlfriend, Alexia Leandros, brother Odysseas, and a passel of extended family and friends spends much of the summer here as well as long weekends the rest of the year.
The Plane House—an idyllic vacation home perched on a mountain on the Greek island of Skiathos—was a hugely personal and collaborative project between the Mourtzouchoses and another set of brothers, their architect buddies, Dimitris and Konstantinos Karampatakis, of Athens's K-Studio. "I've followed his career closely," says Achilleas of his childhood friend Konstantinos. "All I requested was two master bedrooms, one for Odysseas and one for myself, but otherwise I gave him total freedom. 
I trust Konstantinos completely."
The Mourtzouchoses' mother fell in love with relatively underdeveloped Skiathos through the writings of one of its native sons, the late-19th-century novelist Alexandros Papadiamantes. "My family bought the plot in 1996," recalls Achilleas. "It included an incomplete building with a partially constructed concrete frame. Eventually, in 2006, 
we decided to finish it."
Slideshow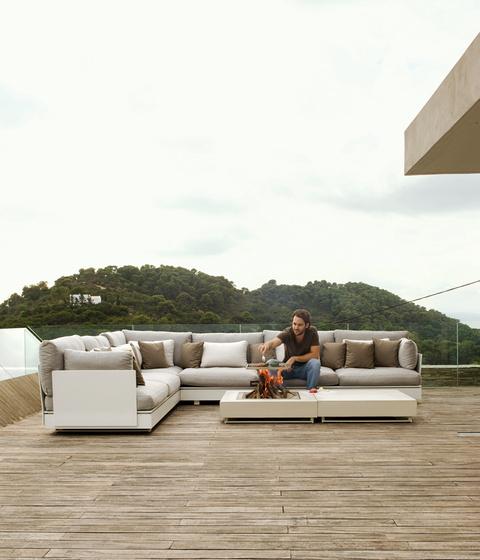 Life at the Plane House is all about relaxing and hanging out with friends for co-owner and Athenian Achilleas Mourtzouchos. Here he does a bit of lounge-side grilling on a modular Pure seating system by Viteo. Even the fire table and grill are part of the Austrian outdoor furniture company's line.
Completed in 2011, the two-story Plane House—
a wordplay riffing on its simplicity and strong, horizontal lines—now caters to what Konstantinos calls two "speeds" of life.
"The first for quiet, long weekends," he explains, "the second, faster one for when it's a guest-filled party home." K-Studio designed the space to expand and contract accordingly. For guests, the lower floor houses a living room and four bedrooms. And when Achilleas is looking for some respite from the busier social areas of the home, he can retreat to one of the ground-floor master bedrooms, which are situated beyond the kitchen past an enclosed garden.
Although uncompromisingly modernist, the twin L-shapes of the house aren't so much stark as they are serene, blending into a backdrop of pine trees. The home commands panoramic views of beaches, nature nudges its edges, and sustainable design informs its function. A tree shoots up through an opening in a wide overhang fronting part of the house, and the main entrance is carpeted in grass that grows through perforated concrete blocks allowing rainwater to hydrate the soil beneath. The planted roof diverts rainwater into a large tank (graywater hydrates the garden and fills the toilets) and an array of solar panels generates electricity.
Slideshow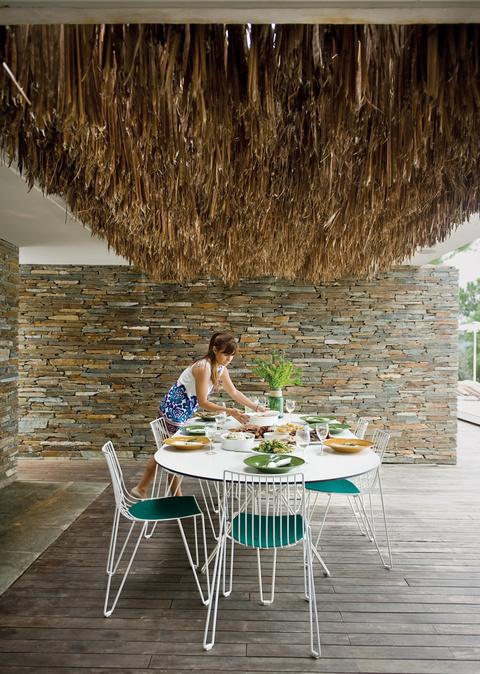 The Mourtzouchoses entertain constantly, which means that food is rarely far from anyone's mind. Alexia sets a Tio table (with matching chairs) by Massproductions, over which hangs a thatch of dried palm fronds.
The omnipresence of the landscape is bolstered by an abundance of natural materials in the structure, from iroko wood decking on the sea-facing terrace and adjacent floors to drystone walls made of slate from the next island over. "I chose many of the materials," says Achilleas, who studied electrical engineering at Boston University. "I was the project's engineer, oversaw its construction, and helped build many custom elements." These include a cast-concrete island in the kitchen and a TV stand incorporated into a white wall. This same wall, which normally separates the living room from a narrow space by the front entrance (often used by Odysseas as a DJ booth), can be rotated at a 90-degree angle to divide the area into two parts.
"I didn't have previous knowledge of casting concrete, but I read up about this and other techniques and put them into practice. I'm very practical—and a perfectionist, unfortunately," laughs Achilleas. "I even made sure the wooden planks inside and out form a continuous line. This creates the illusion of more space."
From Konstantinos's perspective, the house is about erasing the division between inside and out. "We wanted it to be as flat as possible, so we referred to California's Case Study Houses—particularly their glass facades," he explains. "Yet, this is a typical Greek summer-vacation house, where the attitude is about being very relaxed." Skiathos, he continues, has no strong aesthetic architecturally, unlike Mykonos or Santorini, which boast boxy, whitewashed Cycladic-style buildings. This allowed him a freer hand in the design: One example of this is the house's broad overhang, which keeps it blissfully cool in summer.
Slideshow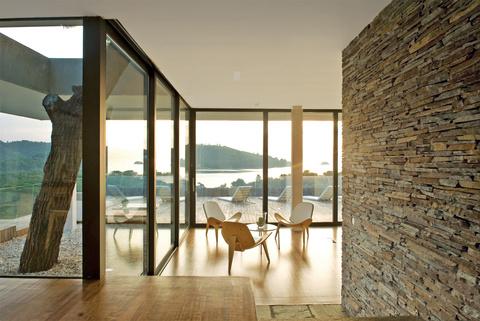 The living room, sports a trio of Shell chairs by Hans J. Wegner for Carl Hansen & Son.
Consistent with Achilleas's taste for understatement, the furniture is primarily functional, informal, and in muted neutral hues. The squashy, modular Extrasoft sofa in the living room was designed by Piero Lissoni for Living Divani, and a fleet of low-lying Respaldo Reclinable chaise longues, which eschew conventional frames and 
rest on the ground, are by Gandia Blasco.
A typical summer day sees Achilleas and Alexia breakfasting in the kitchen with the windows thrown open; taking their boat to sea around 1 p.m.; dropping anchor and swimming; and then, around 5 p.m., hanging out with friends by the pool, sipping mojitos. The deck has its own alfresco setup: a dining table, barbecue, and an overhang whose idiosyncratic ceiling is made of makuti (dried palm fronds). "When sunlight streams through it onto someone's face, the dappled effect is lovely," rhapsodizes Achilleas.
He and Alexia began dating at an early stage of the project. "He once showed me pictures of it on his laptop," she remembers. "His passion for it won me over. It's one of the biggest parts of his life, and I'm so happy to be part of it."