We've decided here at The DC to ban the word "iconic" from our posts. Call it a belated New Year's resolution. We made the decision about 9.30 this morning when we took this picture...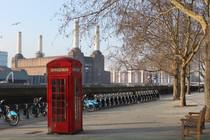 ... and we thought: what's NOT iconic about this scene? EVERYTHING is iconic about this scene!
Battersea Power Station and the red phone box; the ubiquitous London plane tree is in icon in its own right; and new icons evry year in the shape here of the massively popular bike hire scheme.
Iconic London? It's ALL iconic to us. Happy Walking.
- Posted using BlogPress from my iPad