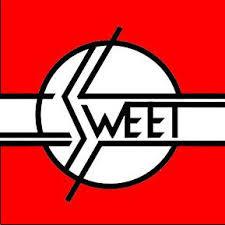 Ever since the cancer-related death of my imaginary boyfriend Trevor Bolder earlier this year, I've been making a conscious effort to see as many of these old rock dudes as I can before they drop dead.  It may sound harsh, but some of these guys lived life on the edge in the 60's and 70's – and not everyone has the constitution (or good medical connections) of Keith Richards, Lemmy and Jimmy Page. 
It was a total fluke when I heard about the Sweet coming around on tour.  I was on my way back from a July 4 barbecue in CT and was looking for a decent radio station when I heard the DJ say they would be interviewing Steve Priest (Sweet bass player) before their gig in Tarrytown New York.  When I got home I looked up tour dates on the internet and was a little confused.  Apparently there are two different versions of the Sweet.  One is guitarist's Andy Scott's band who play in Europe, the other is Steve Priest's band who play in the US and Canada.  That was the band that was coming to the East Coast – according to the tour dates, no NYC show so it was either TarryTown or New Jersey.  I got in touch with my buddy  Lerxst (not his real name) and offered a proposition, if he was willing to drive to either show, I would pay for his concert ticket.  Luck was on our side as he had taken a half day off work on Thursday July 11 and would happily take me to the show in Tarrytown.  Apparently "Ballroom Blitz" was one of the first rock songs he really liked when he was still too young to know what rock music was.
I sprayed myself with my favorite scented glitter from Bath and Body-works and gleefully rode the subway up to our meeting spot in the Bronx.  It filled with me no small joy to transfer trains at Yankee Stadium, especially knowing my team had won at home only a few hours earlier, and Pitcher CC Sabitha has just garnered his 200th win.  At 6:30 on the dot, Lerxst pulled up in front of where I was standing, of course he was wearing a Rush shirt! And we were on our way!
The parking gods were with us and we found a spot only a few blocks away, and I cheerfully noted the 7-11 on the corner and made a mental note for after -show caffeine.  We walked to the venue and I was so prepared to have trouble with my will-call tickets.  I don't know why, maybe I'm used to the uppity, attitude filled 20-somethings the NYC clubs seem to hire to work at the box office.  I needn't have worried, there was a kindly older gentleman standing at a podium in the lobby with the words "BOX OFFICE" written on the podium. I told him who I was and kept insisting I have ID, how could he take my word for it?  Then again identity theft for Sweet tickets was highly unlikely.  He handed me my tickets and said "All the way from Brooklyn, eh?".  I was proud for a second that maybe my accent or demeanor had revealed my simple roots, then I saw my address was printed on the tickets receipt.  "I hope it's worth it!!" I smiled back.
Tarrytown is a very cute little place – at first it reminded me of Center City in Philadelphia.  Surrounded by cute little cafe's and bistro's, Lerxst and I  mutually agreed to eat dinner at Subway.  ($4 for a six -inch and a re-fillable soda!!  Can't go wrong!).  My brain is so conditioned to getting to gigs early so I could find a good spot to hang out, I wasn't quite used to the whole concept of "assigned seats".  We walked back to the venue and the guy who scanned our tickets told us we were dead center and probably had the best seats in the house.  Thank you online seating chart!!  I casually glanced at the merch and saw a girly tank top with the bands name and glitter on it. It was calling out to me.  I promised the girl I'd be back in between sets.  In reality I wanted to see if this band deserved any more of my money.
We got to our seats which were beautiful, and there was a woman two rows ahead of us chatting to a group of Scottish fans sitting one row in front of us.  Apparently she was friends with Andy Scott, she didn't know what to expect, and had a distinct air of "I've been here and done all this before,"  When she was told the late original singer Brian Connolly was Scottish, she drew a complete blank.  I wanted to dig a hole for myself.

   The venue filled up slightly, a rather large gentleman and his date sat directly in front of us, well he sat in front of me, thereby obstructing my view.  Not one to let anything ruin my good time, when the house lights went down I realized the four or five rows behind me were empty, except for a few people off to the sides.  I sat right on top of the back of my seat and had a fantastic view.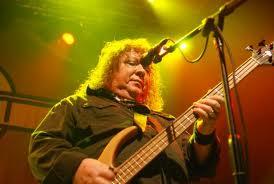 The band shambled out, the singer (his name escapes me and I can't find it on the web) did the obligatory "Are you ready to rock" or similar and the band launched into "Action".  It was one hit after another, then at some point the singer announced they were doing a song from "Level Headed" only to be quickly corrected by a clearly exasperated Steve Priest who said, "No we're not – this one was only released as single over here!"  It was "Teenage Rampage".  The singer was new, I think this was his second or third show with them, but I really liked him.  I heard a few mumbles from people during the intermission that he was too much like David Coverdale, but if anything he was channeling his best Robert Plant, even with the "going back to Chicago" bit from "When the Levee Breaks"  funneled into the song "Windy City".  "Set Me Free" has always been one of my favorite songs by the Sweet, and when the singer announced it, you could hear a pin drop in the auditorium and the sound of my shrill screaming like a jackass.  The concert hall was half full, there were only a handful of people who didn't look like they were sitting in a dentist chair – and that only made me more into the music.  At some point Lerxst told me the singer pointed right to me and gave me the thumbs up! 

   I don't remember during which song it was, but the band went into a jam centered around keyboard player Stevie Stewart.   Then I heard a familiar motif and looked over and Lerxst being a huge sci-fi fan had the biggest grin on his face.  "Is this...." I pointed to the stage.... "Do you hear the Dr. Who theme???!!" 

   "It is!!" He exclaimed and hi-fived me.  We honestly thought we were among the few who "got it".

   Towards the end of the show they did the two big hits, "Fox on the Run" and "Ballroom blitz and at least 12 people got up to dance! So my cheer leading wasn't for nothing!!

   When the band walked offstage, the obligatory but weak shouts of "encore" and "One more song!" could be heard, but as Lerxst said, "This crowd doesn't deserve an encore!"

   It was still early, around 10, so we hung around for the promised meet and greet and photo ops.  While I was waiting, I overheard some people talking about the Alice Cooper band, turned around and there was Dennis Dunaway and his wife Cindy.  I waited politely for a chance to go over to talk to him, because he was there as a fan so I didn't want to be awkward.  He was super nice and friendly and was flattered when I went on and on about how much I love the original Alice Cooper band.  He was kind enough to pose for a photo with me. Really nice guy.

   The line to meet the Sweet had dwindled by the time I finished talking to Dennis.  I told the keyboard player he looked like Schmier from the German thrash band Destruction, and said that was compliment!  I went over to Steve Priest and said, "Before I take a photo, I just wanted to say I would have loved to have heard "Restless" and "Someone Else Will".  And I swear to God the man snorted.  Undaunted, I decided I was going to mess with him a little bit and started stroking his velor shirt, "What is this made out of? This is beautiful!" (said in best little old Jewish lady voice!

   I took a few photos with him, I would have been OK with just the one, but he said he was "looking in the wrong direction".   I made a joke about me being lazy eyed so I'm always looking in the wrong direction, but no snort this time.  "Do you ever smile?" I asked him as we took the photo, he told me he wasn't feeling well.  I learned over to kiss him on the cheek and then – he ambushed me and planted one on my lips.  Gotta give the man credit for trying! That's when he did have a big smile on his face!!

   On the ride home, blasting AC/DC (the Sweet did a song of that name so Lerxst wanted to hear the actual band!) we decided that the concert was fun, the crowd was lame, and Steve Priest could have been friendlier, but he had that air about him that he had almost given up, which was sad. 

   I don't know the personal details of why Steve and Andy have different bands, but as a fan all I can say is – look there are only 2 of you left alive – the sweet are a rock and roll band – not a dinner theater cabaret act.  While I enjoyed hearing some of my favorite songs being played live, there was a note of sadness to it, like Steve's heart wasn't really in it – which I hope isn't the case.  If Steve and Andy did this together, there would be more of a spark and it would make things that much more special.  That's just the fan girl in me talking.  I'm just happy I can check the sweet off my bucket list of bands I have to see before I die.  Now if only Fastway would get something going....
--Rys