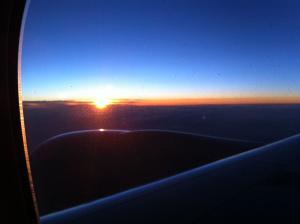 One of the best perks of my job is that I get to pretend to be a rich person.
Well, not all the time of course. Like I definitely did not feel rich these past 2 weeks: Staying late in the office, eating at my desk, slaving over Excel sheets till I started dreaming of VLOOKUP commands, and feeling absolutely miserable.
So I got really happy when I got to take a break from it all to fly First Class to Beijing for a work trip. I sipped a glass of champagne, slid down into the overly spacious fine-grained leather seat, and stared out into the setting sun. "I could get used to this life." I thought, as the flight attendant poured me another glass of champagne.
Being Rich – Gangnam Style
Fast forward to two days later, I was back in Singapore and pretending to be rich again. This time, I was at the Turf Club, entertaining 20 clients who were rich enough to fly First and Business Class on a regular basis and splurge copious amounts of money betting on horses.
I got talking to one of our guests. She was elegant, Irish, and wore a lovely dress with a tasteful set of pearls. Her husband was a Managing Director in an MNC. I could tell she was actually rich (ie: not one of those executives who gain elite status on their company's money), because she ordered a Coke instead of alcohol. Classy.
We were watching the horses being led out to the track, when the she lamented, "I would love to be rich enough to own one of those horses and not have to work so I could train them every day!"
I stared at her as if Justin Bieber had just crawled out of her nostrils. I thought to myself, "Lady – You get to savor the champagne-filled heaven that is First Class every couple of weeks! And you think that you're not rich enough???"
 The Law of Relativity
And then it struck me: Being rich is RELATIVE.
That is, relative to who you compare yourself to. When I was a penniless college student, I used to get jealous of alumni who had real jobs and were earning thousands of dollars a month. Now that I was one of them and wallowing in my Excel-induced state of misery, I found myself getting jealous of people who were earning tens of thousands of dollars a month and flying First Class on a regular basis. But they in turn were feeling jealous of other people whom they thought were richer than them. It was mind-boggling, but it made sense.
The truth is, being rich is just a state of mind.
It really doesn't matter how much money you make or how big your bank account is. I'm not saying that we should all just be happy in poverty – everyone should strive towards a life where they're not worrying about making ends meet. But it's a waste of time and energy to feel jealous of someone else's (perceived) material fortunes.
Instead, I challenge you to start feeling rich right now. Think about how lucky you are to have higher education when there are millions of people who don't even make it to high school. Think about how great it feels to have the security of a regular job, three meals a day, and a bed to sleep in while others are struggling to make ends meet.
I know it sounds corny, but we often don't notice how rich we really are.
First Class
Yesterday, I took my family out to lunch. The restaurant was half-empty, served cheap Chinese food, and were no leather seats with mahogany trimmings or unlimited quantities of champagne.
But the food was tasty, the company was excellent, and my dad was gleeful as hell because the opposition party had just won the Punggol East by-election. I leaned back, patted my Chinese food-filled tummy, and savored how wonderful life was.
So who needs to pretend to be rich? I don't.