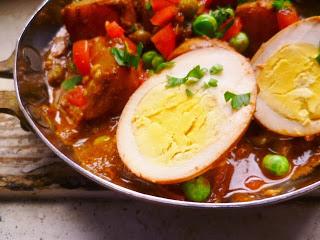 pea, egg and potato curry
I arrived at University several decades ago with a box of books, a suitcase of vintage clothing and a complete inability to cook. The days of me pouring over my copy of My Learn to Cook Book ended the moment I discovered boys, booze and thick black mascara.
I am not sure that any of my new friends had any idea quite how useless I was, nor how much that these girls intimidated me with their confidence and apparent sophistication. It is unlikely that they would have realised from my attitude of feigned nonchalance that I actually really cared about their opinion and hated the fact that my cooking skills were so limited. But this girl loves to eat, and I learned how to cook, at least the basics, pretty damned quick.

One night, after several small sweet Sherries too many, I declared airily that I would be cooking Sunday lunch for all of my housemates. I would cook up a a Malay curry feast. There was only one slight problem. I had never cooked a curry before and had no idea what actually made a Malay curry different from say an Indian one. But I knew a man who did, my father, Henry.
This was why I could be found, in those far off days before mobile phones and the internet, shivering in damp telephone phone box late one wet night in Leeds, tipsily trying to shove money into the coin deposit, and make myself heard over the sounds of my father roaring with laughter at the other end of the phone. I was desperate to get him to take the whole thing seriously; he was milking the moment for all it was worth. Entertaining for him; sheer hell for me. "Darling, you mean you want my advice on a recipe?" I am getting colder, wetter and poorer by the minute and Henry was savouring the whole fabulous joke.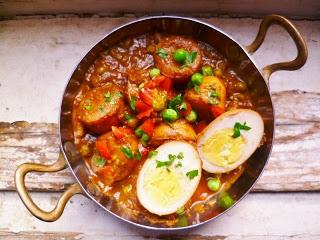 To add to my frustration and rising sense of panic, Henry always took a rather long time to get to the point. Damn, more coins swallowed by the voracious phone box. Henry ummed and ahhed his meandering way through the recipe, while getting diverted by his thoughts on politics, his garden, Ancient Greece and baroque music.
Trying desperately to get him back to the point, cutting through his whimsy, I was finding it impossible to pin Henry down as his cooking was so imprecise and haphazard. To compound it all, Henry insisted on giving me the details of the ingredients in Malay rather than using their more familiar English or Indian names. He gave me the measures in Malay too; (Could I remember the numbers? "Satu, dua, tiga," I muttered to myself forlornly).
I was doomed. This curry was going to be a disaster.
"Oh, don't worry, Darling," said Henry, with all the insouciance of a man who had never had any doubts about his abilities in the kitchen," I am sure you'll be fine." This did not inspire me with any confidence. My father's eccentric skills in the kitchen were legendary, despite his ability to make a fine curry. Yes, that would be Henry, whose epitaph should have read "The world's greatest eater; the world's worst cook".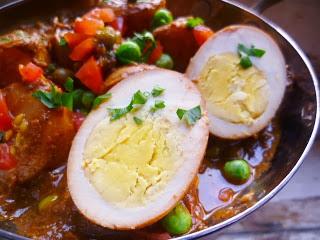 I trudged home, wet and despondent, with a sinking feeling; wishing that it had been my mother who cooked curries in our family and not my rackety father.
But I managed to piece some kind of curry recipe together, using ingredients and spices from the local Asian shops in Headingly. The curry itself wasn't authentically Malaysian, but it seemed to work with what I could buy locally. As a first attempt, it was rather good and I ended up living on the stuff over the next few years.
Initially it was a veggie curry of peas, boiled eggs and potatoes. But when in season, I would include other vegetables such as courgettes, peppers or cauliflower. Sometimes I would lob in a tin of white beans or chickpeas. When I became a meat eater, it worked really well with chicken too.
It's a great way of using up some of those lonely vegetables, languishing forgotten after you have used up their compatriots; a bit past their prime, but scrubbed up and lobbed in they do the job perfectly well.

pea, egg and potato curry
Serves 4
Skill level: Easy
ingredients:
vegetable oil
2 English onions, chopped
3-4 garlic cloves, very finely chopped
2 cm ginger, grated
1 tsp coriander seeds (or 2 tsp ground)
1 tsp cumin seeds (or 2 tsp ground)
1 tbsp garam masala plus extra
½ tsp cayenne pepper
½ tsp chilli powder (or to taste)
1 tin of plum tomatoes (about 400g), roughly chopped
2-3 tsp tomato paste
1 tbsp lemon or lime juice
250ml vegetable stock
parboiled potatoes
frozen peas
creamed coconut
4-8 boiled eggs
salt and pepper
fresh coriander, to serve (optional)
1 tomato, finely chopped, to serve (optional)
directions:
Heat about 2 to 3 tablespoons of oil in large lidded saucepan. Add onion and a pinch of salt. Fry gently until beginning to soften (about 10 minutes). Add garlic, ginger and all the spices. Stir well to ensure all are well-coated in oil. Continue to cook for about 1 minute, stirring to ensure the spices don't stick.

Add the potatoes. stirring to ensure well-coated in the spice paste.

Tip in tomatoes, tomato paste, lemon juice and vegetable stock. Stir well. Bring to the boil and simmer for 30 minutes.

Add coconut to taste (I use about 2 tablespoons). Stir well to ensure that the creamed coconut melts and is distributed through the curry.

Add boiled eggs and frozen peas (as many as you like; I like a lot!) Simmer for another 10 minutes.

Check seasoning. Stir through one more teaspoon of garam masala.

Serve with a little fresh coriander, chopped tomato and steamed rice.
tip:
Serve with some chopped fresh fruit and vegetables such as cucumber and pineapple, or a quick fresh Asian-style pickle. Some chopped peanuts would be perfect too.