Once again Sunday evening is upon me (well, at time of writing; obviously not now) but I'm a bit confused. My weekend routine has been well and truly ripped up and thrown out the window for most of the last couple of days, and is about to be interrupted once again. Of late Saturdays have involved a lot of time in the kitchen (with a slight sore head or two along the way) and Sundays have been lazy and filled with thoughts of dinner and Downton. Sure, I've had my dinner today – roast beef, if you're that interested, followed by a home-made fruits of the forest crumble – and I've even had the (now almost obligatory) post-dinner dog walk to wake me up after a glass or two of wine; but instead of thoughts of what might happen in this week's episode of the Drama Llama's rampage through the Yorkshire countryside – a.k.a. Downton Abbey – I've had a day of sport.
Don't worry, I'm not changing in favour of some new super-active lifestyle, it just so happens that the tennis and rugby happen to be on the same day. But today's trip to Murrayfield and this evening's tennis listening (5Live has once again become my tennis home, and Murray's even currently ahead!) has definitely shaken up my lazy Sunday schedule, in some sort of post-Downton detox.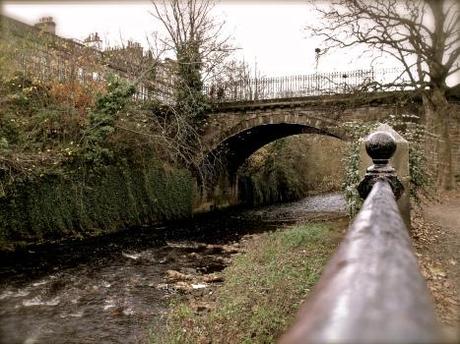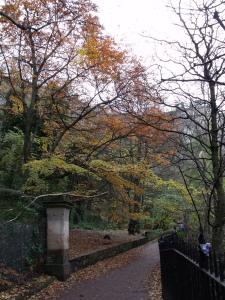 The weekend didn't start off all that active, in fact getting the dog pretty muddy, meeting a friend for coffee and watching the Muppets was about all I did on Saturday. Keira and I opted for a walk up the side of the River Almond early afternoon on Saturday, mainly to see if all the colours I see going over the Dean Bridge on my way to work really are quite so stunning. And they really are, making it a great walk, had it not started raining and our way somewhat hampered. We started down in Stockbridge and ambled our way upstream to the Dean Village, after a brief pause for Keira to eye-up some tasty looking ducks we went up the side of the old weir with the intention of going at least as far as the gallery of modern 'art'.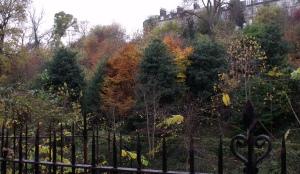 Sadly it seemed that the world had other ideas and to accompany the rain it appears our completely and utterly useless charming city council still haven't sorted out the landslide that closed the path a month or so ago. So we turned around and went to play frisbee in Inverleith Park. Needless to say Keira managed to get the frisbee into the large muddy swamp at the edge of one of the fields and then looked most offended when she was forced to travel home in the boot.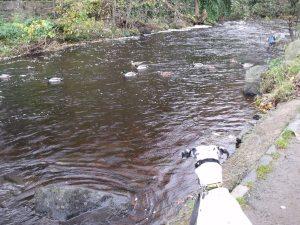 Back to Sunday and it started with the Remembrance Day service from the Cenotaph. I can't ever put in to words how important I think this day is, but I find it very moving; lest we forget the sacrifice that others have made on our behalf and the behalf of generations yet to come. It always seems fitting to pause, think and be grateful for all that we have.
Post lunch it was time for a brief walk over the hill to Murrayfield where the first of this year's Autumn Test series for Scotland was taking place. Capacity crowds at Murrayfield always make for a fun afternoon, and the addition of lots of good humoured All Blacks supporters makes for something really exciting. Sure – spoiler alert – we got…well… humped, but I don't think that'll surprise too many people. We played well and as a long time Scotland supporter that makes it worthwhile. I've certainly seen enough matches where that cannot be said for the play. If I'm honest, a score difference of 29 is actually better than I was anticipating; after our … erm … "embarrassing" (to quote one of the squad) Six Nations performance I was bracing myself for an utter whitewash.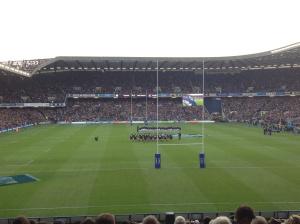 As I said, we lost; however, three tries in one match is pretty good going for the Scotland squad of the last few years, so it's not at all bad news. Oh, and I've just read that apparently we're the only people to get three tries past the All Blacks this year. So, all in all, I don't think we did too badly. There's no denying that even a defeat can be a great afternoon, especially when playing the All Blacks – there's definitely something about being at the match, especially when the Kiwis around you in the stands join in with the Hakka. A truly ridiculous, but incredible afternoon.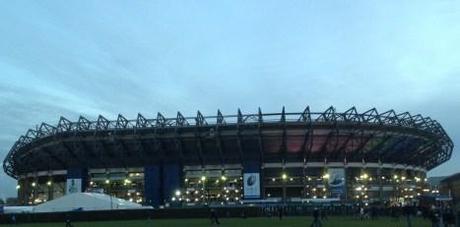 But now the clock has just passed nine, so I've decided to calm the Downton deprivation with an hour of David Attenborough accompanied by the text commentary of the Murray-Federer game. Sadly Murray's not doing quite so well now [EDIT: sadly he went on to lose the match].
Perhaps it was time to shake up the weekends: kitchen adventures will no doubt be back on the cards soon, but until then I'm excited for the ATP final on Monday night [even without Murray] and for much more rugby with South Africa next weekend.
Cr