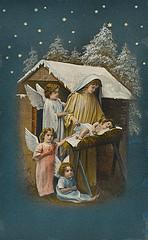 photo : National Library of Norway
Advent is a magical time of year in Austria, when customs and traditions are at their best. One worth knowing about is the 'Kripperlroas' at St Wolfgangsee, in the Salzkammergut region.
Kripperlroas
In essence, Kripperlroas is a tour of the many and varied hand-made nativity scenes in an area. This may be by foot, car, horse-drawn sleigh or – as at St Wolfgangsee – by boat. It's always an adventure whichever way you travel.
The nativity scenes along the banks of lake Wolgangsee have man-sized characters carved out of spruce and hand-painted. It can take anything up to 100 hours to make a character. Some of the figures in the nativity scenes are ancient, whilst others are added new each year. There are even scenes including live animals!
Locations along the route of the Kripperlroas include public places and even private homes. Other areas in Austria have similar customs during Advent.
Chalet Lowonahill is an all-season, rustic style holiday home in Austria. It's the ideal place for you to discover the delights of the 9 provinces of Austria. To find out more, simply click here.