Story tracker hits the mark
Is your head spinning with tales of tumbling figures when it comes to Christianity? Are you overwhelmed with tales of Jedis on the rise or Christians on the decline? What you need is a visit to YouVersion's story tracker. Click on the image below and you can see live just how many people around the world are logging onto the application to read the Christmas story right now. As each little star lights up, it is a reminder that the story is still captivating people across the globe. As if that were not enough, look at the dizzying figures on the right hand side to see the numbers of people who have read the story so far this month.
Christianity dying? I don't think so. That is just a lot of humbug, as Mr Scrooge would say.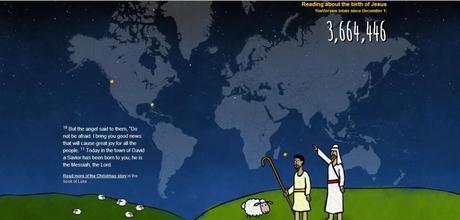 CLICK on the image to visit the story tracker
Why not join in the story by following Tear-fund's Advent Reading plan here?