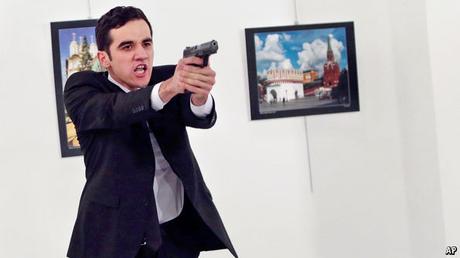 ANDREI KARLOV, the Russian ambassador to Turkey, was only moments into his speech at an art gallery in Ankara, Turkey's capital, on December 19th when the man standing behind him, disguised as a member of his security team, fired the first bullet into his back. His assassin, identified as an off-duty Turkish police officer, claimed to be retaliating for Russian war crimes in Syria. "We die in Aleppo, you die here," he shouted. He also repeatedly invoked the Prophet Muhammad, before dying in a shoot-out with other policemen.
The attack came amid largely peaceful protests in Turkish cities against Russian military intervention to prop up President Bashar al-Assad in Syria.
Recep Tayyip Erdogan, Turkey's president, and his Russian counterpart, Vladimir Putin, both referred to the shooting as "a provocation" and pledged to strengthen co-operation against terrorism. The Turkish foreign ministry said it "would not allow" the assassination to damage relations, while officials also confirmed that a meeting between the Turkish, Russian and Iranian foreign ministers to discuss the situation in Syria...
The Economist: Europe