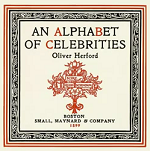 Videobook from Oliver Herford "An Alphabet of Celebrities"
Interactive transcript, and closed captions in multiple languages, you can choose the transcription in your own language!!!
Audio courtesy of Librivox.
Read by Rhonda Federman.
The videobook is courtesy of CCProse and all rights are reserved.
Click on "read more" to see the video.
Read more...