What the bloomin' heck happened to February!?


I think someone stole mine; I remember so very little, I've lost time (anyone believe in UFOs?) There are some photos of me out hiking, hiking with Andrew and Toby and again with Andrew in the rain and such but apart from that, I think I slept. Seriously, I think I slept February away though I can see I read some good books - The Handmaid's Tail for instance. Anyway, it wasn't a good month and I can tell you, I'm glad March is here. The back garden has shown me some much needed hope in it's little blooms, that is something I remember smiling over, in the darkness.
But let us not dwell and instead talk of good stuff! We visited the allotment last Saturday what? - YES! We saw our land again after a very long absence and it didn't look too bad. I'm so glad we did all that work in the depths of winter, so cold and warming ourselves up with many a cup of tea. Apart from the field being a quagmire and the 'devastation' of Storm Doris (a little bit of our netting came down, it's nothing) it looks great, how surprising.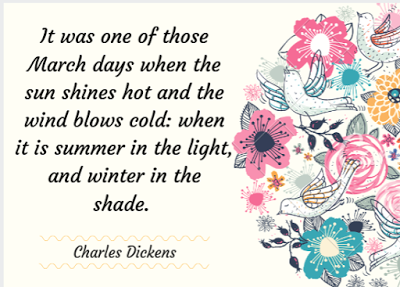 It's not that we fell out with the place but that the weather has been crappy and of course the field was never prepared properly and there is no drainage in place. This year, as last, we're absolute champions of the no dig system and we are going to sow direct as much as possible; in our 9 years at lottie owners we can't see that home sowing and planting out seedlings makes that much difference.
However, one thing we do plant out early is our garlic. We love our garlic and it loves us - 100% germination this year again. Aren't they just a happy sight standing like little soldiers all their rows.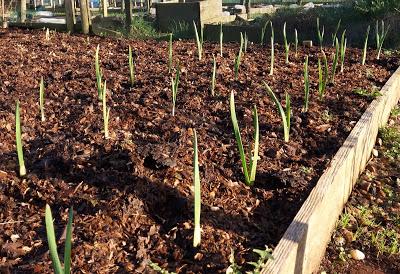 Even had we wanted to do any work or even fork some wheelbarrows of newly delivered manure to the plot, we couldn't. The paths were sodden and these two very inadequate photos try to show. Look, even the slugs were being flooded out!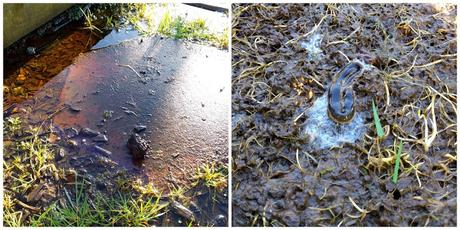 But TRUE JOY was to be found on 14b with our rhubarb patches. These young forced stalks had been so happy to get to the sun that they had pushed off the forcer lid :) We naturally took all these beauties home and I was supposed to make some of my compote and even some compote with ginger - but I've been a crappity mess so far this week. Poop.


There were also some purple sprouting broccoli plants that I reckon deserve a mention and these glorious little daffodils - what a happy sight.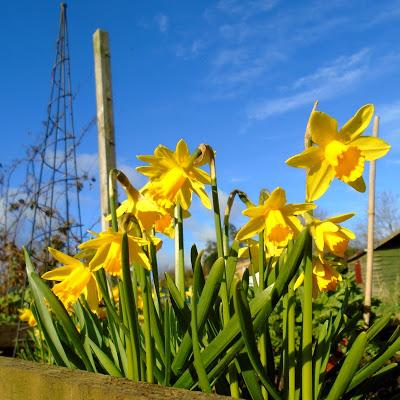 Love and hugs
Carrie
So this weekend we are trying to go for a good hike and I'm not sure if we'll be at the lottie. This hiking lark has really given us a great joint hobby that's healthy and fun. It's just as, if not more, important than the lottie these days! x