Howdy Friends!
It's Thursday, and we are headed to DFW tonight for the Red River Rivalry game on Saturday between OU and Texas! The game takes place at the Cotton Bowl in Dallas every year. It is always held during the Texas State Fair which is full of fried food, rides, car shows, antique tents, and so much more. E and I went when we lived in Dallas and had a blast. This will be our first time to attend the Red River Rivalry game, and I am beyond excited!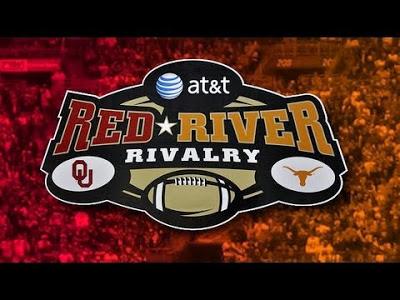 source
As I packed my suitcase this afternoon, it felt incredibly weird to be packing burnt orange clothing right next to my maroon gear (we're going to a watch party for the Aggie game Saturday night). Although E has been working for Texas, who I grew up viewing as my mortal enemy, since January, I am still not used to seeing him come home in Longhorn gear. When you work for the the athletic department, they like to dress you in head to toe burnt orange as much as possible so E is pretty much used to it by now. Although, he will always always bleed maroon. Me on the other hand have pretended to be Switzerland up to this point and have only worn white to Texas events.
This however, will not fly for this game. It's pledge your allegiance or die kind of situation, so burnt orange jeans went into my suite case along with all of my other gear (I'm not quite ready for the logo yet). I must admit, I don't hate how they look with my cowboy boots. I will be an Aggie till I die, but this weekend I will try my best to muster a cheer when that "orange team" crosses the goal line. Wish me luck!
There are a lot of things that go along with football games...... cowboy boots, friends, family, rally towels, beer, driving, waking up early to tailgate, and of course tailgating food! Cookies are a must at every tailgate, but they don't have to be unhealthy or hard to make. This is one of my favorite clean eating cookie recipes that you can literally make in 15 minutes!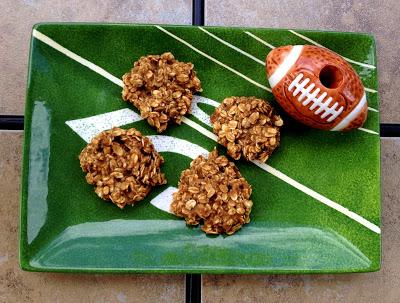 Ingredients:
1 large banana
1 cup rolled oats
4 tbsp PB2 powder (or 2 tbsp of regular peanut butter)
2 tbsp almond milk
1/2 tsp cinnamon
2 packets of stevia (optional)
Directions:
Preheat oven to 350 degrees and grease a large cookie sheet.
Mash up the banana until it forms a baby food like consistency.
Stir in remaining ingredients until batter is well mixed.
Spoon onto a cookie sheet.
Bake for 10 minutes.
Allow to cool before removing. This recipe made 9 good size cookies. It would be very easy to double or triple for a larger crowd. Let me know if you give it a try.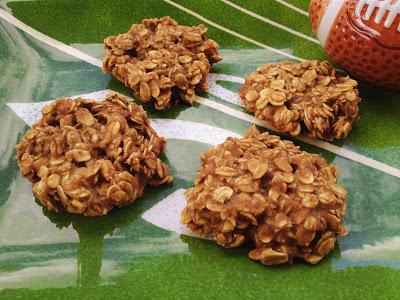 I'm off to finish packing for the trip! I really hate packing. It's so stressful. Anyone else?
I hope you all have an amazing weekend full of family, friends, football, and great memories.
In health,